Sun Peaks Resort is known for its ski and snow culture. But when the snow melts it becomes an alpine village surrounded by mountains blanketed in green meadows dotted by dainty flowers. It's the perfect setting for  summer music concerts. Attend the concerts, but along with the lawn chairs, pack the hiking shoes, golf clubs, mountain bike, paddle board and swim gear. This place rocks with or without your skis. Share this page on Twitter.
Read Elizabeth Chorney-Booth's take on what to expect when heading to Sun Peaks Resort this summer.
2018 information TBD!
Check out what happened in 2017
Iconic Canadian band 54.40 will perform in Sun Peaks as part of the Summer Concert Series for 2017. 
54.40 will help celebrate Canada Day 150 right with a free concert. If you grew up in the 90's, it is likely that songs like 'Ocean Pearl' and 'I Go Blind' were part of the soundtrack to your childhood. They've been around for over 30 years and had over a million records sold. Their music is still played on the airways today. On Saturday, July 1, see them live on an outdoor stage.
Free outdoor concert at 6:00pm. 
Aug. 11 - 13 the annual Retro Concert Weekend
Don't put away those platform shoes, you're going to need them again. It's the seventh annual Retro Concert weekend at Sun Peaks. Tribute bands are lining up to perform for three days. It'll be fun to see who remembers the words to classic rock 'n' roll tunes.
FRIDAY, AUGUST 11, 2017
7:00pm Janis Joplin performed by Janis Lives
SATURDAY, AUGUST 12, 2017
12:30pm Bad Company performed by Shooting Star
2:00pm The Eagles performed by Eagle Eyes
4:30pm Santana performed by Supernatural
7:00pm David Bowie performed by A Night of Bowie
SUNDAY, AUGUST 13, 2017
11:00am Heart performed by Barracuda
11:45am Pat Benatar performed by All Fired Up
Aug. 26 - Trooper
Sun Peaks Resort welcomes Trooper on Saturday, August 26, for the final installment of our 6th Annual Summer Concert Series!
It goes like this: millions of records, a couple dozen hits, a Juno Award for Band of the Year and ongoing sold-out shows across Canada. Universal Music acknowledges them as "one of Canada's top five selling bands of all time" and the Vancouver Sun has called them "Canadian rock heroes of the first order ... the best performing band in Canada".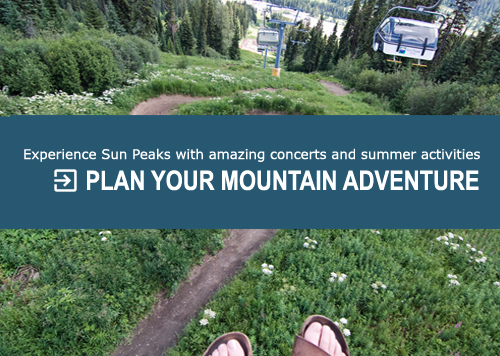 The best part? All of the concerts are free, unless you'd like VIP seating and the stage is within walking distance of any accommodations in the village. It's a picturesque venue that will cap off a perfect summer of festival fun at Sun Peaks.  
Tickets
General access is free, however, grab a Front of Stage Access (FSA) Seated Area for $35 a ticket. BOOK ONLINE
Front of Stage Access (FSA) Seated Area is $20 per ticket when booked with a minimum of three night's accommodation. Three nights plus FSA tickets start at $149 per person. BOOK ONLINE
One- and two-night accommodation packages with discounted FSA tickets are also available HERE
More Info
Additional info for the concerts and things to do at Sun Peaks can be found at the official site here.
Like to groove to sweet sounds while taking in stunning views of the mountains? Share this festival with your music-loving friends.