Banff and Lake Louise start celebrating the holiday season with a long list of fun and unique events for all ages. The Winterstart Festival gets everyone into the winter spirit in the midst of the beautiful Rocky Mountains. With events throughout Banff and Lake Louise, there's something for every age to enjoy. Check out the full list of events here.
The three local ski hills - Mt. Norquay, Sunshine Village, and Lake Louise Ski Resort open in mid to late November so you can get back your ski legs back before Christmas. While you're getting back into the winter spirit, watch world-class ski racers as they reach record speeds at the Lake Louise World Cup.
The Winterstart Festival is a great time for families. With activities such as cookie decorating, wagon rides, and the Santa Clause Parade of Lights and more.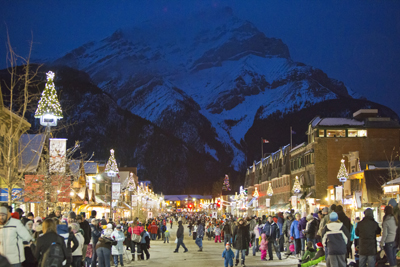 Banff main street is lit up beautfully by night during the holiday season. 
Photo by Paul Zizka
Featured Events
Santa Claus Parade of Lights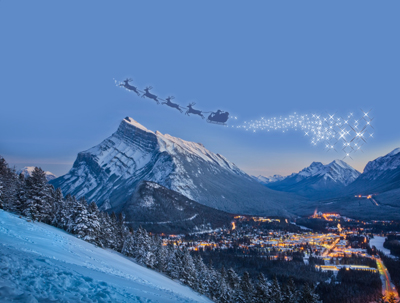 The Santa Claus Parade of Lights is always a popular all-ages event.
Photo by Paul Zizka
Come and get into the Christmas spirit, enjoy free family friendly entertainment, from Christmas carols, balloon twisting, carnival games and creative crafts. Or looking for some outdoor fun? Warm up your noses in grand style at the Whyte Museum, with crafts, carols, cookie and hot chocolate, head to the Train Station where Santa will stop in for a visit. Then head out to watch the Santa Claus Parade of Lights where all the colourful characters of Christmas come alive, including old St. Nick himself.
Craft Beer Festival
November 25 - 27th
Throughout the night, sample amazing food from some of Banff's best pubs and restaurants, try an offering of beers from Alberta's own breweries and share stories with local brew Masters.
For more details and the schedule of activities please visit the official event page
Christmas on Wolf Street
Finish the annual Winterstart Festival off by attending Christmas on Wolf Street. On December 12th from 4:30 p.m. to 6:30 p.m. enjoy an outdoor street party that includes live music, interactive pageantry and much more!
Banff does winter, really really well. Find out why here.
For more info about the Winterstart Festival head to the official Banff Tourism page.
Ready for winter fun in Banff? Share this with your friends and family and start planning.