Calling artists of all calibres. Get ready to check out a new kind of art. Medicine Hat is dusting off the sidewalks and inviting everyone to try their hand at chalk art.
The 3rd annual Sunshine Chalk Art Festival is coming to Medicine Hat from Aug. 11-13. The three-day celebration of Chalk Art will take over the historic and sunny downtown Medicine Hat with chalk art done by everyone from kids, to stickman artists to professionals from as far away as Victoria and California. It's guaranteed to be a colourful and one-of-kind display of art on the sidewalks of the city. It's literally art in the moment. 
Read our FestivalSeekers story here.
Help your friends #DareToExplore. Share this page on Twitter.
Ian Morris from Victoria will be back to entertain the crowds and so will local artist Wendy Struck. New this year is a tandem team of chalk artists, which includes Ever Galvez and Lynn Okimura of California. They will dazzle you with their art that looks like it's leaping off the pavement. 
Discover more via Kenton DeJong's story on the Sunshine Chalk Art Festival
Explore all that Medicine Hat has to offer during the annual Chalk Art Festival. Plan your artistic adventure...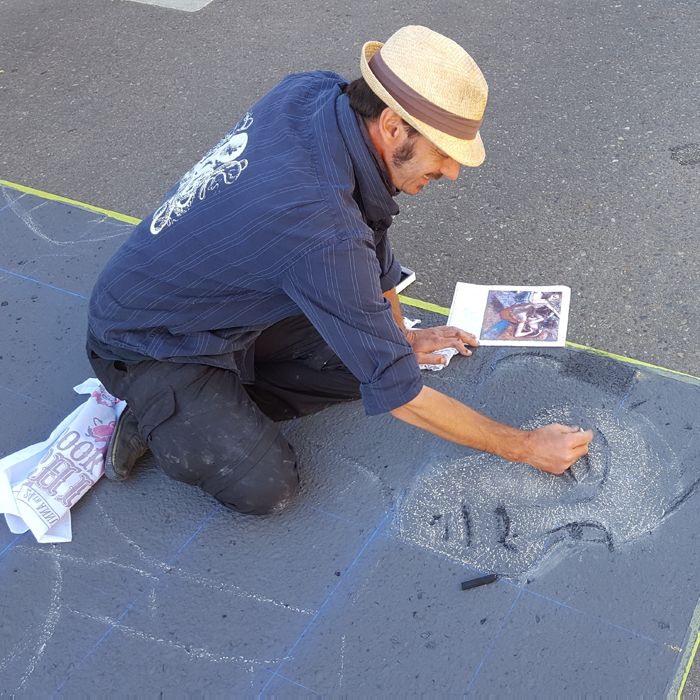 Enjoy the beautiful works of art at the Chalk Art Festival in downtown Medicine Hat.
Photos by Downtown Medicine Hat
The festival features nearly 100 artists — pros, amateurs and kids. They all get to turn sidewalks into a canvas of colour and unique works of art. Other events include all-day live entertainment and special restaurant offers.
Schedule of events 
Friday, Aug. 11
9 a.m.:  Adult workshop           
10:30 a.m.: Student workshop      
Friday evening (time TBA): Registered artists are invited to join in the local brewery tour
Saturday, Aug.12 
The public is invited to watch the artists work their chalk magic artistry around town and then get to create their own works of art. All levels of talent and abilities are welcome. Chalk is happily provided.
Be sure to stop by the special kids' zone where chilcdren can draw their own masterpieces and learn some tips from visiting artists.
Sunday, Aug.13
Sunday is the day to view all the works of art. Come downtown and have a look at the finished masterpieces on the sidewalks. Mingle with the artists, listen to live entertainment, and enjoy the sunshine.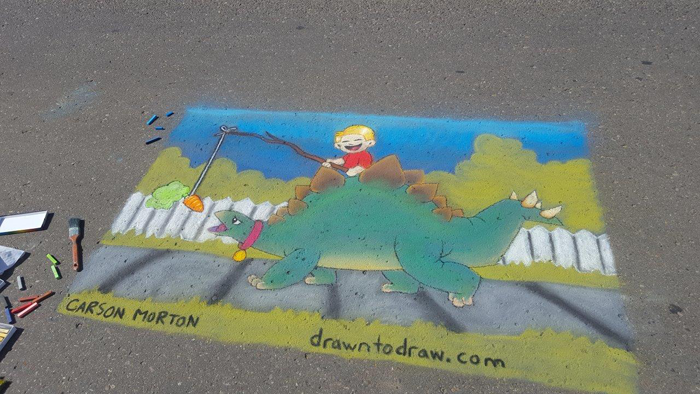 Tickets/Registration
The Chalk Art Festival is free for spectators and participants.

Arists who want to register can sign up at

[email protected]

 or call 

Keith Friesen

 at 403-529-5997.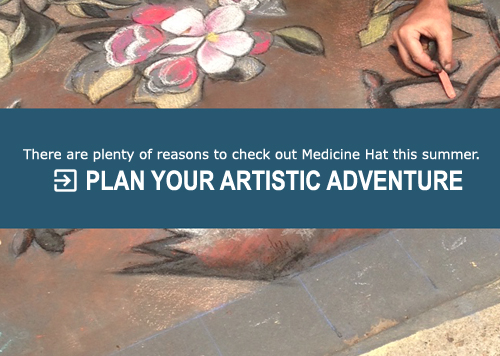 More info
For more information about downtown Medicine Hat and the Chalk Art Festival head to the official website. 
Get planning and head to Medicine Hat this summer; learn more here.
Ready to be wowed by incredible works of art on the pavement of Medicine Hat? Share this page with your art-loving friends.