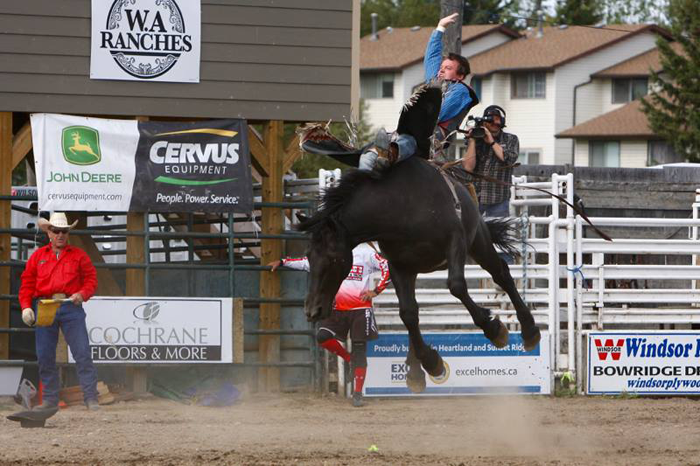 Considered one of the toughest amateur rodeos in Canada, the cowboys always step up for the Cochrane Lions Day Rodeo. Come to see many of the same cowboys and bucking stock featured at the Calgary Stampede – but in a more intimate setting. The Cochrane rodeo grounds put you right in the middle of the action.
Help your friends #DareToExplore. Share this page on Twitter.
New this year is the infield food vendors where you can be tempted by deluxe grilled cheese and deep-fried pickles, or tasty Mexican tacos.
Cochrane is home to the annual Labour Day Rodeo and so much more. Plan your adventure...
Read our preview of the Cochrane Rodeo here.
Entertainment
Surrounding the rodeo is great entertainment all weekend long. Enjoy an adult-only dance that goes long after sunset. Other attractions include first nation dancers, and miniature bronc riding.
Music acts at the dance include:
The award-winning Prairie's Edge starts the evening at 7 p.m., with toe-tapping tunes heavily based on bluegrass, country and folk.
After that, enjoy the musical act of Allen Christie as he will take over the stage to entertain with great cowboy tales rolled into songs.
Lions Club Rodeo
Let's not forget the main attraction – the FCA Rodeo held over three days with 15 events, featuring cowboys, cowgirls and youngsters tough enough to chase down wild ponies. Watch the bronc riders, bull riders, barrel racers, ropers and wrestlers compete for the coveted buckle and trophy handed out at the finals on Monday. But also be there to cheer on the guys tough enough to try to ride a wild cow. This event is summed up in one word – mayhem, or…chaos. Nope - pandemonium wraps it up.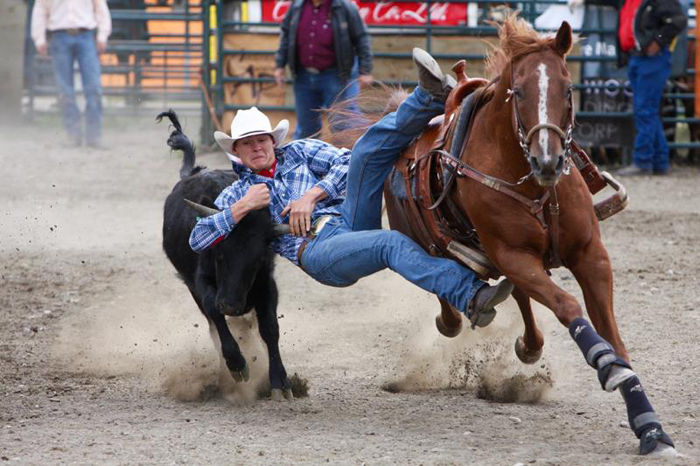 Schedule of Events
Saturday, Sept. 2:
12:30 p.m,: Mounted shooters start
1:00 p.m,: Rodeo beings
7 p.m.: Live music and dance for adults only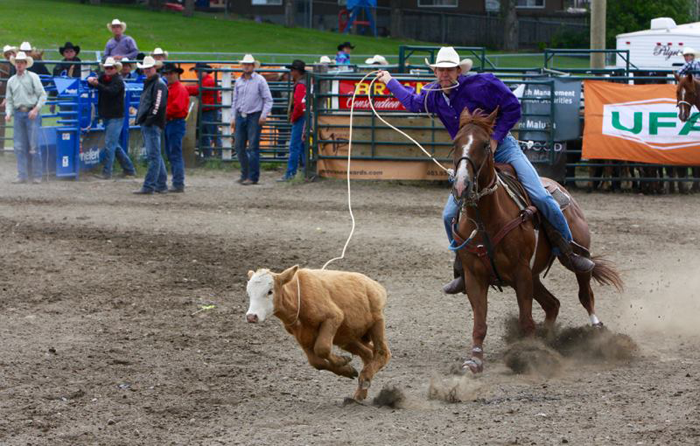 Sunday, Sept. 4:
10 a.m.: Free Pancake Breakfast and Cowboy Church.
12:30 p.m.: Mounted shooters start
1 p.m.: Rodeo beings
Monday, Sept, 5:
Noon: Gates open
1 p.m..: Rodeo Finals begin, crowning of Lions Royalty and awards presentation for Class Champions will be presented.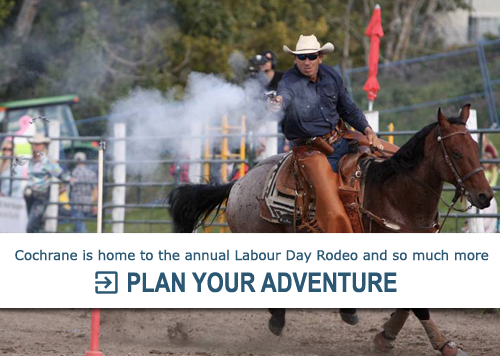 Tickets
Tickets can be purchased at the gates for one or all the rodeo performances. Daily admission includes access to the grounds, the rodeo, and food vendors.
Adult Pass (18- 54) - $15
Youth Pass (13 – 17) - $10
Seniors (55 and up) - $10
Children (12 and under) – Free
Tickets to the adults licenced attractions are $10.
For more information about all the events during the 51th annual Cochrane Lions Labour Day Rodeo visit the Cochrane Rodeo webpage.
If you go
Cochrane is less than a 30-minute drive west from Calgary. Use either the 1A from Northwest Calgary straight into Cochrane or, take the TransCanada and turn north onto The Cowboy Trail (Highway 22). After over half a century, the rodeo grounds are still centrally located in the heart of Cochrane.
Read our preview of the Cochrane Rodeo here.
When in town, don't forget to stroll down historic main street to check out the shops and stop for ice cream at MacKay's.
Heading to Cochrane for the rodeo? Make sure to check in at Cochrane Tourism's official website and find out all the amazing things to do in the area.
Are you ready to throw your cowboy hat on and hit the rodeo? Share this page on Facebook.