Feastival has grown into a two-day event of local food and beverages from around Vancouver Island. The island's moderate climate means it's ripe for locally-sourced products and ingredients found in the many foods you'll sample around town. Don't miss the  Sips at Feastival event, featuring local craft breweries, small-batch island wineries, local artisanal spirit producers. Tweet This!
Sample libations from more than 70 vendors during the annual tradeshow. Or, enrol in a cooking classes and mingle with the food producers. Meet celebrity chefs as they hold demos, or get bowl-fuls o seafood chowders at the3rd Annual Seafood Chowder competition. 
Get a preview of Feastival from FestivalSeekers writer Rebecca Bollwitt.
Schedule of events
TBD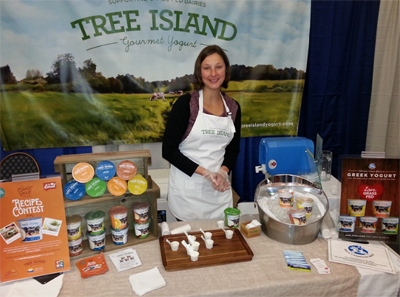 The tradesshow features dozens of local food artisans and products. 
Photo by Feastival
2016 events
Spend the day wandering around the Vancouver Island Conference Centres, stopping at dozens of booths, and sampling the fare of locals who make tood their business. You'll get to meet the people behind much of the food being served up at restaurants and shops around the islands, from farmers to ranchers, fishers and growers. 
Celebrity Chef Corner
Watch celebrity chef demos and get to sample the food they make during this event that also features well-known culinary experts and cookbook authors.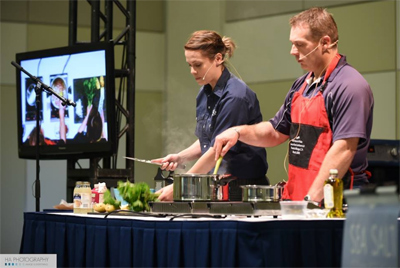 Learn from the pros during food demonstrations.
Photo by Feastival
Family Cooking Lessons from the Pros
Learn new kitchen skills from the pros in a more intimate setting. Feastival serves up small-group session for kids, teens and adults. 
3rd Annual Seafood Chowder Competition
Sample a variety of scrumptious chowders and help the judges decide who should wear the seafood chowder crown.
Admission to Feastival includes unlimited taste tests of all the chowders, which also allows you to vote in the People's Choice Award. 
Food Trucks
Enjoy culinary treats from some of Vancouver Island's best food trucks and vendors who will be rolling through town on both days. 
Featured Chefs
Daniel Caron and Tammy Deline
Two of Nanaimo's most popular chefs are from 2 Chefs Affair. Daniel Caron and Tammy Deline's specialty is quality food made from scratch. They recently won the Greater Nanaimo Chamber of Commerce Business Achievement Awards Downtown Business of the Year and Restaurant 2016.
Karen Barnaby
Karen works as the chef of product and business development at Albion Fisheries, Intercity Meat and Fresh Start Foods. Her love of seasonal cuisine is reflected in the column she writes for the Vancouver Sun. She's also written four cookbooks and helped co-author many more. 
Laura Gosnell 
As an entrepreneur with a commitment to promoting B.C.'s freshest sustainable food products, Chef Gosnell finds creative ways to showcase her culinary talents, while sharing healthy food-ideas with fellow foodies. Not only is she creative, she's also a talented potter, and a passionate environment stewar.

Angelo Prosperi-Porta
Chef Angelo Prosperi-Porta's cookbook "Honey" is oozing with delicious dishes and snacks that fits the Feastival vibe. Angelo will speak about how to easily fold honey into your evereday diet, and touts its health and ecological benefits. 
Tickets
Sips at Feastival - Featuring tastes of craft breweries, small-batch island wineries, local artisanal spirit producers -$41.95. Purchase tickets here.
Friday, June 17 – 6 to 9:30 pm
* Must be 19 or older - two pieces of ID required.
Trade Show & Featured Attractions
Saturday, June 18 - 10 a.m. to 4 p.m. - $11.20 or $21.80 for a family of 4. Purchase tickets here.
If You Go
Thinking about dessert after a full day of feasting at Feastival? Did you know Nanaimo is home to the Nanaimo Bar Trail? If you have room, take a tasty self-guided adventure through the city and sample some treats. 
Heading to Nanaimo for Feastival? Check out these places to stay while visiting.
Get a preview of Feastival from FestivalSeekers writer Rebecca Bollwitt.
Are you ready to indulge? Share this page with your food and island-loving friends.