Bald eagles migrate every fall to Fraser Valley to feast on fish carcasses. For the 19th year the community celebrates the largest gathering of bald eagles in the world and eagle enthusiasts learn a lot about the North American bald eagle.
We've got a great story about what you can expect at the festival, the location's history, and Dr. David Hancock, resident eagle biologist at Harrison Mills and founder of the Hancock Wildlife Foundation, shares some knowledge about eagles.
Schedule of Events from 2015
There will be eagle viewing throughout Saturday and Sunday at various locations.
Special Events:
Heritage walking tour with interpreter at Kilby Historic Site
Walk through the Inch Creek Hatchery, you will learn lots from the fisheries technicians, and see six foot long adult sturgeons in the pond.
The Exhibitor's Fair at Leq'a:mel 
On Nov. 15 and 16, David Hancock will be speaking at 10 a.m. at the Fraser River Safari Tour and at 1 pm at the Tapadera Estates
On Nov. 16 there will be a Chehalis River Interpretive Nature Walk at 10 p.m.
The Main event is Nov. 15 and 16, but the festivities keep going for three more weekends!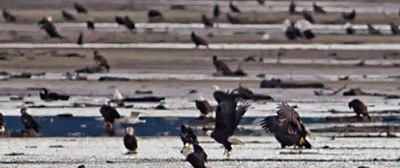 Photo by Christian Sasse/courtesy fvbef.ca
Weekend 2: Nov. 23 - 24 - Featured Event Host, Sts'Ailes First Nation, present the first annual Salmon Celebration. Other weekend events include: eagle viewing, land based and on a jet boat tour, and speakers presentations. 
Weekend 3: Nov 29 - Dec 1 - Featured Event Host, Harrison Hot Springs presents a photo expo and workshop, as well as more eagle viewing and speakers presentations.
Weekend 4: Dec 7 and 8 – Featured Event Host, Harrison Mills ends the festivities with land based eagle viewing, jet boat tours, and a photo workshop and talk at Pretty Estates Resort.
Most of the festival is free, but check the official festival website for the detailed schedule of each event. You'll also find a ton of FAQs about the festival and contact information for the event organizers.
Unless otherwise specified, all information about the Fraser Valley Bald Eagle Festival has been provided by festival organizers.