20,000 Leagues under the Spec!
The one and only Science Fiction & Fantasy festival in Edmonton, Alberta occurs every fall, when the geeks of Edmonton can celebrate their passion together! The whole weekend is packed with authors, panels, merchants, costumes, games, and demonstrations, with a focus on literature, gaming, media, and community. 
Since 2005, Pure Spec has entertained festival-goers with presentations and discussions on topics relevant to sci-fi culture, media and fandom. The festival has brought in dozens of special guests, celebrities, subject experts, and scholars to educate audiences on every subject from nanotechnology to Joss Whedon, from surviving zombie apocalypses to sex in videogames, from working with difficult costume materials to creating board games.
The programming schedule is not yet finalized but will be available on the Pure Speculation website. Keep checking back for updated information.
Daily panels will be from 10 am to 8 pm on Saturday, and from 10 am to 5 pm on Sunday.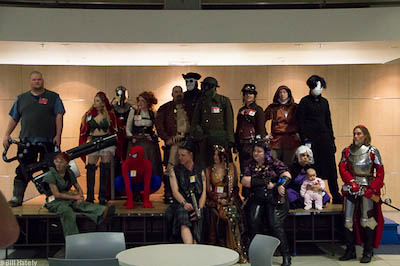 Photographs from Pure Speculation 2011 - Spec to the Future
Photo courtesy PureSpec.org
Tickets
Get weekend passes in advance for $40
Non-members can pay at the door for $10 with member.
Advance tickets are available until Nov. 10, at 9pm with online registration. Buy tickets here
After Nov. 10 weekend passes through EventBrite and at the door are $50. Eventbrite
Check out some videos from Pure Spec 2011 & Mini Spec 2012 on the Anime Alberta YouTube Channel.
Unless specified otherwise, all information about the Pure Speculation Festival has been provided by festival organizers