Have a passion for birds or just like learning more about nature? You'll love the Purple Martin Festival in Camrose, AB. Read Debbie Olsen's preview of the Purple Martin Festival. Tweet This.
The day is filled with activities, including guest speaker presentations, Q & A sessions and a field trip to a local Martin house. Participants will get an close-up view of Martin nests, eggs and hatchlings. 
There will be a morning of activities for children.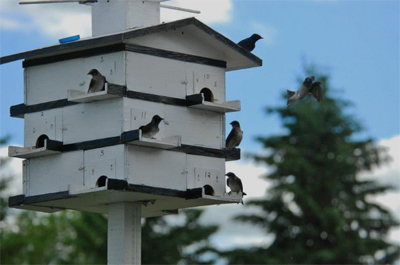 Schedule
Registration / mingling / exhibitor booths with complimentary morning coffee 
Activities for children and youth available all day, including crafts, and a scavenger hunt 
Speakers/presentations throughout the day
Tours throughout the day include:
Bus tour to Purple Martin sites in the city 
Backyard Wildlife Walking tour (including inspection of a Purple Martin house) 
Experience Your Watershed put on by the Battle River Watershed Alliance 
Featured presentations and tours
It's our Nature to Know: The How and the Why of ABMI
Tara Narwani, communication manager, Alberta Biodiversity Monitoring Institute
Tara Narwani, of the Alberta Biodiversity Monitoring Institute will talk about the unique provincial monitoring program for provincial species and ecosystems. The ABMI tracks changes in Alberta's wildlife and habitats from border to border to provide information to the public. Learn how monitoring biodiversity works on a provincial scale and how the information is used to preserve natural areas and habitat.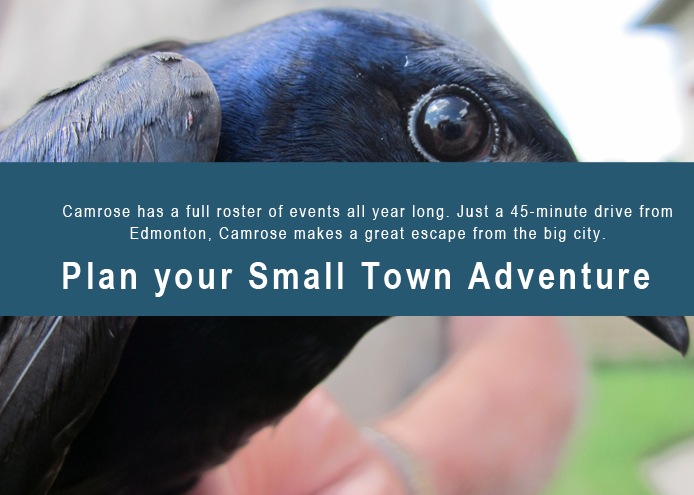 Return of the Peregrine: Management and Recovery of the Peregrine Falcon in Western Canada
Dr. Gordon Court, Provincial Wildlife Status Biologist
Dr. Court will talk about the amazing recovery of one of Canada's most spectacular bird species, the peregrine falcon. He'll talk about how pesticides can affect the birds, including falcons, how the falcon population declined and how it's now recovering in North America. Participants will also get to meet Vinny, a male peregrine falcon. 
Tickets 
Tickets for the day are $10/adult and $25/family and can be purchased here. 
If you go:
Did you know Camrose is home to a vibrant and bustling downtown core? Get in some shopping at local boutiques while you are checking out the Purple Martin festival. See a list of downtown boutiques here.
Read Debbie Olsen's preview of the Purple Martin Festival.
Share this page with your friends and enjoy the birds together.