Enjoy the Solstice Arts Festival in Port Alberni over two incredible days: Friday June 14th and Saturday June 15th.
Held at Port Alberni's Rollin Arts Center, dive into an incredible weekend of art and music in one of Vancouver Island's most beautiful settings.
This weekend is all about building a sense of community in the Alberni Valley. Enjoy Artists and Musicians in the Rollin Arts Center's Garden along with a children's activity tent during The Solstice Arts Festival. It is a festival that will be sure to spark everyone's interest.
#ExplorePortAlberni, start by checking into Port Alberni Tourism's website.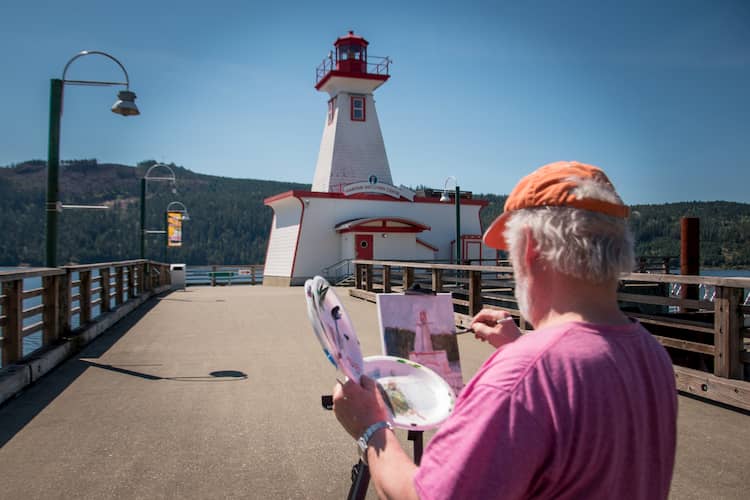 Featured Events
Friday June 14 Festival Time - 10 am - 7 pm
Saturday June 15 Festival Time - 10 am - 5 pm
During the two days there will be a Self Guided Gallery Tour. Both days are $10.00 and you must have a ticket to enter the galleries, however, admission to the Rollin Arts Center Garden is free.
On the grounds of The Rollin Art Centre dive into some incredible children's activities including face painting from noon to 5, wood carving demonstrations and storytelling all weekend long. Make sure to head to the Rollin Art Center on Saturday for some delicious food trucks. There will be a shuttle bus (by donation) to and from Harbour Quay to Rollin Art Centre (every hour).
From 1 pm - 2pm on Saturday, head to the Rollin Art Center for "Reminiscences of Reconcilliation: A story telling with song and dance". An adventure of a Cree man and a Caucasian woman who come to the present day to espouse on the historic injustice and possible future of the relationship between Indigenous Peoples and the Caucasians.
Want to learn more about the arts scene in Port Alberni? Head to ZenSeekers and read Rebecca Bollwitt's coverage.
Featured Artists
During the Solstice Arts Festival, enjoy several artisans at the Rollin Arts Center Garden. Here are a few of the several incredible artists who will be joining in on the event:
Jason Gress -Small and medium sized wood/metal sculptures, small paintings, hand painted greeting cards and some metal garden art
KC & The Carpenter - Nature and Sense of Wonder experiences for children. We design and build natural wooden toys, explorations, outdoor play equipment and furniture out of locally sourced wood from Vancouver Island. We only use non-toxic paint and sellers to ensure a safe play experience for all.
Tammy Donaldson - Stytch in Tyme Custom embroidered creations
Liliane & Marta Chouvin - Photography and Paintings
Judy Martin (Friday Only) - Leather bags handmade from recycled leather coats and other items
Jim Lawson - Wood Birdhouses
Jordan Lavertu (Friday Only) - Handmade board games and Wood Coasters
Raven Song Soaps - handmade soap
Katreena Bennett - Digital Collage Art sold on canvas in various sizes
Elizabeth Messer and Lisa Harrison - Handcrafted mixed metals and gemstone jewellery and adornments made by two recent NIC graduates of the Metal & Jewellery Design Program
Nancy Husted - Polymer clay Things, Tile Coasters, Leather Things
Kastaway Art – Amanda & Kerry Illerbrun - Upcycled metal artwork for home and garden west coast themed, salmon, crabs, stars, birds of all dimensions
Ruta Ragelskiene – RR Designs - Handmade unique jewelry made with real gemstones and crystals, available as a sets or individual pieces, can be made in any colour or stone of your choice
Wednesday Painters - Mixed media Painting
Botanical Soap works (Janet Morrison) & Valerie's Paper craft Cottage (Valerie Barker) - Botanical Soap Works – Hand crafted soaps, organic oils, essential oils sustainably sourced Valerie's Paper Craft Cottage – Creating cards and paper crafts of unusual beauty
Marina Kitchen & Kim Hansen – Glass and wood work
Shelley Penner - wildlife paintings on stone plaques, using the natural pattern of the stone as the landscape setting, ranging in size from fridge magnets to ten-inch slabs. Also, wildlife paintings on canvas.
Marcia Green - Beach Crafts and Baking
Lori Delainey - Beaded Creations such as Hermit crabs, crabs, scorpions and spiders, some Jewellery, shadow boxes & picture frames with the beaded creations
Lisa Boucher - Baked goods, plants and crafts
Dragon Fly Design/ Barb Creber - Jewellery, crystals and stuffed animals
Ingelore Raven / Fred - Handcrafted boxes and Ornaments
Karla Strickland (Friday Only) - Contemporary Ceramics
Kyla Ilic (Saturday Only) - Creating limited edition handcrafted storybooks for young readers. I also sell greeting cards and fine art prints
Julia Mewhort - Hand Designed Jewellery crystals and gemstones
Wendy Schmidt - Original Watercolour and oil paintings of wildlife, Printed Art Cards
Wandering Fox (Danielle Murray) - Outdoors inspired apparel for the adventurous! Designed and hand printed in Chilliwack, BC. Pick and choose what design you want on what style of shirt!
Yolande Fournier - Pottery
Norma Delange and Elspeth Watson - Functional and Non-Functional Pottery hand built, and wheel thrown, hand fired
All That Glitters (Tamasin Hannaford) - Handmade Jewellery
Valerie Harty - sterling silver with different stones and gems all hand fabricated.
Kim McQueen - Laser wood art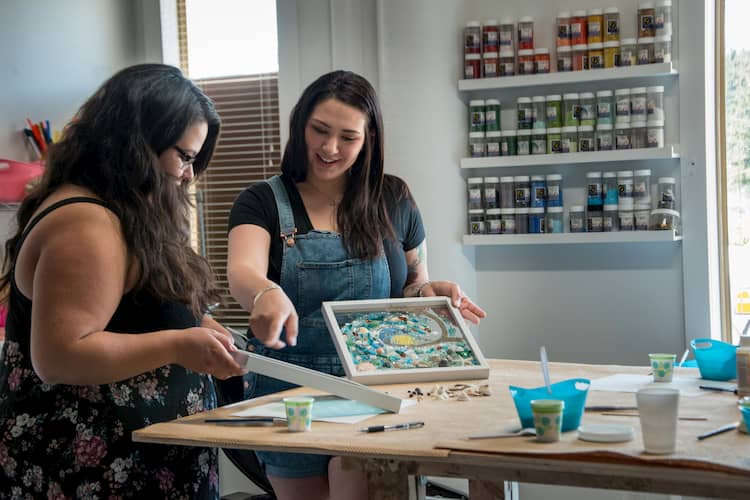 Musicians in the Garden
Enjoy incredible musicians during the Solstice Arts Festival. Take a glance at who will be preforming this year
Friday June 14:
Neil Anderson & Rhonda Holcombe - 11:00 am - 12:30 pm
Morgan Schoen - 12:45 pm - 2:15 pm
Dennis Olsen - 2:00 pm - 4:00 pm
Cat Sass - 4:15 pm - 6:15 pm
Saturday June 15:
Marim-Bam Buzz - 11:00 am - 12:30 pm
Jim and Babs' - Country Duo - 12:45 pm - 2:15 pm
Dennis Olsen and Guy Langlois - Jazz Duo - 2:30 pm - 4:30 pm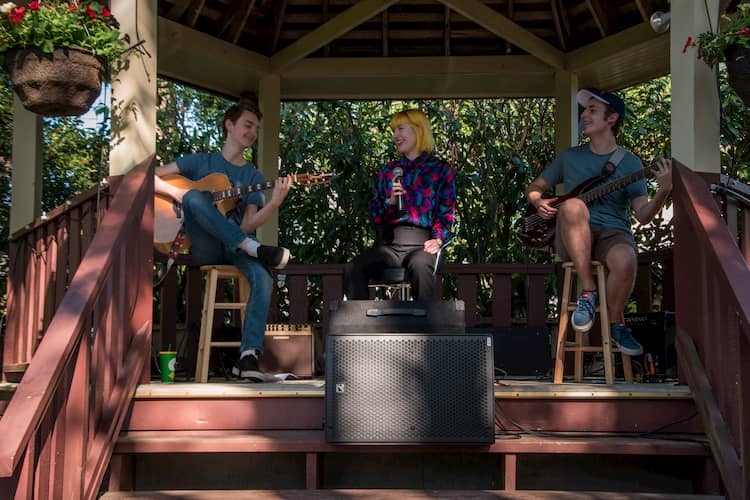 Days with the Arts Self Guided Tour
Love art? Take a self guided tour of incredible art during the Solstice Arts Festival. $10 gets you access to several galleries where you can explore the rich variety of artists and vendors. Take a look at the list of venues below and start planning your tour.
Rollin Art Centre – 37 artists & 15 musicians
DRAW Gallery – representing west coast artists
Angel Eyes Studio – crystals & gemstones and nature - paintings
Ocean Valley Ink – painter, poet & spiritualist
Darran Chaisson Photography – specializing in landscape, concert & promotional advertising photos
Power of Three – Winter Darby (graphics portraits), Kathleen Bodaly (art that makes you smile) & Shelly Llewelyn (art in many shapes and forms)
This N That – First nations art
Desneige Zvonarova & Katie Grieve – sketch artist, painter art cards
Burde Beans - Pamela Holl Hunt – contemporary artist
Diane Dobson – nostalgia vintage jewelry
Coastal Flow Glass – kiln formed glass
Chris Duncan – chainsaw wood carvings
Todd Robinson – glass, metal, wood & stone designs
Mae LeBlanc - painter
Vittoria Doughty – stainless steel wall sculptures
When you go
Search #ExplorePortAlberni for more inspiration. Be sure to tag #ExplorePortAlberni while exploring the region as you could be featured on our social media channels!
Want to learn more about the arts scene in Port Alberni? Head to ZenSeekers and read Rebecca Bollwitt's coverage.
Start planning your adventures in Port Alberni at Alberni Valley Tourism .
Find out more at the City of Port Alberni's website .
Through 2019, Festival and ZenSeekers is teaming up with partners of the Port Alberni region. Our correspondents will bring you exceptional video, photos and stories to inspire you to #ExploreBC and have your very own #ExplorePortAlberni adventures.