If you love all things autumn – and who doesn't? – here are five ways to fall into the fall spirit, during the Vernon Fall Festival
Begin your #OkanaganExploring adventure by checking into Tourism Vernon's website.
Great Pumpkin Classic – Head to Kin Beach on Oct. 26 for a hilariously campy event that pits people against one another racing – wait for it – in giant pumpkin boats. We are not kidding. Competitors have been growing their gourds all summer long in anticipation of this event. But believe it or not, you can still plant seeds and expect to get a sizable pumpkin in time for the event. (Giant pumpkin seeds are still available at the Vernon Visitor Information Centre.) Besides the pumpkin races there will also be a competition for the biggest pumpkin with cash prizes.
Want to learn more about fall in Vernon? Read Rebecca Bollwitt's coverage on ZenSeekers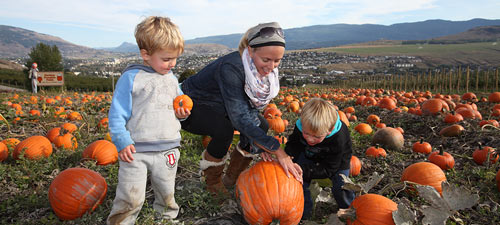 Field of Screams at historic O'Keefe Ranch – Spine-tingling events happen from Oct. 6 to 28 at O'Keefe Ranch, some of which are sure to make the hair stand up on the back of your neck. The ranch doesn't just embrace fall because it's harvest time, it gets into the Halloween spirit in a spooky way. A newly designed family-friendly corn maze features eerie scenes (but not too scary for kids) around every corner. But if you want a real fright, you need to do the Field of Screams (definitely not suitable for children or anyone frightened of clowns). Or, choose to go on a ghost walk tour through the ranch's buildings hearing mysterious stories that might just put a chill down your spine.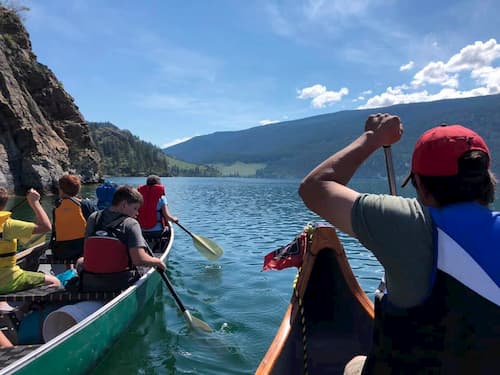 Salmon Tour – It's a rite of autumn for the salmon to spawn in the Okanagan rivers teeming with the orange-hued fish. This is a chance to watch these swimmers in action from a canoe with a local guide and hear about their life cycle and why they fiercely swim upstream.
When You Go
These are just some of the many events happening in the region. Check out the Tourism Vernon page to find out more and start planning your fall activities.
Want to learn more about fall in Vernon? Read Rebecca Bollwitt's coverage on ZenSeekers
Need help with your itinerary? Learn more here.
Uncover more about the Okanagan's offers for adventure. Check out ZenSeekers #OkanaganExploring Expedition page to see how you can have an adventure like this.