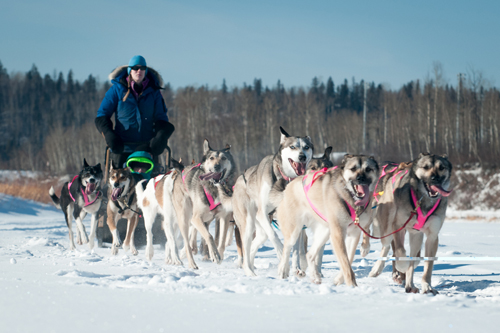 All images provided by the Regional Municipality of Wood Buffalo
The 2020 WinterPLAY weekend in Fort McMurray will be a busy one. It will be an exciting time for the family to get out to cheer on Alberta athletes and to explore winter fun for themselves. Snye Park is your place to join in on the WinterPLAY fun. Get outside and see incredible ice sculptures, fireworks and gather family and friends for fun activities.
Help your friends #DareToExplore. Share this page on Twitter.
Two events everyone looks forward to are the "Shootout on the Snye pond hockey tournament, and the WinterPLAYGROUND. Come watch the pond hockey and then wander through the ice sculptures and take a trip down the ice slide.
Other fan favourites include:
Shootout on the Snye
Get your hockey-loving friends and family together to make a team for Shootout on the Snye. This is a fun four-on-four pond hockey tournament and each division consists of a one- or two-pool round-robin format. Each team is guaranteed to play three or four games. Pond hockey nets are used, so goalies are not required.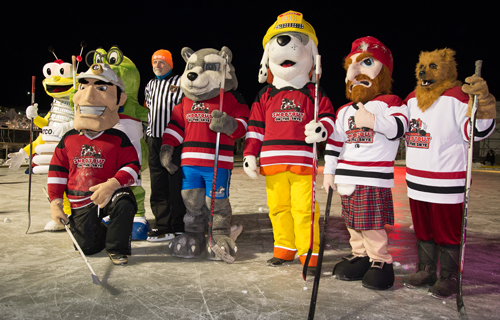 Purchase your registration here.
Dog sled rides
Mush McMurray is offering dog sled rides. Pop a donation in the jar and take a ride with the team of howling hounds.
WinterREELS
Local film-making teams are given the challenge of using three elements during this 48-hour film competition. The goal is to produce a short film in 48 hours with a chance to win a cash prize. Films will be screened the following weekend, along with the Hollywood film that inspired the elements. THOR: RAGNAROK is this year's free feature film at the McMurray Experience. 
Schedule of Events
Head to the official website for exact times but here's what to expect each day of WinterPLAY
Friday
5 – 8 p.m. - WinterPLAY presented by United Rentals kicks off with a big bonfire, opening ceremonies, the start of the Shootout on the Snye tournament and Minute to Win It.
Saturday
9 a.m. – 8 p.m. - WInterPlay is in full swing. Head to venues throughout the park for events, including: Shootout on the Snye, Deep Freeze, Sno-Activities, dog sled rides, ice sculpture demos, kids' yoga, tons of skating and WinterPLAY. Events in the WinterSHOWCASE tent include entertainers, workshops and creation stations.
Sunday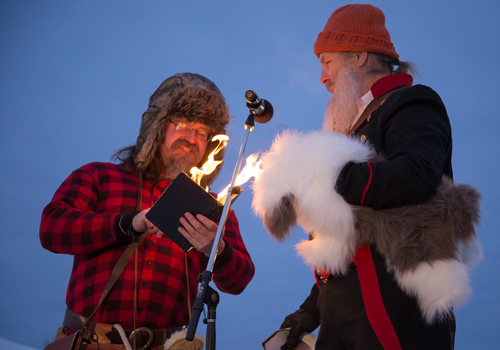 9 a.m. – 7:30 p.m. - WinterPLAY continues with many of the same activities. Come back and try something you missed on Saturday. Watch the finals of the Shootout on the Snye, participate in Colour Splash-a-thon, go for a skate, strap on those snowshoes and warm up at that big bonfire. Head into the WinterSHOWCASE tent to watch the talent show at 2 p.m.
6:30 – 7:30 p.m. - Watch the closing ceremonies in the WinterSHOWCASE tent and then head outside, tip your head back and be ready to say oooh and ahhhh when the fireworks cap off the perfect WinterPLAY Festival.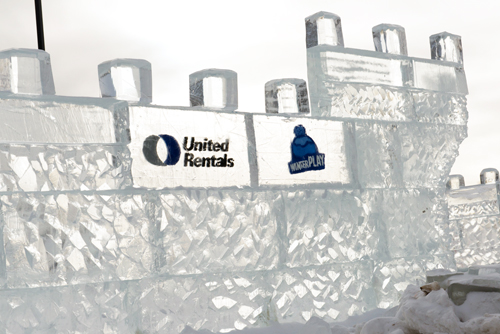 Getting there:
With WinterPLAY, parking downtown will be limited. Take public transit or use the park n' ride options to get to and from WinterPLAY. Shuttles will run every 15 minutes (approx.) on a loop to the following stops:
Park n' Ride Stops
Main St. and MacDonald Ave. (in front of Nomad Hotel)

Clearwater Public Education Centre - 231 Hardin St.

Snye Point Park - Hardin St. at Morimoto Dr.

Municipal Transit stop located near the main entrance at MacDonald Island Park - 1 C.A. Knight Way
Parking is permitted at any of the municipal parking lots downtown. They are located at:
Franklin Ave. and Main St.

MacDonald Ave. and Morrison St.

Biggs Ave. and Main St.

Biggs Ave. and Hardin St.
If You Go
Head to the official WinterPLAY website for more information.
Looking for more fun things to do while visiting Fort McMurray? Head to the Fort McMurray Tourism website and get some ideas.