May 15-17 event celebrates the past, present and future of mountain culture in Golden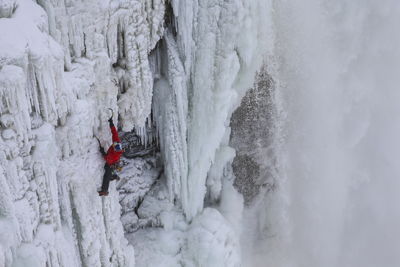 Will Gadd makes his way up the spray ice of the 51-metre Horshoe Falls in January.
Photos courtesy, Red Bull
Lisa Monforton
GOLDEN, BC - Will Gadd visited the town of Golden long before he was given the title Adventurer of the Year by National Geographic.
Gadd, 48, is the guy, who in January, did something no one had ever attempted before — ice climbing the spray ice of 51-metre Horseshoe Falls, Canada's portion of the famous Niagara Falls.
You'll get to hear Gadd's climbing and paragliding tales during a presentation during the Golden Mountain Festival, May 15-17.
It's just one reason to check out the spring festival that celebrates the trailblazing spirit of adventurers in the town that sits between the Rocky Mountains, the Selkirks and the Purcells. 
As an extreme adventurer, Gadd has an appreciation for the Golden region because of its mountaineering heritage, and because it is an ideal jumping off point for paragliding. He also holds the world record for the longest air paraglide journey — 650 kilometres from Mount Robson to the U.S. border.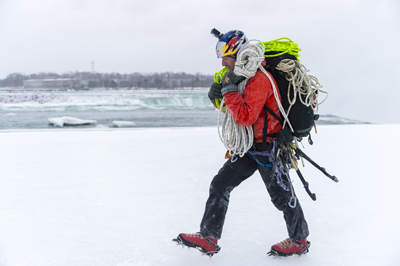 Will Gadd will be talking all things adventure during his visit to Golden.
"I've been visiting Golden for 35 years," he said. The first time was as a 14-year-old to paddle the Kicking Horse River.
"It's a great town; it's just that much farther away and it has a less touristy feel to it," says Gadd, who lives in Canmore.
Learn climbing skills with Gadd
When he's not doing "crazy" things, Gadd speaks to audiences around the world about his love of adventure and how anyone can push themselves a bit farther.
"I work with the idea of encouraging people to take risks in their everyday lives and using the proper tools."
That could mean climbing a wall of ice or a mountain, but it can also mean starting a regimen of simply getting fit, he says.
"People look at what I do as so extreme; I didn't become an extreme adventurer overnight, but it's a series of small steps that lead up to big goals. I try to get people to take those small steps that lead to big steps."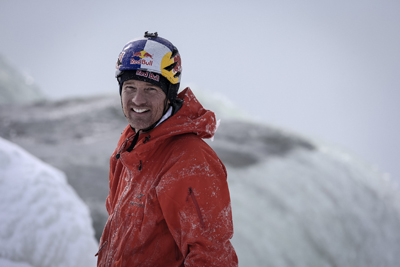 'People look at what I do as extreme; I didn't become an extreme adventurer overnight.' 
People will take some of those small steps or up their skill set during the festival, with activities, such as climbing with Gadd and fellow climber Sarah Huineken during a climbing demonstration with the pair at the Dogtooth Climbing Gym. There will also be whitewater rafting on the Kicking Horse, stand-up paddle boarding, canoeing and wetland tours, or tandem sky-diving for the weekender or anyone looking for an adrenaline rush.  
Golden's mountain heritage
Back on the ground, festival-goers will learn more about Golden's history filled with adventures like David Thompson, one of Canada's most prolific explorers. In 1807 Thompson, looking for the Columbia River and the Pacific Ocean travelled over the Rockies and along Blaeberry River to the junction of the Columbia River near what is now Golden. The Swiss guides of the early 1900s, too, helped carve out the area for people like us today who like to ski at nearby Kicking Horse Mountain in winter and hike the trails around Golden.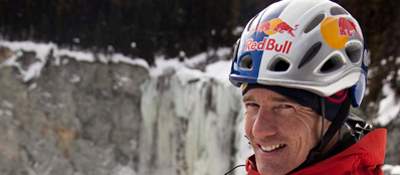 Will Gadd, National Geographic's Adventurer of the Year will be at the Golden Mountain Festival in May.
All that mountaineering heritage is sure to inspire visitors to the festival. Other events include outdoor yoga, birding and live music. Festival-goers will get a passport that will be stamped for every activity they attend, and then have a chance to win a package of accommodations and a helicopter adventure.
Kick off the hiking season
Amid all the activities, there might even be a chance to fit in a hike or two.
Lisa Roddick, local resident, and avid hiker loves the Golden area for its many hiking opportunities, depending how ambitious you want to be. One favourite short afternoon hike for Roddick and many other people is Gorman Lake. The hike begins at the tree line, continues through a shale field and through alpine meadows until you get to the lake. "It's surrounded by mountains and it's just so cool," says Roddick.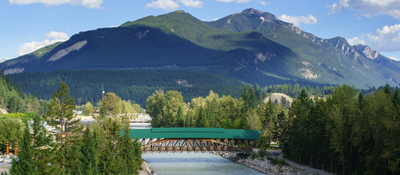 Collect stamps, for your chance to win some incredible prizes worth over $2,000.
You can make the Gorman Lake much longer by taking the gondola from Kicking Horse ski resort and walking the ridge to Gorman Lake, too, says Roddick.
Roddick also recommends the easy hike to Wapta Falls at Yoho National Park, because they are just "so unreal." For a more intermediate trek, check out the fire tower lookout trails at Mt. Hunter, she says.
If you go
Check out the long list Golden Mountain Festival events and weekend discounts and packages.
Like this story? Share it with your friends to get them stoked on the Golden Mountain Festival too!