This is where you will see many creative and beautiful wood carvings. The festival showcases traditional and contemporary carvings, with exhibits, delicious food, and family programs and demonstrations.
Events include a fine art wood-carving show, demonstrations on traditional canoe-building, Nuu-chah-nulth paddle-making, mask making, burl wood carving, toolmaking, and traditional designs.
Read Powder Matt's take on why carving on the edge is the place to be while visiting the west coast.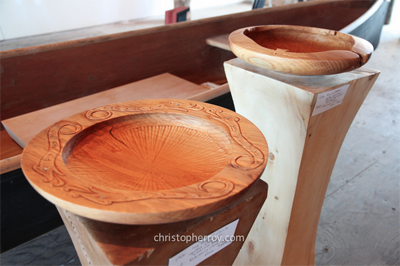 Simple but beautiful wood bowls will be on display at the carving festival. 
Photo by Christopher Roy
There will be presentations by master carvers, storytelling events, and family carving workshops for all ages. All events are open to the public at no charge. A "Carving Map" will be available from local businesses and visitor centres will lead festival-goers to event locations.
Featured Artists
Woodblock Printmaking with Dan Law – Thursday, September 7th, 2017
Come practice the art of Woodblock Printmaking with local artist Dan Law. Participants will have the opportunity to carve their own designs on locally salvaged maple blocks (8 x 6) using high quality woodcutting tools. They will use these to create a small run of prints using the artist's custom made 24" intaglio press with archival paper and inks.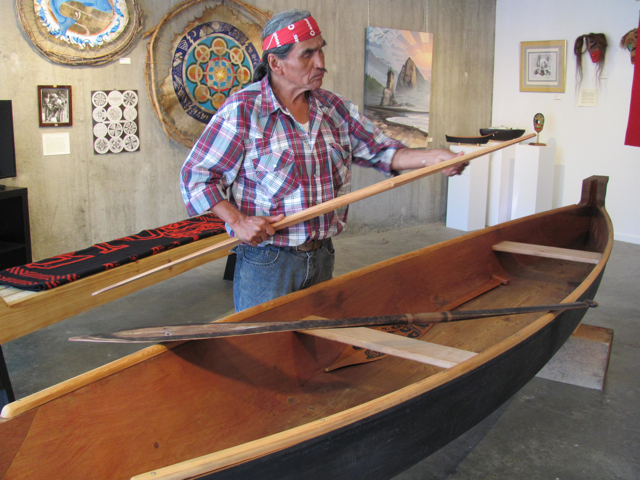 Master carver Carl Martin will teach visitors to carve a paddle and a canoe.
Photo by Tarina White
Bentwood Box Workshop with Joe Martin – Friday, September 8th, 2017
Tla-o-qui-aht master canoe carver Joe Martin will introduce the traditional teachings and uses of the Huupukwanum, or the Nuu-chah-nulth bentwood box. The Huupukwanum has many utilitarian purposes for the Nuu-chah-nulth people but also carries a strong symbology around the teachings, rights, dances and songs held by the chiefs.  Participants will have the opportunity to steam and fasten their own 8 x 11 inch box using cedar. This is a full day workshop.
Viking Carving with Christen Dokk Smith – Saturday, September 9th, 2017
Learn to carve in the Viking style with local carver Christen Dokk Smith.  We will be working with low relief viking design in hardwood based on carvings from the Viking era (approximately 850 CE). There will be a strong teaching focus on repetitive details and accurate knife/tool handling.  This workshop is a great opportunity for west coast carvers to explore cultural carving from another region. Suitable for carvers with some low relief carving experience. This is a 7 hour workshop.
Additional Info
Are you ready to see some incredible works of art while enjoying everything the west coast has to offer? Share this festival with your friends so they can get inspired too.