An original Card Pioneer Home in Cardston, Alberta
Chautauqua has a long and fascinating history that started in New York State in the 1880s as a school for Sunday school teachers. It evolved into a road show bringing speakers, music, novelty acts and children's activities to rural communities. What makes the Chautauqua unique is the focus on encouraging learning, conversation, new friendships and personal renewal in a festive environment.
Built on four pillars - education, cultural arts, recreation and religion (spiritual exploration) - a head office was set up in Calgary in 1917 after the United Farm Women of Alberta encouraged the Chautauqua to come to the province. 
Read Debbie Olsen's preview of a tour of Canada's Mormon Trail region.
The communities of Stirling, Magrath, Raymond and Cardston each host one day of the four-day event, reviving the spirit of the original Chautauqua. A vast array of activities encompassing the four Chautauqua pillars are ready to be experienced, each showcasing the unique aspects of the communities.
Tweet this page and have your friends #DareToExplore with you.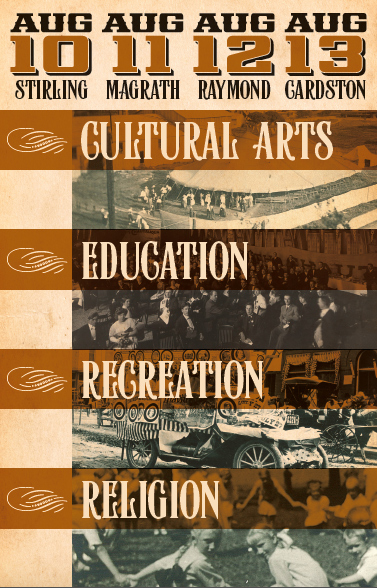 Start planning your trip along the Mormon Trail here.
Featured Events  
TBD
Schedule of Events

Take a drive and stop along Canada's Mormon Trail in Southern Alberta to explore a little-known history.
Photo by the Magrath Museum
Up to 50 activities are offered each day from 9 a.m.-10:30 p.m. and most are free. 
Start each day with the non-denominational morning devotion followed by a chuck wagon breakfast. During the day, get a lesson in playing horse shoes, discover something new from one of the many expert speakers, and taste the local culinary speciality offered in that community. Here's your chance to try your hand at rope-making or board branding, listen to live performance or perhaps tour the towns by horse wagon. There are several activities each day designed for kids including day camps, craft-making and old fashioned games. In the evening, relax with old friends and new as you sing songs around the campfire or discuss your day at the Chautauqua.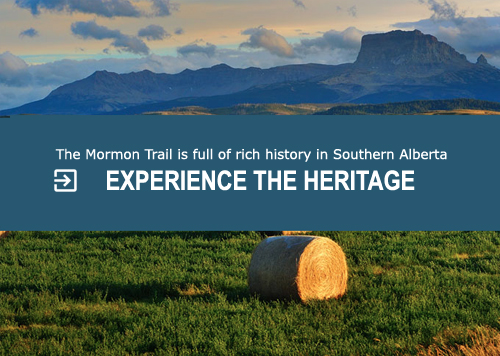 Town highlights from 2016. Dates will change for 2017
Aug. 10: Start your day in Stirling, 35 kilometres southeast of Lethbridge. Designated as one of only three National Historic Villages in Canada, Stirling has a rich history is considered to be one of the best examples of an early Mormon settlement. It has preserved the Michelsen Farmstead where visitors can feel like they've stepped back into the past. The property includes an original "tithing" barn, set to be restored. Spend some time touring town to also learn how and why the Mormon settlers dug the irrigations canals that southern Alberta farmers still rely on to water their crops. 
Aug. 11: Known as "The Garden City" since the turn of the century, like many other Mormon-settled communities, Magrath is built on the Plat of Zion community design model. It celebrates the dedication of the Mormon settlers called to the area to build the irrigation canal and bring water to the region. While in the community, enjoy a walk along the canal and stop at the Galt Canal Locks and the Galt Canal Diversion Works - also a National Historic Site.
Aug. 12: Raymond was established to bring people together for employment opportunities and this soon expanded into cultural, recreational and art-related gatherings. The Old Brown Church was built by volunteers (1928-1939) to be such a gathering place and it still serves this purpose today as the municipal office, home to the local theatre group and the public library. Stop by and ask for a tour.
Aug. 13: A short 35 minute drive from Waterton Provincial Park, Cardston is the largest community in Canada's Mormon Trail and home to many attractions including the Remington Carriage Museum, Card Pioneer Home and Courthouse Museum as well as the popular Carriage House Theatre. It also has an impressive Mormon Temple, the first to be constructed outside of the US, which is a National Historic Site.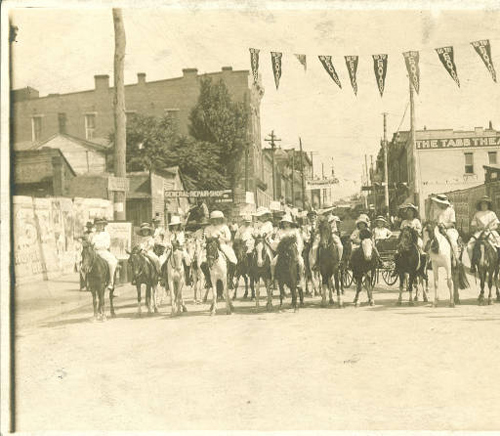 Ticket Information 
Because of the many events offered in different locations, please check the website for events, ticket information and pricing. 


The Mormon Temple in Cardston.
Photo by the Mormon Trail
While you are there
Did you know you can take a 2-4 hour self-guided driving tour in Southern Alberta as part of Canada's Mormon Trail? Find out more here.
Read Debbie Olsen's preview of a tour of Canada's Mormon Trail.
Are you ready to check out Chautauqua for yourself? Share this page with your crew and start planning.