REBECCA BOLLWITT
Exiting the Island Highway from Nanaimo, I took a few turns and ended up on Dunsmuir Avenue, named after British Columbia's coal king. There I paused for a work crew painting fresh bike lane lines as a group of cyclists cruised by.
Located about 20 minutes from Comox, in the middle of Vancouver Island's east coast is the village of Dunsmuir.
It was once named after the Union Coal Company and renamed by Robert Dunsmuir in 1898 and is now home to over 3,390 individuals who see their population grow by 60 per cent every summer for one very special event – The Atmosphere Gathering.
Help your friends #DareToExplore. Share this page on Twitter.
"A cultural shift started happening," said Vig Schulman, one of Atmosphere's producers, as we stood in the middle of a grass field flanked by a playground and picnic area and a crew building a new bike park on the other.
Get ready to walk on the wild side of Vancouver Island during the Atmosphere Gathering Music Festival. Plan your island adventure.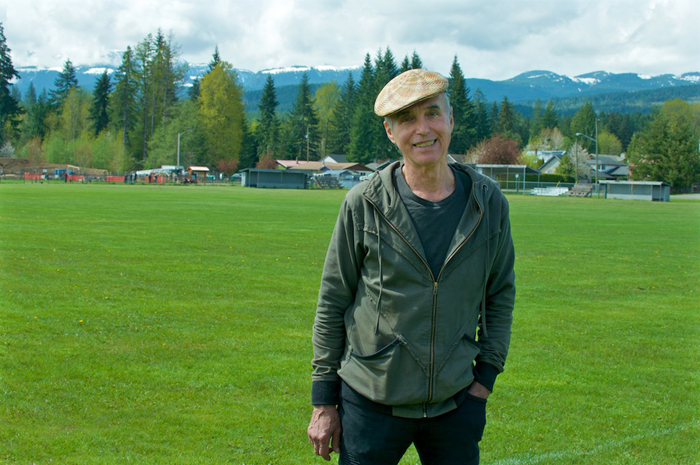 Vig shows off the green space that will be used for this year's festival.
Once a blue-collar coal town, it's now a hub for artists of all kinds and enthusiasts of yoga and cycling, dance and DJing. And with some of the best single-track trails, laid in the shadow of Mount Washington in the Comox Valley, a younger crowd has moved in for the fantastic mountain biking.
"Every couple of months there's something new happening in this town and it's thanks to creative people."
An artisan himself, and concert promoter/programmer for the local Waverley Hotel, Vig pointed at the field and helped me imagine what the festival will look like this summer.
He had me envision the scene: a 60-foot tall big-top circus tent where the silent disco will go into the wee hours of the night; a camping zone; the trees from which hammocks will hang for mid-festival naps; a kombucha bar; food vendors; shade tents; crafts; dancing; circus arts like trapeze and aerial silk performances; artisans, and all round good vibes. Then there's the main stage that will host three full days of live music from Half Moon Run, Dirty Radio, CloZee, Stylust Beats, OKA, DJ Shub and many more.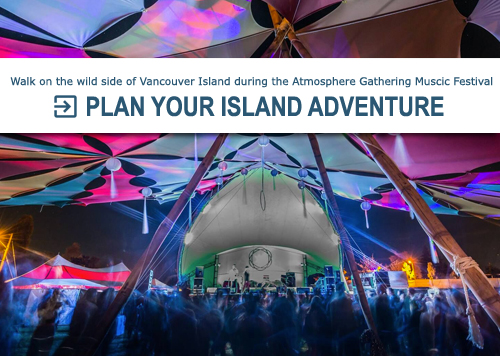 "The festival appeals to the parents of the little ones on the swing over there; they feel comfortable bringing their families to this event."
Whether you want to dance the night away, rock out with live acts, or take a break in the calming area with workshops and yoga between shady evergreens, there's a refuge for every energy level at Atmosphere.
You are also free to leave and return to the festival at any time, which is great for those who want to check out the new Cumberland Brewing headquarters on Dunsmuir or pop into the Waverley Hotel for lunch. (I highly recommend one of their massive salads full of locally-grown greens.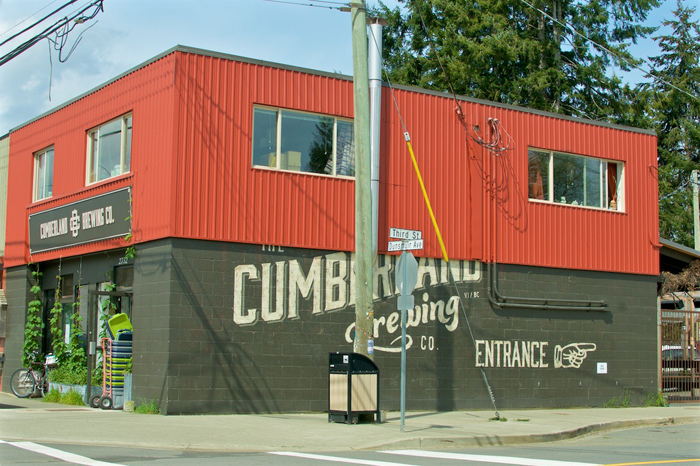 The Cumberland Brewing co is in the heart of Cumberland.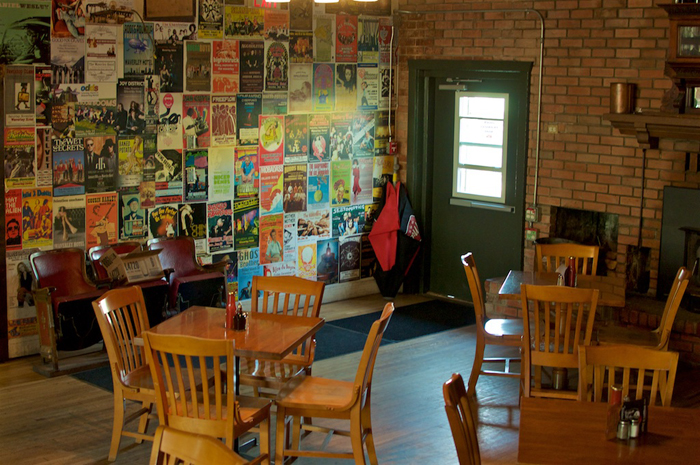 Inside the Waverley Hotel
It was over a plate of epic house greens (beets, sprouted beans, cucumber, carrots, tomatoes and toasted sunflower seeds) at the Waverley later that day, that I met Mr. Mac Himself, crew and cast member at Atmosphere and local DJ known to rock the big top.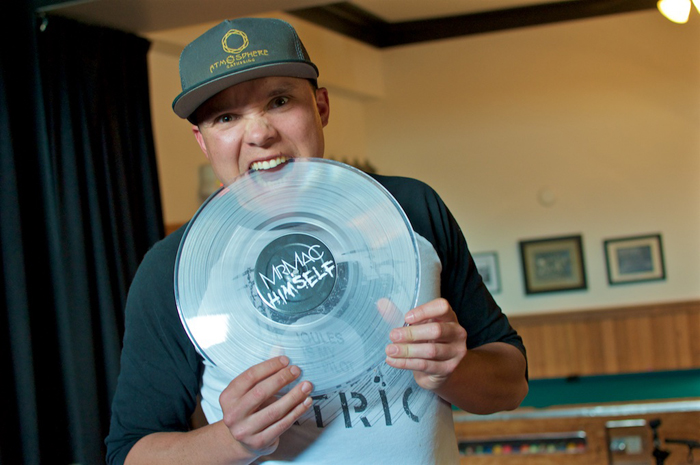 "I think I enjoy making people move, giving them the experience they have on their night out," Mr. Mac (aka Sean MacMillan) said, as we took to the Waverley's stage for my brief lesson on the intricacies of mixing music live.
Fortunately, Vig the producer was the only person in the room that could hear us since he was wearing custom Cumberland Village Works headphones, specifically tuned to our audio channel. This is exactly how a festival-goer will tune into the silent disco at Atmosphere.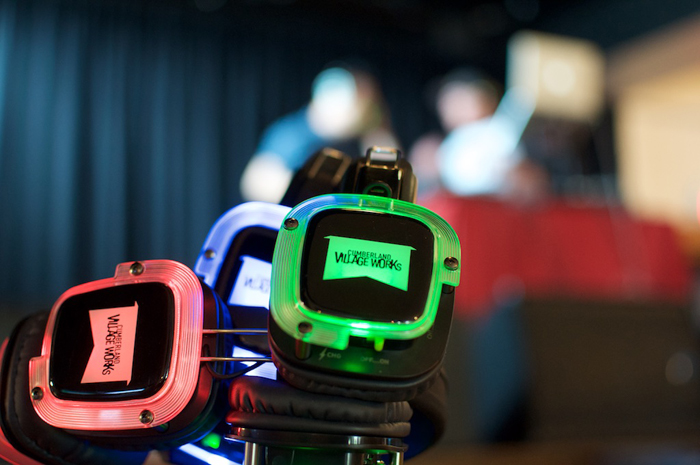 What's a music festival without glowing headphones?
It wasn't long until a few others at the Waverly popped on some headphones and tuned in. They started to move, sway, and shimmy in their seats. If these guys could get a weekday lunch group amped up over their burgers, beef dips and sandwiches, imaging what they could do with three full days at the Atmosphere Gathering.

Watch this video for a taste of the silent disco during the Atmosphere Gathering
My DJ career was short lived, and in all honesty, will likely never get off the ground, but if you're looking for a creative community that can put on one heck of a spectacle, get to Atmosphere this summer in Cumberland.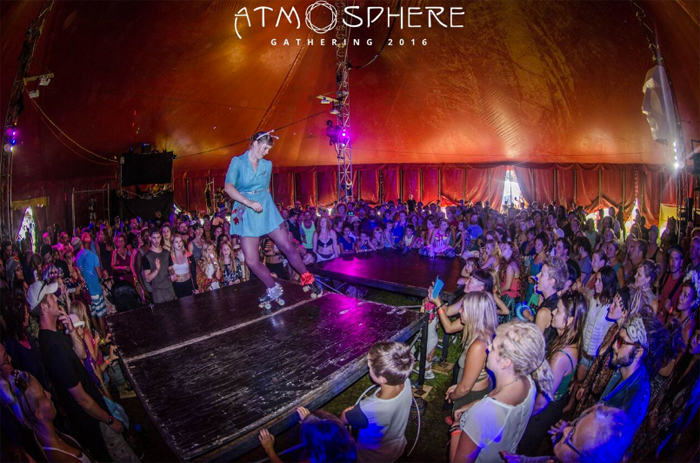 Get ready for one heck of a dance party during the Atmosphere Gathering.
If you go
Head to the official Atmosphere Gathering Music Festival website for more information.
Read our Festival Overview and see what the line up is at this year's Atmosphere Gathering.
Are you ready to dance? Share this page with your crew and start planning.