Lyle Lovett, Buddy Guy, Graham Nash come to the beautiful Comox Valley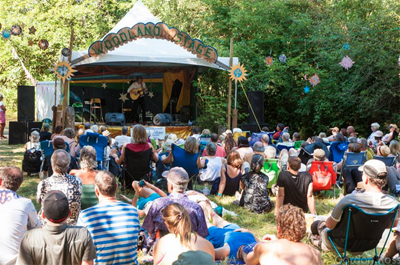 Vancouver Island MusicFest is as grassroots as it gets but with big-name acts. 
Photo by Gordon Ross
MIKE MORRISON
COURTENAY, B.C. - Between fishing and hunting for fossils, adventures on the water and some amazing golf, there are already lots of reasons to visit the Comox Valley. It's a region well known as one of the most beautiful places to visit in Canada. But, if we could add one more reason, it would definitely be the Vancouver Island MusicFest.
The three-day event, July 10 to 12, is held along the banks of the Tsolum River, near Courtenay, B.C., the valley's urban, business and cultural hub. The festival features six stages packed with music, workshops, roving performers, funky crafts, delicious food and on-site camping.
Every year, more than 7,000 people flock to the festival to take in the diverse lineup that includes everything from bluegrass to blues, reggae to folk, indie rock to rockabilly and from country to hip-hop and spoken word.

Experience outdoor adventure on Vancouver Island. Walk amongst towering forests, search for whales in Johnstone Strait, or take to the surf on this wild west coast.
Some of this year's performers include Lyle Lovett and his Large Band, Buddy Guy, Graham Nash and Big Little Lions, a new school folk duo, featuring Paul Otten and Juno Award winner Helen Austin. Austin is actually pulling double duty at the festival. Not only is she performing with Big Little Lions throughout the weekend, she's also manning the festival's opening ceremonies and is one of the weekend's MCs.
As a long-time fan and now performer at the festival, we wanted to know what made MusicFest so fun.
"There's so much going on at one time. So many festivals just have one or two stages, but at Musicfest there are six stages, so there's always going to be something to see," says Austin. "Plus there's all the little craft stores and food trucks, and of course, just hanging out with your friends listening to great music!"
World-class music, downhome hospitality
Austin, who's also a mom, says parents also really love the festival's Kidzzone, which features supervised craft activities, stilt walking, costumes, sprinklers, music, art projects, juggling, storytelling, face-painting and a kids parade. "My kids have been coming for years, and it's so fun and safe. The festival is very family friendly, but you can still rock out."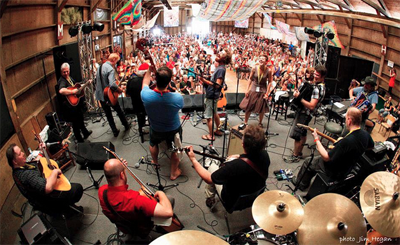 You'll hear a diverse range of music at the festival, from bluegrass to hip-hop.
Photo by Jim Hegan
The Comox Valley is known for its hot summers, so many people always look forward to taking a dip in the river, without having to leave the festival grounds. Where else can you listen to some of the world's most talented musicians, all while cooling down in a mountain river?
While you're taking in the MusicFest, make sure you leave some time to explore the region's other fantastic offerings, like the Courtenay and District Museum and Palaeontology Centre, which takes families on tours of fossil sites found along the river. Fishing is another big pasttime here; hire a fishing charter or toss a line from shore. In Comox, you can actually buy fish right off of the boat. Doesn't get fresher than that. There's also kayaking adventures, whale-watching and surfing, yes even surfing. 
All this combined with a world-class musical festival, and delicious restaurants, should make the Comox Vally a top destination for your summer travel plans. 
Whether it's your first time to the region or you go every year, the Vancouver Island's MusicFest is a must for anyone looking to listen to world-class music, amid some downhome, small-town hospitality.
More information
Getting there: Direct flights to the Comox Valley via Edmonton and Calgary on Air Canada, WestJet are available daily.
Love music festivals? Share this story with your friends and invite them to dance along with you.