REBECCA BOLLWITT
BARKERVILLE - In the 1860s and 1870s, Barkerville in B.C.'s Cariboo was the largest town west of Chicago and north of San Francisco. This was thanks to the Gold Rush brought on by the explorations of prospector Billy Barker – the town's namesake.
#DYK the area around Quesnel is the reason BC is Canadian and not American? It was Billy Barker who struck one of the largest gold discoveries in the world back in 1862. Before Barker struck the jackpot, this region was almost written off by the eastern part of Canada, not important and seen as land just full of obstacles.  That all changed the day Barker struck big time gold.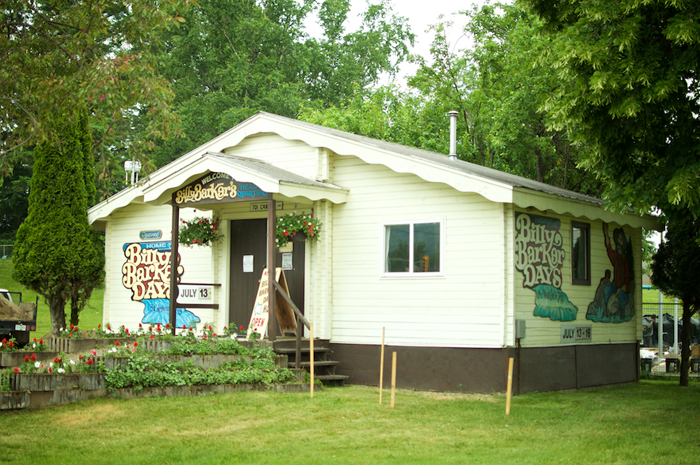 Billy Barker Days headquarters
All photos by Rebecca Bollwitt
For 44 years, nearby Quesnel has hosted Billy Barker Days, a free family festival celebrating the history of the area, with a period costume parade, live entertainment, the Gold Dust Mall, rodeo, midway, dances and fireworks, to name a few of the events.
Help your friends #DareToExplore. Share this page on Twitter.
To get to the heart of this legendary festival, and to channel its namesake, I grabbed a shovel and took to the banks of the Quesnel river with a modern-day prospector, Clair Schmidt of Grubstake Gold Adventures (https://www.facebook.com/pg/grubsteakgold/).
Join in on the free fun while you discover Northern B.C. Plan your adventure.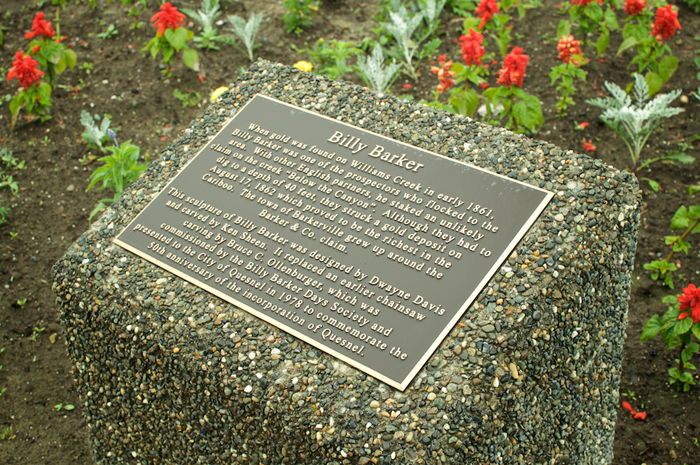 Billy Barker Days Gold Pan Plaque
"Look for flat rocks and black sand," Schmidt old me as we arrived on a river sandbar with Highway 97 traffic whizzing by on the bridge above us. We were in the heart of Quesnel, and I may have been carrying on iPhone to take photos and video, but in a few moments we'd be transported to another time.
He explained that the magnetic iron (black sand) is heavy and it comes together with gold since they're about the same weight. He dug a few quick holes in the sand that was covered by smooth stones, and poured each load into a pan for each of us to work with. Before we began the next step, he advised: "Always fill in the hole because you don't want caribou falling in there and breaking an ankle!"
Pans loaded with river soil and pebbles, we walked to the edge of the sandbar where the river split and flowed along each side. We turned to the side where the current was calmer as this would help us have better control of the flow of water we poured in and out of our pans.
Standing in the water with the pan dipped down at about a 45-degree angle, Clair demonstrated proper gold-panning technique.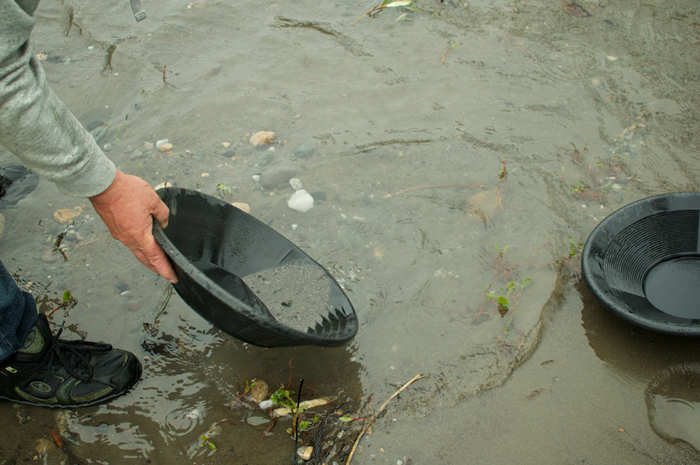 Clair doing demos
First, dip the pan down to let water into the bowl area, then you'll swish it side to side to get the general dirt out of the pan. Then repeatedly dip the pan in the water again, without leaving the water but pulling it up and down several times in a row. Pick off the large rocks, and let the larger pieces that stay on top float away when you dip your pan once more.
Eventually you'll end up with black dust, and if there's any gold it will stick around the bottom of the pan too, since it will be heavier than anything you've splashed out already.
Clair's company provides safe and fun prospecting and gold panning adventures in the Cariboo for groups of all ages, and has hosted visitors from around the world who are drawn to Northern B.C. for its open land and opportunities for adventure. Some of the recent Gold Rush-themed reality shows on TV help promote the activity as well!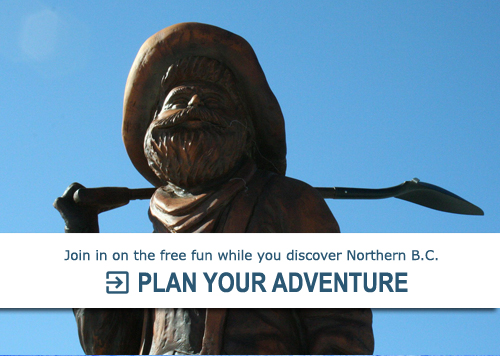 I attempted to copy my guide's instructions, however I was crouched down in the water with the heavy pan wobbling all over the place. He was done already, revealing a gold fleck in the bottom of his pan, and I was still swirling pebbles around. It was quite the arm workout!
His discovery, while rather insignificant to a pro and worthy of releasing back into the river, was still exhilarating for a city slicker like me. I can only imagine the calamitous excitement prospectors would have experienced, after all of their hard work, back in the days of Billy Barker.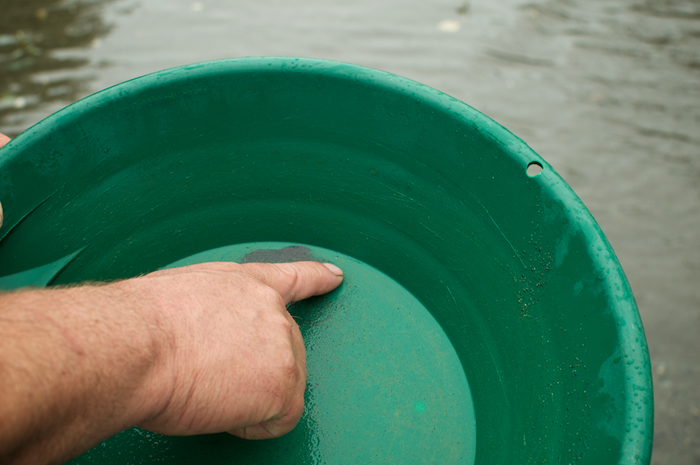 Clair's gold fleck in the pan
You can join Grubstake Gold Adventures for a week-long prospecting experience, or try your hand at gold panning for an afternoon.
Whatever your level of adventure, you should definitely make Billy Barker Days your home base – you might even run into Billy himself.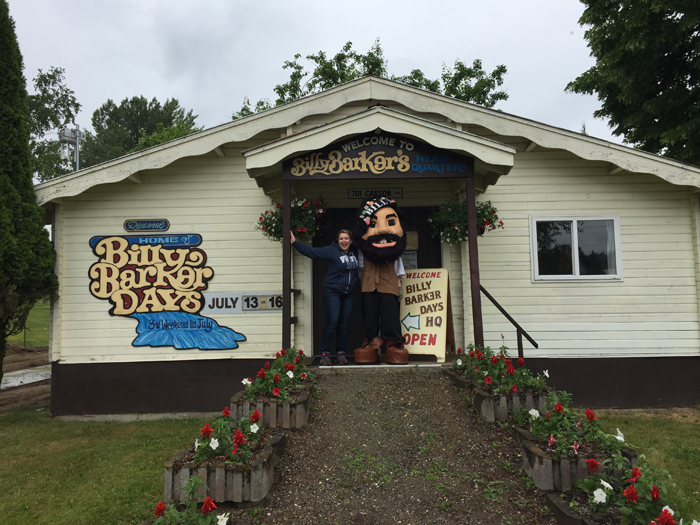 Rebecca and Billy
If you go:
Did you know Quesnel is also the only place in BC where you can borrow a gold pan at the visitor centre and pan on Crown land along the Quesnel River, without a mining claim!? Plan your trip today.

Sure you can go here and visit, but we challenge you to visit and think about moving - rural community leaving puts a whole new spin on life.  This website will inspire you to investigate more: https://www.quesnel.ca/our-community/moving-quesnel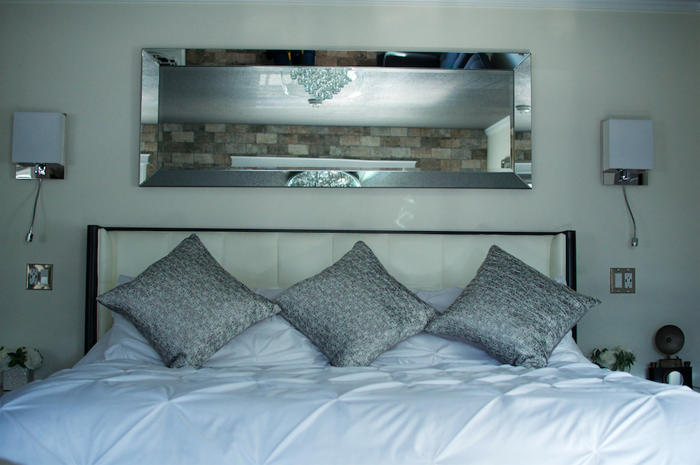 Want a bit of nostalgia? Stay at the Billy Barker Hotel while you explore Billy Barker Days.
For more on the Cariboo region and all the things to experience, search on Facebook, Twitter or Instagram #ExploreCariboo
More information can be found at the official festival website http://billybarkerdays.ca/
For even more on Billy Barker Days, head on over to our Festival Overview.
Are you ready to enjoy B.C.'s largest free festival? Share this page with your friends.