Arts on the Fly summer music and art festival is held in Horsefly BC. It takes over the entire town with four stages of live music, workshops, a vendor market full of local artisan goods, and fantastic food.
---
Arts on the Fly on Social Media
How does a community in the far reaches of BC, get known around the world for producing some of the best banjo's around?  Horsefly, just outside of Williams Lake BC is full of discoveries. 
This is a festival that get the whole town involved and attracts people from all around the region for good reason.
For one, there is the stellar line up of musical talent that have performed at this event. (Also, if you're wondering how people from Horsefly refer to themselves, they're Horseflynians.) 
And there is no cell service and the festival area has no wifi, so bring cash, set your notifications to "off" and tell your boss you'll be offline for the weekend!  
2023 artist lineup
Headliners for the 2023 show include 
Honour Bound
Pharis & Jason Romero
No Big D
Cole Patenaude & the Screech Owls
Interstellar Jays
Chucho Tsin & the Land Defenders
Here's the complete festival lineup poster:
Tickets
2023 ticket prices are still TBD, but here is what they cost at the last Arts on the Fly festival so you can set some money aside for this one.
Entire Weekend Pass 
Adults: $60 
Kids (13 – 18) and seniors: $55
Camping passes at the gate
Friday  
Adults: $35 
Kids (13 – 18) and seniors: $30
Saturday 
Adults: $45 
Kids (13 – 18) and seniors: $40
Children under the age of 12 get free admission for the entire weekend.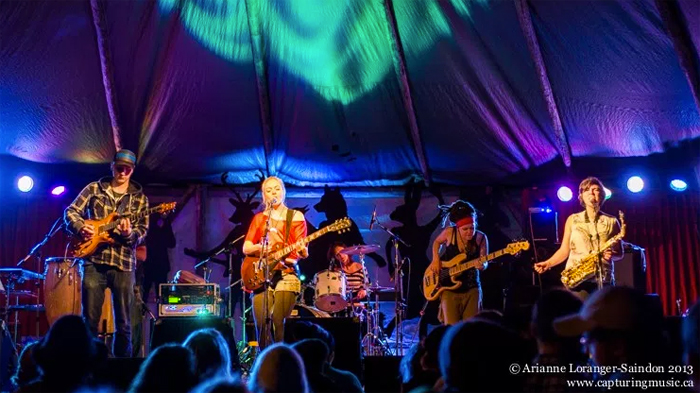 When you go
Find ore details about the festival and to purchase tickets at the Arts on the Fly webpage. Or visit them on Facebook.
The community of Horsefly is found just off Highway 97 north of Kamloops. The community is within the Cariboo Regional District, home to a bounty of adventures and history - take a driving tour while you're out there. 

For more on the Cariboo region and all the things to experience, search on Facebook, Twitter or Instagram #ExploreCariboo
Are you ready to get artsy in Horsefly? Share this page with your crew and get planning.
---
Stay up on festivals and events in Western Canada!
Sign up for FestivalSeekers enews and we'll keep you in the loop.