It doesn't get more West Coast than the five-day Carving on the Edge Festival on beautiful Vancouver Island.
Learn from and watch talented traditional and contemporary carvers who use their artistic talents to the tell the stories of this ancient land with their tools and hands.
Usually there are wonderful opportunities to gather and learn but at this time, we have to learn from afar. As 2021 unfolds, hopefully we will meet in person. To meet with the changes, the festival will be offered virtually March 26-28. Please go to the official Carving on the Edge Festival website for events and exciting news. 
Read our FestivalSeekers story
The in-person events usually feature exhibits, hands-on learn-to-carve workshops, regional food, cultural shows, along with many family programs and demonstrations each day.
All of the events are free and open to the public.
Take a walk on the wild side of Vancouver Island. Plan your trip to Tofino today.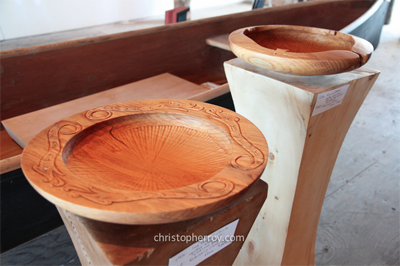 Simple but beautiful wood bowls will be on display at the carving festival. 
Photo by Christopher Roy
There will be presentations by master carvers, storytelling events, and family carving workshops for all ages. All events are open to the public at no charge. A "Carving Map" will be available from local businesses and visitor centres will lead festival-goers to event locations.
The 2021 March event is online. 
The Carving on the Edge Festival has undergone some reinventions and new programming has emerged. Even though in-person gatherings are important we will have to wait. For now, we will gather virtually. 
We do know that this year's festival will feature the works of Gordon Dick, Kelly Robinson and more. Joe Martin is mentoring apprentice canoe carvers. 
While you wait, get excited for the open carving area that will be featured throughout the Carving on the Edge Festival.
When we can meet, you can visit to seer carvers to set up and work on projects throughout the week. All carvers are welcome to come enjoy this shared workspace, work on existing projects or begin new ones, and carve alongside each other. This is a great opportunity to share tips and techniques and gather inspiration from fellow west coast carvers of all skill levels.