It doesn't get more West Coast than the five-day Carving on the Edge Festival on beautiful Vancouver Island.
Learn from and watch talented traditional and contemporary carvers who use their artistic talents to the tell the stories of this ancient land with their tools and hands.
After an online event in 2021, the festival returns in person for 2022! Head to the official Carving on the Edge Festival website for events and exciting news. 
Read our FestivalSeekers story for a preview of what you can expect at the Carving on the Edge Festival.
The in-person events usually feature exhibits, hands-on learn-to-carve workshops, regional food, cultural shows, along with many family programs and demonstrations each day.
All of the events are free and open to the public.
Take a walk on the wild side of Vancouver Island. Plan your trip to Tofino today.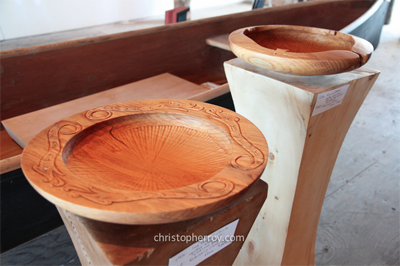 Simple but beautiful wood bowls will be on display at the carving festival. / Photo by Christopher Roy
There will be presentations by master carvers, storytelling events, and family carving workshops for all ages. All events are open to the public at no charge. A "Carving Map" will be available from local businesses and visitor centres will lead festival-goers to event locations.