Haying in the 30's is held on the August long weekend, celebrating the olden days of farming.
Admission and camping fees are free, but all proceeds of the event goes to help people with cancer, who are going through treatment. The event is a chance for families and friends to enjoy and heritage and charity in one event. All donations go to help people with cancer.
Events throughout the weekend include, face-painting, horseshoe demos, old-fashioned farming demos and beef on a bun dinner.
Event highlights
Events for 2023 are not yet announced, here is a sample of events from prior years.
Saturday
Opening Ceremony and Parade 
Horses, floats, candy and a parade usher in Haying in the 30's.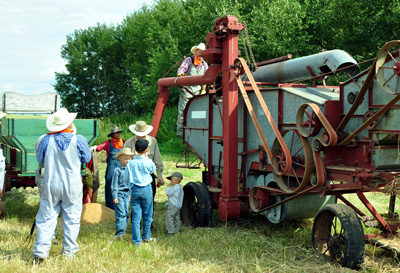 Photo provided by Haying in the 30's
Beef on a bun
Enjoy a free supper on Saturday night provide by the organizers of Haying in the 30's.

Old fashioned hoedown 
After you've filled up on barbecued beef, put on your dancing shoes and head to good old hoedown. Music that you can two-step to all night is on tap for all ages. 
Sunday
Interfaith service
On Sunday morning, Haying in the 30's hosts an interfaith service for anyone who would like to attend. 
More info
For the most recent updates and program info, visit the festival website.
Headed to Haying in the 30's this year? Share this page with your friends and family.