About the festival
The annual Pacific Rim Whale Festival marks the opening of the region's renowned whale-watching season and the annual migration of more than 20,000 Pacific grey whales on their 13,000-kilometre journey from the waters of Mexico's Baja Peninsula to the Bering Sea.
Known for the abundance of grey, humpback and orca sightings year-round, the west coast of Vancouver Island is one of the world's premier whale-watching destinations with more than a dozen operators based in Tofino and Ucluelet, conducting boat tours from March through October.
More than 30 years ago a group of concerned citizens wanted to create awareness about the island's pristine eco-system, the then-endangered grey whale population, and coastal traditions. They formed what is known now as the Pacific Rim Whale Festival Society.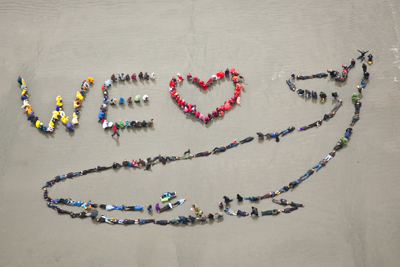 Thankfully, the grey whales' numbers have increased; and the celebration continues. Festivities each spring are centred around the migration of these great ocean giants — from Mexico to the Arctic. You can see whales gliding past from the beautiful shores of Vancouver Island.
The 9-day festival consists of many educational and cultural presentations as well as performances, kids activities, family-oriented events and events for both locals and visitors alike. 
Festival schedule, Mar 17 - 25, 2023
Mar 17: Opening Ceremonies & Whale Parade
Mar 18: Whale Festival Parade
Mar 21: Maritime Kids Day, Tofino
Mar 23: Maritime Kids Day, Ucluelet
Mar 25/26: Closing Gala
More details to be announced soon, see the latest on the festival website. 
Get your tickets
Access to many festival events and activities is by-donation, through the purchase of festival button (drawn by local children) at $5 each. Additional ticketed events will be sold separately. Go to  
Grab a preview of the Pacific Rim Whale Festival here.