It's another Thanksgiving weekend not to be missed on Gabriola Island. You'll get a warm welcome into more than 60 studios, which includes 14 new artists.
Each year more and more artists move to the Isle of the Arts, making Gabriola Island one of the coolest creative hubs around. 
The Thanksgiving Studio Tour helps support the artists working in a variety of mediums: woodworking, glass, textiles, sculptures, paintings and drawings. The bonus is you get to explore this quant and quirky island just 20 minutes away from Nanaimo. 
Bring your car along on the 20 minute BC Ferries ride or jump on the Gabriola bus and enjoy these artists as you explore the "Island of the Arts"
Where And When
Be sure to stop by the the studios on the path less travelled. Just follow the signs on the road, or pick up a brochure which is available in most of the venues and online.
Featured Events
Tour Kick off Soiree 
7-10 p.m.
Tour Central: HIVE emporium
Cost: Free

Meet artists from the Island in a comfortable setting to kick off the Thanksgiving Studio Tour. Enjoy a night of dancing, mingling, eating and drinking. The HIVE will be filled with work from local artists and will help you get started on your own self-guided path for the Thanksgiving Studio Tour.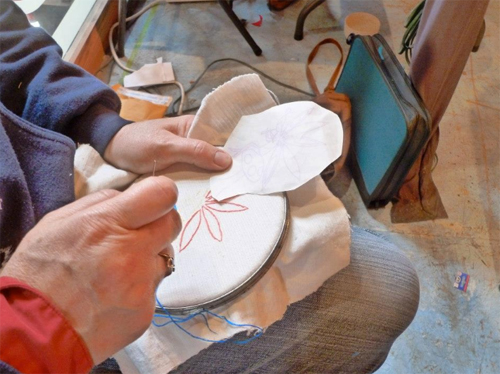 Artists
Here are just a few of the featured artists this year.
Trudy Broadley Studio
Caroline James Fine Art Studio
Tammy Hudgeon Studio
Casa Blanca Gallery
Gabriola Studio
Salt & Silver Jewellery
Words & Faces
Susan Brooks Glassworks
Going with the Wind
Silver Bee Studio
Ruth McCollum
Bob Brinton
Ali Hosein Art Studio Gallery
Tony Grove Studio
Eyes Wide Open Photography
Cariboots
Modern Bohemian Design
Thistle Handmade
Stitching for Social Change
Brush with Nature
Carolyn Bell Art
Indian Summer Leather Design
1935 Murray Road
Nerissa Layton Studio
Karen Cain Studio & Gallery
Tim Gambrill Illustration + Design
Vintage Sign Projects
SpiritSong Studio
Delfin Designs
Eagle Tree Studio
Mindy Joseph
Gwen Spinks, The Orange Chicken Art Studio
Black Bird Studios
Make sure to get your tour map here and start planning your trip around Gabriola Island.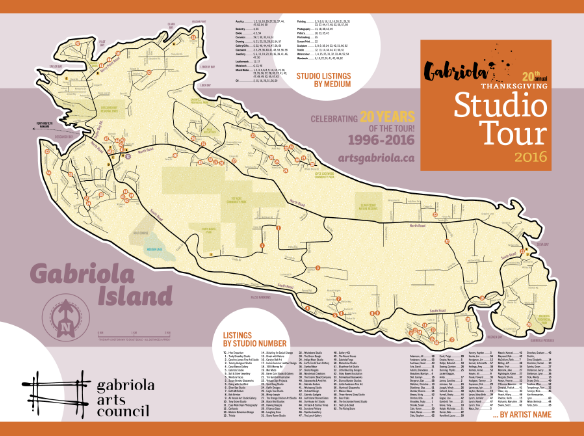 If You Go
Pick up a snack while checking out the Thanksgiving Studio Tour. Did you know Nanaimo is home to the Nanaimo Bar Trail and is the gateway to Gabriola Island? If you have time, take a self-guided adventure through the city and sample what the city has to offer. 
Heading to the Nanaimo area? Check out these places to stay.
Ready to indulge in an art-filled weekend? Share this page with your friends.