Tongue on the Post Festival celebrates 12 seasons of excellent music – and no frozen tongues.
It's the middle of winter but there is a beat in the air, drawing you towards the old pottery factory in the heart of Medicine Hat. It's the annual Tongue on the Post Music Festival where it may be chilly on the outside but inside the historic Medalta Potteries the music heats up the old kilns and festival-goers. 
Get a preview of this year's festivities here.
Through the week of Jan. 22 to 27, the Medicine Hat Folk Music Club will host over 40 shows at Medalta Potteries and throughout the city at various coffee shops, pubs and bistros. Music lovers are encouraged to buy tickets soon for the annual Supper and Song Gala highlighted this year with The Tequila Mockingbird Orchestra, the Singer Songwriter Event and the main event, the Saturday Evening Gala on January 27th.
Help your friends #DareToExplore. Share this page on Twitter.
Headliners
The Tequila Mockingbird Orchestra

More to be announced soon.
For ticket information and additional festival details visit: http://topfest.ca
Featured Artists for 2019 TBD take a look at last year
Tequila Mockingbird Orchestra
Playing on the title of a classic novel, Tequila Mockingbird Orchestra could easily be described as storytellers. The musicians weave tales and harmonies together with an eclectic group of instruments. Listening to this group of troubadours will take you to faraway places and back again.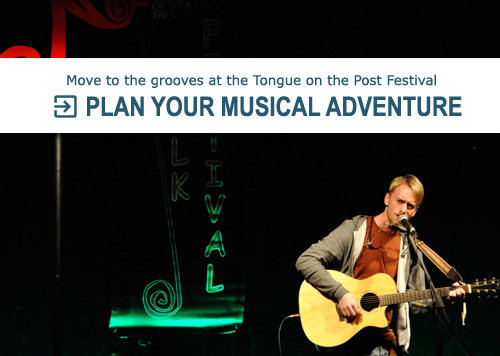 Schedule
Jan. 22-27, 2018
Jan. 22-24, over 20 free café concerts will pop up at various coffee shops, pubs and bistro's around Medicine Hat.
Thursday, Jan. 25, Medalta Potteries will play host to the annual Supper and Song Gala which is highlighted this year with The Tequila Mockingbird Orchestra.
Friday, Jan. 26 is the Singer Songwriter Event.
Saturday, Jan. 27 is the big day. Festival-goers can check out four stages putting on over 16 shows for just one ticket price. Closing out the festivities is the Saturday Evening Gala. The gala is a ticketed event boasting three headlining artists.
For a detailed overview of the schedule, please visit the official website http://topfest.ca
Tickets
Ticket prices vary between free and up to $60 depending on the event.
Tickets can be purchased around town at The Framing & Art Centre, Mike's Meats, Medalta Potteries, The Zucchini Blossom as well as the Medicine Hat Tourist Center and at www.tixx.ca.
Purchase your tickets for the Tongue on the Post festival here.
Additional Information
Are you taking in the Tongue on the Post Fest this year? Share this page with your folk-music loving friends and start planning.