Experience everything from archery to art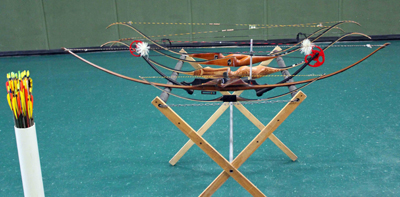 The Bows used at the Vermilion Archers Club
Photo provided by John Korobanik
JOHN KOROBANIK
VERMILION, AB - The last time I held a bow and arrow, I was a kid. The bow was a tree branch, the bow string was just that, string, and the arrow was a semi-straight stick.
So it was with much anticipation that I visited the Vermilion River Archers club recently to shoot a few arrows and get a glimpse of what's expected at Alberta Culture Days, September 30 – October 2, 2016.
Vermilion was designated one of the feature sites of the province-wide celebration of culture, which is an annual event initiated by the Alberta Government to help promote culture and heritage in the province.
There's a full on three days of activities that will appeal to a wide range of interests and ages. Among the events is the showing of a film called A Change of Heart, made in the community in 1984, a Friday night street dance and barbecue, hands-on arts activities, a heritage mural unveiling, a show and shine and a parade. In the midst of all that, there are also a variety offerings by more than 30 local organizations including the archers, and a demonstration by local and renowned knife maker, Ed Storch.
Not your grandpa's bow and arrow
If you've ever wanted to test your own archery skills, the VRA will be doing demonstrations. Odds are anyone who hasn't tried shooting a bow lately will be surprised by how the sport has changed.
The bow and arrow as a weapon system predates recorded history. And just as the outdoor fun of chasing your friends through the bush in a game of tag has been replaced by video games, so too have the ancient hand-crafted bow and arrows been replaced by high-tech equipment. Materials such as Dacron or Kevlar are used in the bowstring and laminated wood, Fiberglas and carbon fibre components in the bows.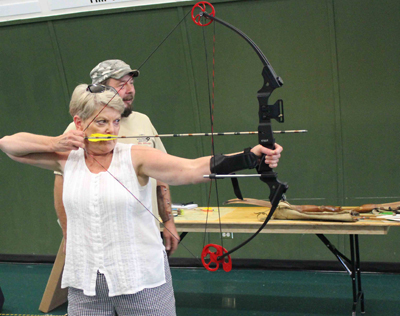 Keri Pullyblank shoots under direction of Tim Pardely
Photo provided by John Korobanik
While the equipment has improved incredibly, the basic technique is still the same.
Push the bow, pull the string, aim and release.
Test your archery skills
With Tim Pardely and Ron Dixon of the VRA providing the equipment and instruction, I discovered the sport is challenging. It also requires a level of fitness and arm strength. My first couple of shots with a recurve bow were somewhere near the target, the next few, surprising, actually hit about where I was aiming.
Pardely, who made his own long bow for about $20 and a couple of evening's work, said the club will be at culture days to promote archery as a great family sport. While several of the 35 members in the club, which has been going since 1984, are avid bow hunters, the VRA is mainly a target club. Its indoor range is in the Vermilion armoury.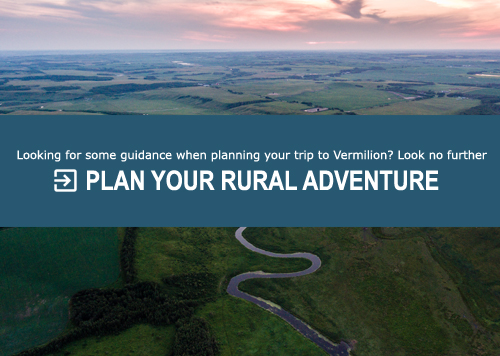 "We're here to promote the sport, we don't push hunting," said Pardely.
After half a dozen shots at targets we moved outdoors, to the club's range just outside of Vermilion. Located on a local farmer's property, the club has a number of life-like foam animals set up as targets through the field and bush.
We elected to shoot from the raised platform. I was using a compound bow outdoors – it has a mechanical system of pulley cams over which the bowstring is wound, making it an easier pull.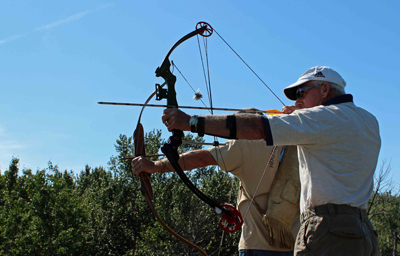 Tim Pardely with his homemade long bow and John Korobanik with a compound bow aiming at foam animal targets
Photo provided by John Korobanik
My success rate of hitting the foam deer was abysmal. One little tip from Pardely – keep both eyes open – greatly improved the percentage.
Knife-maker extraordinaire
It's easy to see why families could become enamoured with the sport, especially given the chance to roam through the range, finding then shooting at the foam animal targets.
Then it was off to Storch Knives, near Mannville, where Storch showed us the initial steps of another ancient craft: knife making. He will be showing the forging and shaping steps at the culture days, how he uses heat and hammering to begin the lengthy process of turning a piece of material into one of his incredibly unique, high-quality knives.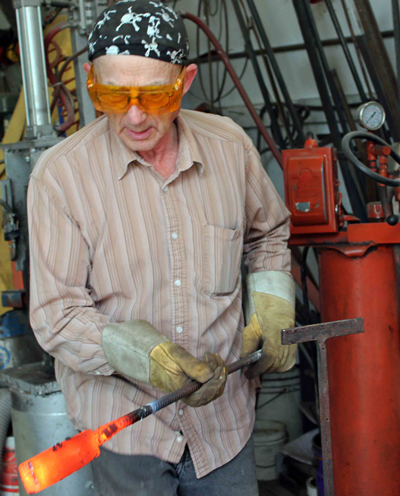 Ed Storach showing heat material almost ready for hammering into shape
Photo provided by John Korobanik
Because it takes between four and 40 hours to create the finished product we didn't get to see the whole process, but we did get to see his knife collections. It includes everything from steak knives to kitchen slicer to the classic Bowie and others. Storch makes his knives from steel, cables, and chains from motorcycles or chainsaws.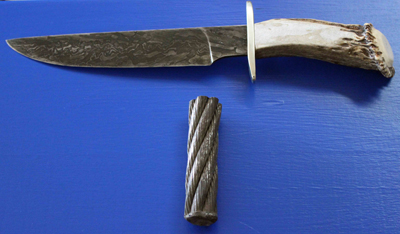 From a piece of cable Storch will make this knife
Photo provided by John Korobanik
In a word, awesome! 
More information
Nearly 100 organizations in 50 communities throughout Alberta will be celebrating culture days.
For a list of the communities and activities, visit http://culture.alberta.ca/culturedays/sites.aspx.
Like this story? Share it with your friends on Facebook.