Pack your hiking and dancing shoes for this diverse festival on the doorstep of lakes and forests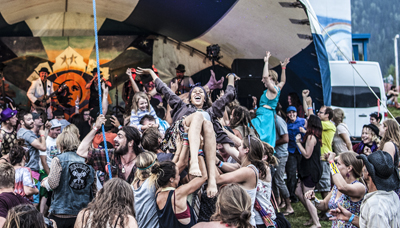 The ArtsWells Festival features more than 80 music acts and visual artists. 
Photo by Mary Mattheson
MATT MOSTELLER
My heart started pounding when I realized I'd have to join in this spontaneous sing-along. Everyone was doing it but all I could think is — I'm tone deaf and therefore a horrible singer.
But someone reached out, grabbed my hand and smiled at me as our voices became one. Off-key singing voice, be damned. I was at a music festival and at one with like-minded people singing right along to an excellent band. It was a magical moment.
It was then I made a note to myself to put the next music festival in my smartphone calendar — the ArtsWells Festival in July 31- Aug. 3, in Wells, a beautiful part of central B.C.
The festival is just as much fun for outdoor enthusiasts as it is for music lovers. Tweet This!
Heading to the provinces' wilderness side, I'll be packing my canoe and hiking gear because ArtsWells is a festival located smack dab in the centre of all things outdoors.
Wells is in the midst of wilds, a small place, big on spirit and history. A trip to the region is refreshing because it's a chance to get unplugged but plugged into some seriously cool entertainment. 
The festival features more than 80 musical acts, a roster of visual and theatre projects, just about everything you can and can't imagine.
The delight in this festival is its diversity. It's packed with music of all genres — country, electronic, indie, folk, rock, reggae and even a rapping cowboy. On this year's bill are top-notch musicians who play their hearts and souls out, like Good for Grapes and Jasper Sloan Yip.
Yip is a seasoned music festival musician who keeps coming back to Artswells. "Once you've done this you will not want to stop," he says.
That's a typical reaction from the musicians, artists and art and music lovers. So many of them return year after year, says David Jacob Harder, ArtsWells producer and curator. "ArtsWells aims to provide an experience of art that can be transformative to both the participating artists, as well as the festival-goer." 
Nearby is the must-visit, Barkerville, a historic town that brings alive the 1860s Cariboo Gold Rush, right down to the dusty streets, quaint boardwalks and more than 100 historic buildings, and roaming actors telling gritty stories from the old mining days.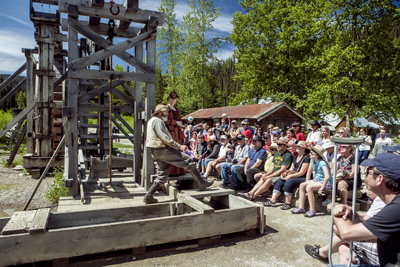 Barkerville brings alive the old gritty gold rush days with roving storytellers. 
Photo by Thomas Drasdauskis
Also on Wells' doorstep is Bowron Lakes Provincial Park, one of the best canoe circuits in North America.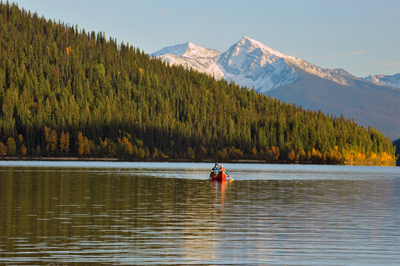 Bowron Lakes is an outstanding canoe circuit near Wells, B.C.
Photo by Geoff Moore
The Bowron canoe circuit will also force you to disconnect from cellphones and computers. A series of six major lakes and connecting waterways, canoeist or kayakers start and return to the same point, a giant parallelogram of Mother Nature's finest. A variety of campsites dot the chain of lakes, so give yourself at least days to fully enjoy the magic. Wildlife is abundant, with frequent moose sigtings and the constant call of the loon.
Canoe and kayak rentals are easy to arrange from three places, including the family-owned, Bear River Mercantile. Anyone from first-timers to seasoned adventurers should check out the guided trips and adventures offered by Whitegold Adventures, a local canoe and hiking guide service.
More information