BMO KidzArtz Dayz creates pop-up artist enclave in Prince George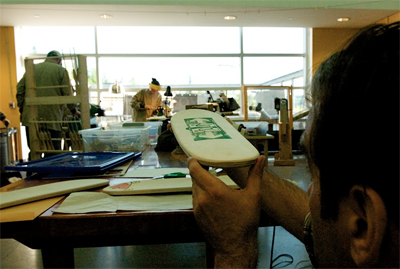 Get creative in Prince George.
Photos by Jeremy Derksen
Joel Klinger sights down the length of the new skateboard deck he's just finishing, freshly sanded and embossed. "There's musical resonance in everything," he says. "It's called tap tone. It's understanding the material properties of the wood, the Fibonacci sequence. I find it beautiful." Share this page on Twitter.
Not the typical comment you might expect of a former professional dirt biker and mechanic, but Klinger is also a musician, a father and now, a budding artistic designer. Klinger dreamed up his skateboard design while exploring musical instrument building. He wanted to build the boards for his kids, age five and six.
Working in the MakerLab at Two Rivers Gallery, in Prince George gave him the resources he needed to make it happen. Every Thursday night creative minds of all ages gather here to turn their artistic visions into reality. The space is like Willy Wonka's factory for artists. Instead of polished end products, you see the makings of it all: wood lathes and sanders, a green-and-orange painted piano, two 3D printers, paint jugs, pencils, cloth and fabric, a laser engraver and silversmithing tools.
Hands-on art
Liberating art from high society and bringing it to the masses is still a work in progress, but the MakerLab is one way that Two Rivers Gallery is breaking down the walls. Another is BMO KidzArtz Dayz, a two-day festival on July 8 – 9 featuring 26 free art activities and events spanning painting, woodworking, 3D design, jewelry making and more.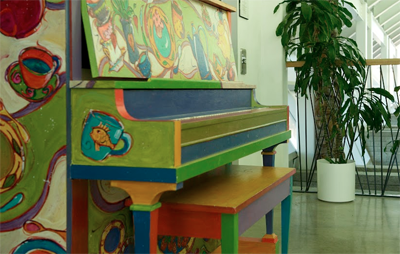 Have you ever painted a piano?
John Makowsky is one of the resident artists involved in kids' programming at the gallery. "The kids get to do some pretty cool things [here]," he says. "We've built a giant robot out of salvaged dryer boxes … planetary gear sets with pieces cut on the laser cutter—they get to do a ton of things and it's really hands on."
Inside the large, brightly lit second floor studio at Two Rivers, the happy buzz of teen energy channeled into creativity belies stereotype. Klinger likens it to the pool skate scene of the '70s, where local conditions (a drought year in California that left swimming pools dry) spurred creativity through necessity, triggering a whole new movement.

"There are a lot of kids that might not like the town they're living in," he explains, "but you get into something like skateboarding or art and all of a sudden you don't see the place you live in as an empty wasteland, you look at it as an opportunity. It creates that passion and a sense of freedom."
Frontier edge
That artistic sensibility has seeped into the town. For many years, Prince George—a gateway for northern B.C. resource development—had a reputation as being a little rough and tumble. But somehow the town has found the right Fibonacci sequence. You can feel a resonance here, just about everywhere you go from gallery to restaurant, café to riverside park.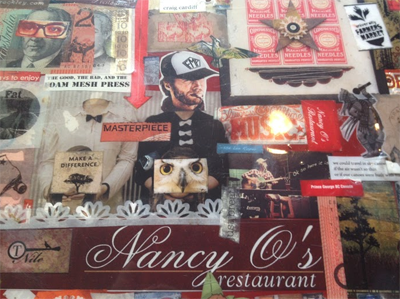 Prince George businesses are getting creative too!
Artistic collages fill the tables at Nancy O's, a local hotspot for food and drink. Down the road at Ohh Chocolate, master chocolatier Caroline Longhurst makes masterpieces out of fresh Belgian chocolate. A newly opened winery, Northern Lights, is experimenting with new combinations of fruit from hardier varieties that can handle the local climate. For families, The Exploration Place is to museums what the MakerLab is for art: a place to get hands-on and interact with the natural and cultural history of the region. There's even a bubble where you can stand "inside" a river ecosystem as ancient sturgeon swim around you.
It's a new resonance, with just the right amount of frontier edge.
And, in the middle of it all, Two Rivers Gallery looks onto Canada Games Plaza, where the outdoor events taking place during Art Dayz will happen. In 2015, the square was renewed with new artwork for the 2015 Canada Winter Games. Pillars wrapped with First Nations totem designs and words engraved in the walkways tell another story of the town's heritage.
The enclave effect
In a small northern city of just 76,000, an event like the BMO KidzArtz Dayz has an "enclave" effect. Last year's festival was attended by over 5000 people.
Bringing so many people together through the arts, over two days, will transform Canada Games Plaza into a modern Greenwich, with a Pacific North West twist. Like a macro-version of MakerLab, the result is a pop-up artists' enclave where every cool new idea inspires three more.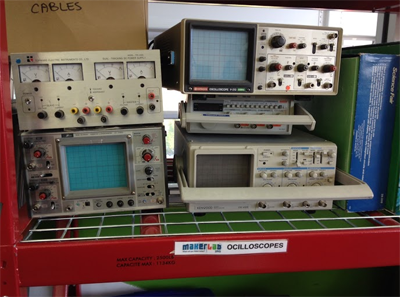 Have you ever created something magical with a ocilloscope?
Often in art, the most exciting work is happening at the fringe. On July 8 – 9, during the BMO KidzArtz Dayz, Prince George is the eye of the fringe.
More Information
Bring the family to Prince George to be part of the festival. Bring the bikes, the skateboards, the fishing gear along with your artist flair and stay the weekend or week. Tourism Prince George can help you plan your adventure.
The BMO KidzArtz Dayz is just one of many events happening in July, so much so the town is calling the MONTH "Celebrate Prince George Summer Festival".  For more on this event and more check out tourismpg.com
Like this story? Share your artist talents on Twitter or Instagram with #TakeOnPG. We'd love to see your work.