Enjoy the dazzling show in the sky from the shores of English Bay and Sunset Beach.
Photos by the Honda Celebration of Light
MIKE MORRISON
Look up in the sky it's a bird, it's a plane, it's a burst of fireworks! Tweet This!
Every year, Vancouver's Honda Celebration of Light illuminates the sky to an overture of thousands of "oohs" and as many "aahs." This year, the city's most popular festival promises to celebrate its 25th anniversary with, well, a bang. And I'm talking big bang.
The shores and skies above Vancouver's beautiful Sunset Beach and English Bay, are the home of the Honda Celebration of Lights. It's a week-long international fireworks competition, which sees world leaders in the pyrotechnic industry come to Vancouver to dazzle attendees with stunning combinations of flashes of colour choreographed perfectly with music.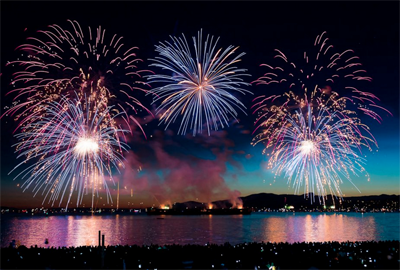 Countries from around the world send their best pyrotechnic experts to this festival.
The countries competing this year are China (July 25), Brazil (July 29) and Canada (August 1). Each of the teams will be judged on sizing of the show, artistry, synchronization, originality of effects, quality of soundtrack and fireworks. The music is broadcast on speakers, restaurant patios and the radio station LG104.3 FM.
Since it's the 25th year, the festival intends to make it an anniversary to remember. The festival's producer, Heather Sharpe, promises a bigger celebration than ever.
"We're definitely expanding. We've got new venues and new programming and we are blowing it out of the water for the 25th anniversary." Literally. Part of that expansion includes a special month-long countdown that'll see mini-firework and light shows every night around Metro Vancouver starting on July 1st.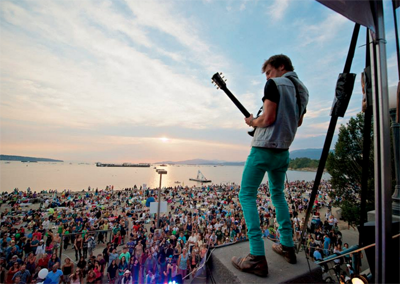 English Bay is the backdrop for a series of concertes before the fireworks begin.
But while there's plenty happening up in the sky, there's just as much excitement on the ground, including Shorefest, which is Vancouver's largest free community concert series presented by LG104.3 FM. Festival-goers on the shores of English Bay will be able to listen to more than two dozen live performances by bands, including Platinum Blonde, with many of the bands still to be announced on the official website. There's also roving performers, food vendors, family entertainment and so much for everyone to do until the fireworks light the sky at 10 p.m.
"Definitely come down early," says Sharpe when asked to share some of her Celebration of Light tips. "If you've never been down here before, you definitely want to consider one of our tickets venues because that will give you the most comfort."

Vancouver is a city rich in arts and culture. Enjoy nature, nightlife, art, music and more!
Photo: Jay Hailey
This year, those ticketed venues include: 
The Keg Lounge, which features live music, hors d'oeuvres and a social lounge atmosphere.
The new Clearly Spectacle Lounge, which is a bit of a quieter space, but comes with the closest reserved seats to the water and, most importantly, private washroom facilities.
The YVR Observation Deck, which because of its bleacher-style seating, is perfect for families and groups.
There's also a ton of space for everyone and anyone who simply wants to bring a blanket to find their own spot, too.

Whether you're a fireworks fanatic, or just like to watch the night sky light up while sitting on one of the world's most beautiful shorelines, this year's Vancouver's Honda Celebration of Light should be on the top of your summer must-do travel list.
Additional Information
Getting there: Direct flights to Vancouver via Edmonton and Calgary on Air Canada, WestJet are available daily.
Thinking of checking out the fireworks displays this summer? Share this page with your friends.