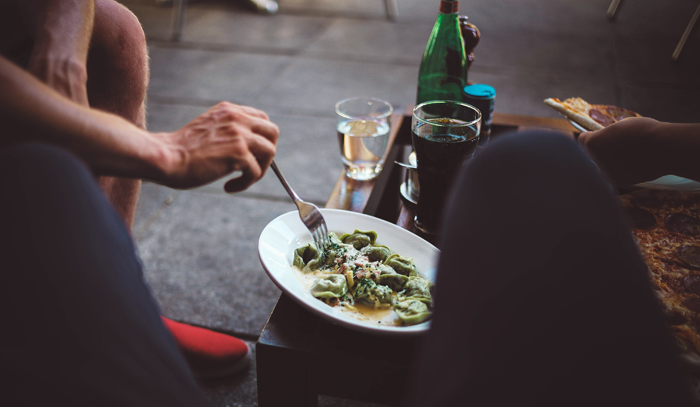 LAUREN GRINDLER
The summer months bring sunny weather, good company, and total relaxation. They also bring some of the best food – barbecues, fresh produce, and refreshing drinks. Not surprisingly, summer is the peak of festival season, with food-filled events popping up almost every week. This summer, spend time soaking up the rays and enjoying some of Alberta and B.C.'s best food and drinks by checking out these delicious festivals.
Taste of Okotoks – Okotoks, AB
Discover one of Calgary's charming bedroom community while experiencing local food and artisans at Taste of Okotoks. The town's lush greenery and spectacular mountain views set the perfect scene to spend the afternoon strolling through the streets boutique shopping and sampling tasty treats. On July 22, Olde Towne Okotoks will be transformed into a showcase of the town's top cuisine, art, and jewellery from more than 100 vendors. Sample tickets are only $1 each, so you will have ample opportunity to try a little (or a lot) of everything. While you're there, visit the Okotoks Conservation booth to learn about the town's commitment to sustainability — one of the many reasons Okotoks is one of Alberta's most rapidly growing towns. The event is family-friendly, offering crafts and face painting for kids, and live music for all ages. Visit the Taste of Okotoks page.
A Taste of Edmonton – Edmonton, AB
One of Edmonton's longest standing summer traditions is a delicious one. Since 1984, food-loving Edmontonians have been gathering in Sir Winston Churchill Square to experience the city's best food and drinks. From July 20 – 29, laissez-faire foodies can spend the day sampling top picks from over 40 food vendors and trucks. From pub food to Italian, Mexican, and Indian, Edmonton's best eats include something for all palates. Or, if you prefer a more structured approach to your culinary adventure, choose from one of four walking food tours hosted by Epicurean Adventure Tours. With options like Bacon and Brews and Gourmet Dessert, you may need to bring a bigger belt along with you. Rest your full belly after a day of eating by enjoying entertainment from some of Canada's coolest musicians—Bif Naked, I Mother Earth, and Hawksley Workman. For a full list of food vendors, musicians, and other activities, check out the Taste of Edmonton website.
http://www.festivalseekers.com/edmonton/atasteofedmonton
Alberta Open Farm Days – All across Alberta
Amid the flurry of activity while preparing food for your family, friends, and loved ones, have you ever stopped to think about how your food makes it to your plate? Alberta's farmers and ranchers want to make you part of the farm-to-table experience by inviting you to visit them during Alberta Open Farm Days for a province-wide culinary open house. From Aug. 19 – 20, farmers, ranchers, and chefs will opening their barn doors to farm-curious Albertans who want to know the origins of their favourite foods. This free event provides Albertans with an insider view of the hard work it takes to run a farm or ranch. With over 90 locations to choose from, every Albertan will have the opportunity to meet the farmers, see hands-on demonstrations, learn about the history of the land, and purchase locally grown food. See the full list of host farms and culinary events on the Alberta Open Farm Days website.
Longwoodstock – Nanaimo, BC
Enjoy a cold brew and hot tunes this summer at the Harbour City's biggest backyard party. From Aug. 11-12, experience craft beer culture while stomping your feet to folk-favourites Tequila Mockingbird Orchestra, or grooving along to the sounds of The Boom Booms. Sample top picks from Longwood Brewery's unique craft beer lineup — the ingredients come from nearby Vancouver Island farms. Meet the masters behind the beer, and learn the ins and outs of small-batch brewing. Also available will be Cobble Hill's Merridale cider, and an array of food vendors to complement your beer and cider tasting. The main event takes place during the day at Longwood Brewery, with afterparties going down at various venues around the city. For full event details, head over to the Longwoodstock website.
http://www.festivalseekers.com/vancouverisland/longwoodstock
Vegtoria: Victoria's Veg Fest – Victoria, B.C.
Often overlooked in the food festival scene are herbivorous foodies. While the sight of steak or bacon-wrapped anything may not make their mouth water, vegetarians and vegans are still food lovers — just with a compassionate twist. On July 22, Vancouver Island Vegan Association will set out to prove that meat-free food enthusiasts can chow down with the best of them. Victoria's Centennial Square will be transformed into veggie heaven, with over 50 animal-free vendors setting up shop for the day. Spend the day sampling vegan treats, hearing your favourite animal rights organizations speak, and purchasing cruelty-free goods like soaps, clothing, and jewellery. Serenading you while you fill up on goodies will be an eclectic mix of performers, including Richard Catwrangleur, DJ Nancy Drew, and Funk Cannon. Even meat eaters can enjoy this inclusive family-friendly festival — and they may just find their inner vegan. See the full list of vendors and performers on the Vegtoria website.
Hunters and Gatherers: A First Nations Feast (formerly Tuesday Night Summer BBQ) – Whistler, B.C.
What could be better than a family-style summer barbecue with rich cultural roots? Experiencing it amid the jaw-dropping backdrop of Whistler's monolithic mountains and flora-filled terrain, of course. The Squamish Lil'wat Cultural Centre is serving up bannock, West Coast salmon, local greens, and more, all summer long on Tuesday and Sunday evenings. After filling your belly with Indigenous-inspired dishes, fill your ears and eyes with the stories of the Squamish and Lil'wat Nations. Take a cultural journey through the museum accompanied by tour guides, and view First Nations art, learn about the history of the land, try your hand at drumming, and experience a traditional welcome song. For full details and ticket, visit the Squamish Lil'wat Cultural Centre website.
http://www.festivalseekers.com/vancouvercoastalfestival/tuesdaysummerbbq
Ready to dive into some delicious eats? Share this page on Facebook