Nanaimo's craft market features crafts and local artisans and the loveable jolly elf
REBECCA BOLLWITT
NANAIMO - "Sausage on a bun with sauerkraut," Kris Kringle requested as I sat across from him at Sandy's Ukrainian Kitchen in Nanaimo.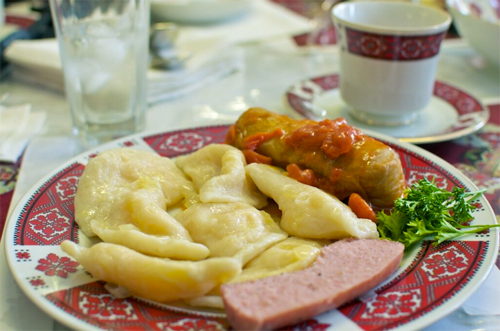 Help your friends #DareToExplore. Share this page on Twitter.
If you're ever wondering what Santa Claus would order for lunch at a Ukrainian restaurant, there you have it. I had the enviable task of hanging out with Kris for the day, on a sunny September afternoon in Nanaimo with the crew from the Kris Kringle Craft Market.
"I'm always Kringle-ing in my mind," event organizer Veronica von Conruhds told me over a bowl of borscht. She's put on the Kris Kringle market for the last 23 years on Vancouver Island, the last three years in Nanaimo. I dare you to find someone who lives and breathes Christmas spirit year-round like she does.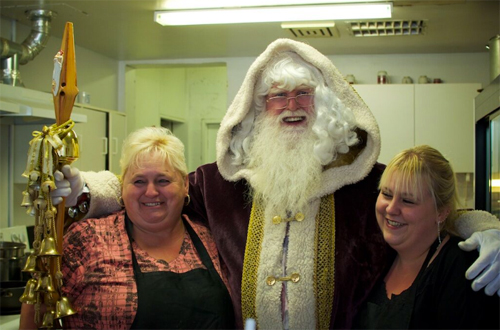 I ordered the combo platter #2, that came with perogies, half a sausage, and a cabbage roll. Frank Pluta, the market's other principal, ordered the same, then show me photos of Kris on his iPhone.
"Here's our day out on the water with the peddle boats; look at Kris!"
There he was, sporting a life jacket over his velvet robes, trading in his jingle-bell bedazzled staff for a paddle, to promote the market in the heat of summer.
The team spends months each year promoting the craft market, which attracts about 12,000 people, and Kris is such a great sport. Their enthusiasm is contagious, and brings out the best in everyone wherever they go. Veronica said they always have to plan an extra half hour into their travel time, because people just want to stop and talk to Kris. He'll never rush past anyone. I can imagine a few requests for Santa Selfies might hold up his daily activities as well.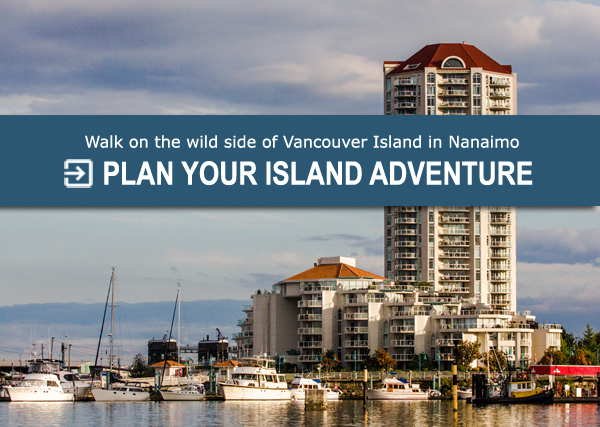 Before lunch, I'd met with everyone at the Nanaimo Museum, where Kris and I were introduced to one of the market exhibitors, Valerie Krug-Lamirande of Raven Song Soap. After spotting her luxurious, hand-made, small- batch creations in the gift shop, our group got a first-hand demonstration of Valerie's process as she set up next to the museum's Nanaimo Bar exhibit – fitting since she also has a Nanaimo Bar soap.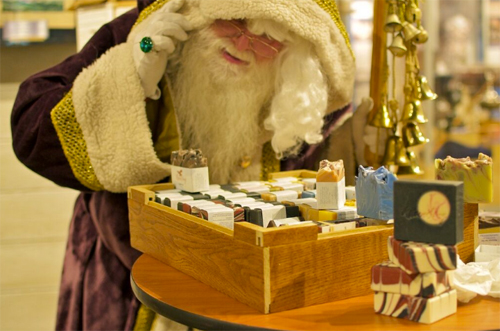 "Soap-making isn't just about making soap, it's chemistry, it's cooking, it's design, it's colour, it's patterns, it's drawing inspiration from nature and memories, and things that inspire you."
Inspiration struck Valerie recently when looking up at the night sky and seeing the full moon.
The result was Raven Song's stunning – and national award-winning – full moon soap collection, the design based on moon phases and what each means to the First Nations people.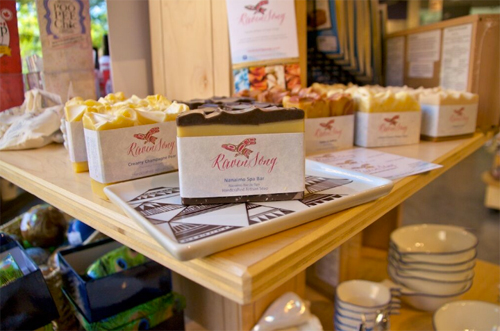 She also gets ideas from her travels, and her heritage, growing up on Haida Gwaii. The Nanaimo Bar bar was a challenge, which she gladly accepted.
"It's a spa bar, not just a fun bar, it has goat's milk, buttermilk, yogurt, chocolate, and oatmeal so it's got a lot of skin-loving organic ingredients in here, too."
Valerie discovered this craft about 15 years ago and was immediately hooked. Her passion has become a booming business, with speaking engagements, and soap-making classes. S currently has an order for 1,000 lbs of soap to make in the next two weeks!
The market prides itself on introducing 50 per cent new artists and artisans each year.
One of the new artists is Megan Elena Lott of Elena Designs.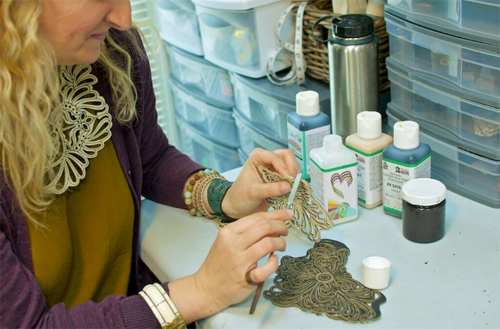 After visiting Valerie, we all piled into the Kringlemobile. I shared the back bench with Kris, and a giant teddy bear buckled into the middle seat, as we headed to Megan's Nanoose Bay studio to learn about her handcrafted leather jewelry.
Fresh off the runway at Vancouver Fashion Week, Elena Designs will be at the Kris Kringle Craft Market with necklaces, bracelets, and more wearable art available for sale.
With a background in design, Megan started the company just over a year ago while developing the laser cut design process over the last three years.
"It's been a lot of fun because I think the thing that is most unique about this product and what I enjoy the most is the blend of technology and handcraft…. I'm really passionate about keeping anything Canadian and anything local."
Megan had some tea and cookies waiting for us, as one might do when expecting an autumn visit from Santa and his crew, and I browsed her collection. I fell in love with an intricate bracelet and bought it.
Departing the Elena Designs studio en route to Helijet to catch my flight home to Vancouver, Veronica sat in the front of the Kringlemobile, and Frank popped in a Christmas CD.
These dedicated folks reconnect people with memories of holidays past and bring out the best of the season. Though the main event of the market is crafts and artisans, there's also live entertainment, family activities, including horse-drawn carriage rides and ice skating, and new this year – the Man Cave. 
Veronica turned to me and, over the sound of carols and the cranked A/C, and said, "There's a timelessness to Kris Kringle, he's forever." I got out my phone, and I took a selfie with Santa.
If you'd like to experience some of this Christmas magic, check out the Kris Kringle Craft Market at Nanaimo's Beban Park Centre (2300 Bowen Road).
If You Go
Pick up a snack while checking out the Thanksgiving Studio Tour. Did you know Nanaimo is home to the Nanaimo Bar Trail and is the gateway to Gabriola Island? If you have time, take a self-guided adventure through the city and sample what the city has to offer. 
Heading to the Nanaimo area? Check out these places to stay.
Read our festival overview of holiday country crafts in the Nanaimo area.
Ready to finish your Christmas shopping in one go? Share this page with your friends.