SHERI LANDRY
MALLAIG, AB – Travel back in time to Haying in the 30's and see how farmers of yesteryear worked from sun-up to sun-down followed by a Saturday night barn dance. The annual Haying in the 30's fundraiser is in August in Mallaig, Alberta. And as usual the days and nights are packed with fun and games – all to raise funds for cancer patients.
Help your friends #DareToExplore this summer. Share this page on Twitter.
It's a sense of community and helping people that Lorne Buryn, past president of the Haying in the 30's event, wants to carry on.
He waxed nostalgic when I caught up with him recently and asked him what's unique about the event.
"The demonstrations, the games and the competitions are always fun to see and be a part of but the one thing that rings true every year is the generosity of the people who come to the event. Every year we see more and more people come and they donate so much. I think it's because they know the money goes to the right place – to the people who need it for cancer treatment," says Buyryn.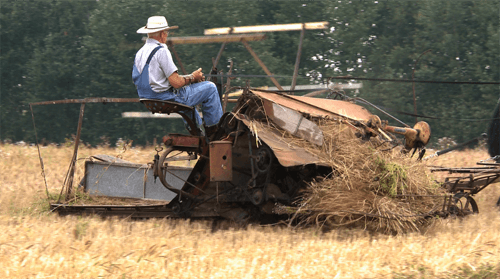 In its first year 16 years ago, Haying in the 30's raised a remarkable $3,500 for the cause helping 12 cancer patients. In 2015 its success was remarkable, raising a whopping $230,000. Records show that over 3500 people undergoing cancer treatments have received help from the grassroots organization.
It's an amazing "feel good" event. There is no gate admission and no fees for camping on site. There is even a free supper cooked and served up by volunteers on Saturday night. All you as a guest have to do is drop off a donation at the special centre at the grounds or by going to the Haying in the 30's website. Donors will receive a tax-deductible receipt for their donations.
The list of things to do and see is extensive. Some of the highlights include a parade, face painting, kids games, pony rides and a viewing zoo.
But what would an old-time event be without old-time demos and events to participate in. Check this out. There is….horseshoe-making, haying, wood splitting, grain demos, plowing demos, baling, hay loading and thrashing demos.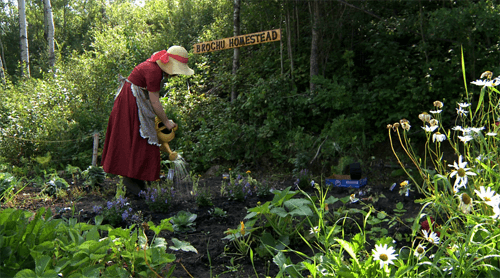 But here's where it gets good. Have you called a moose lately? You can over at the Trappers Cabin. And, grandma will love this one - there are "Kids Chore Games" and "Adult Chore Games" too. I bet feeding the chickens in the winter wasn't a game to her!
There are over 35 activities going on each day so you will never be at a loss for things to see or do.
The Old-Fashioned Ho-Down wraps up the Saturday night with music for all ages. Put on your dancing shoes, grab yer partner and get two-stepping.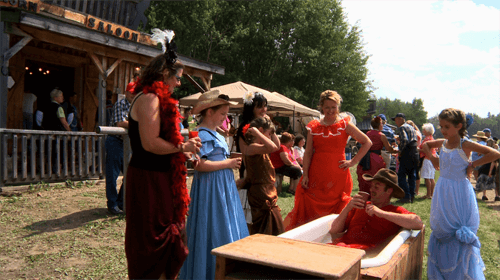 Sunday kicks off with a breakfast and the activities start all over again. Since there is so much to experience, it's a great day to catch up on the activities you missed the first day.
Asked about a favourite event for the weekend, Buyryn says, "I think the horse- drawn parade is huge. The teamsters take a lot of pride in their teams."
The event is expected to bring in between 3,000 to 5,000 people and although no targets have been set they're hopeful they'll be close to last year's total. So practice your moose-calls and head to Mallaig July 30 – July 31.
IF YOU GO:
Saturday July 30: Opening Ceremonies at 10 a.m. followed by the parade and non-stop action. The Old Time Ho Down starts at 9 p.m.
Sunday July 31: The Interfaith worship starts the day at 9 a.m. followed by the breakfast and all that non-stop action until 4:30 p.m. when the Bazaar Draw takes place.
Gates open for camping sites on the Thursday prior to the event. Please leave Rover at home, as pets are not allowed on the grounds. There are no hook-ups and no open fires allowed at the sites. There is no fee to camp but a donation in exchange for a camping site is greatly appreciated.
If you'd rather a roof over your head, there's plenty of hotels, motels and inns in St. Paul (25 minutes away) and Bonnyville (37 minutes away).
Since you are in the neighbourhood, check out these other communities only minutes from Mallaig.
If you like perogies as much as I do, a stop in Glendon is a must. The world's largest perogy is only 17 minutes from Mallaig. Pretty hard to resist getting a picture of that.

Stop by the town of St. Paul for an out-of-this world sight. A proposal was made to build the world's first UFO Landing Pad in town. You can visit it for the cost of a 25- minute car ride from Mallaig. No UFO's have visited yet…that we know of!

Located on almost six hectares of land, the Heinsburg Railway Theme Park includes a restored 1920s octagonal water tower and a 1950s railway station. Heinsburg – nicknamed "The liveliest little Ghost Town in Alberta" is only an hour drive from Mallaig.
Headed to Haying in the 30's this year? Share this page with your friends and family.