Fascinating First Nations culture comes alive with food, art, storytelling and dance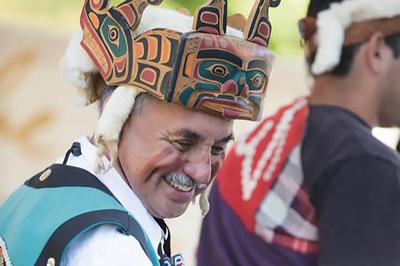 The Aboriginal Cultural Festival has many events highlighting the fascinating
culture of the First Nations. 
Photo provided by the Aboriginal Cultural Festival
PAULA WORTHINGTON
VICTORIA - When I think of Vancouver Island my mind wanders back to family road-trip adventures where I first gazed up at the majestic totem poles in Alert Bay. I also remember standing in awe below the massive trees in Cathedral Grove and eating fish and chips next to bobbing fishing boats in Victoria's Inner Harbour.
The island is place of beauty and wonder for many people but it's British Columbia's aboriginal culture and history that is tangible everywhere because it is home to 203 First Nations. It's only natural then that the Aboriginal Cultural Festival will again take place in the capital city of Victoria, at the BC Royal Museum, from June 19 to 21.
"This is a perfect way to celebrate National Aboriginal Day," says Paula Amos, festival organizer.
"We want to connect with visitors in meaningful ways to build awareness about aboriginal life and culture."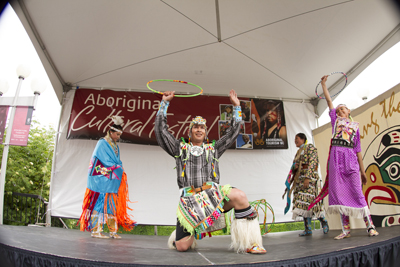 The hoop dancers are mesmerising to watch, and this year the festival features 
three-time national champion Alex Wells.
Photo provided by the Aboriginal Cultural Festival
With traditional dancing, art, a marketplace, food, exhibits and activities, there's plenty to see and do. "You could easily spend four or five hours at the festival," says Amos.
"Take in the totem pole walk, watch art carvers, sample traditional food, or even learn some of the traditional dances. We've had visitors come back for multiple days so they can enjoy many of the forty-five different performances on the main stage."
One performing group is the Le-La-La Dancers from the Kwakwaka'wakw Nation, headed by George Taylor. Full of charisma, I can only imagine the incredible energy Taylor and his fellow performers bring to the stage. "We have a beautiful history in this area, that goes back 10,000 years. We have so much to offer those who want to learn more about our stories, legends and our connection to Mother Earth."

Experience the culture and the history of Victoria. Walk the Inner Harbour boardwalk or take to the water by kayak or boat tour; it's all here. Choose your adventure.
Credit: Benjamin Madison
A portrait of Taylor is depicted on a totem pole in one of the garden areas of the Royal BC Museum, near Belleville Street, in which he is being held by a bear. If you go, see if you can you spot it.
Native performances and storytelling are unique, says Taylor. "You can learn from the culture and traditions, and apply what it means to you."
The festival will also be headlined by three-time world champion hoop dancer Alex Wells, who will perform daily. Hoop dancing is an incredible physical feat, involving agility, rhythm, athleticism, and upwards of 30 hoops used by a solo dancer. See the full schedule of performances and performer bios at www.aboriginalbc.com/yyj.
Last year, the festival attracted more than 15,000 people, which demonstrates the incredible interest in aboriginal heritage, food, art and culture.
The venue location for the festival is one of Canada's most spectacular settings. Victoria's Inner Harbour is home not only to the Royal BC Museum and Thunderbird Park, but also hotels, shops and easy access to the historic downtown district.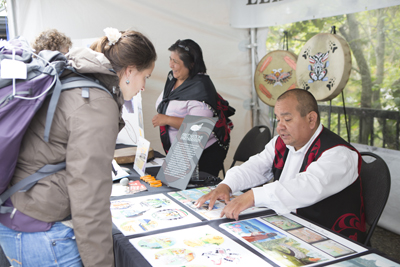 Learn about First Nation's history, art and culture during the three-day festival. 
Photo provided by the Aboriginal Cultural Festival
Ride the harbour ferry as part of a "pub to pub" tour, enjoy high tea at the Fairmont Empress hotel or hop on a cruiser bike and explore the harbour, the city's quaint neighourhoods and nearby Beacon Hill Park.
More information
Read our FestivalSeekers overview on the Aboriginal Cultural Festival.

There are plenty of reasons to stay around the Victoria area in mid-June. Check out FestivalSeekers' stories on two excellent music events nearby, Sooke River Blues Festival and the Victoria Jazz Festival.

Getting there: Direct flights to Victoria via Edmonton and Calgary on Air Canada, WestJet are available daily.
Like this story? Share it with your friends who are also cultural explorers.