Tiny community puts their heart and soul into Arts on the Fly
REBECCA BOLLWITT
I rolled into Horsefly, B.C. on a sunny Sunday afternoon, passing the General Store and parking at the Community Hall, after about 50 minutes on the road from Williams Lake. Across the street, crowds were gathering at the firehall for a pancake breakfast. The sweet aroma of maple syrup wafted across town. I met up with Brandon Hoffman, artistic director of the Arts on the Fly festival who would be my guide for the day.
Horsefly has been a community since 1859, pre-dating even Canada. It is said to be the site of the first gold discovery in the Cariboo and it was once called Harper's Camp. On a day like today at the pancake breakfast, you can see a convergence of ranchers, loggers, miners, artists, families and friends that make up this diverse community. It's this blend that Brandon and the team bring to Arts on the Fly.
Help your friends #DareToExplore. Share this page on Twitter.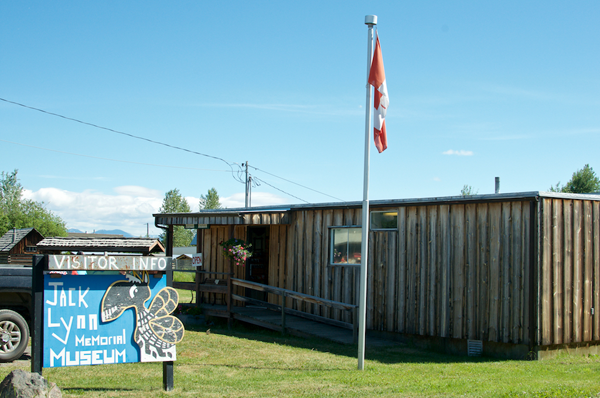 We walked over to the Horsefly Museum, passing a plywood sign featuring the town's mascot, Buzzy, as Brandon explained that Arts on the Fly is more than sets, it's putting creative people together to produce dance-worthy, soul-soothing, and goosebump-inducing music that gets everyone – on both sides of the stage – excited. It also has arts workshops, multimedia projections, family activities, a magician, and other interactive elements.
Discover a festival like no other. Plan your trip to Arts on the Fly in beautiful Horsefly B.C.
We toured the museum, thanks to Sharon who is a 7th generation Horsefly resident, then we headed out to see a world-famous duo who also call Horsefly home.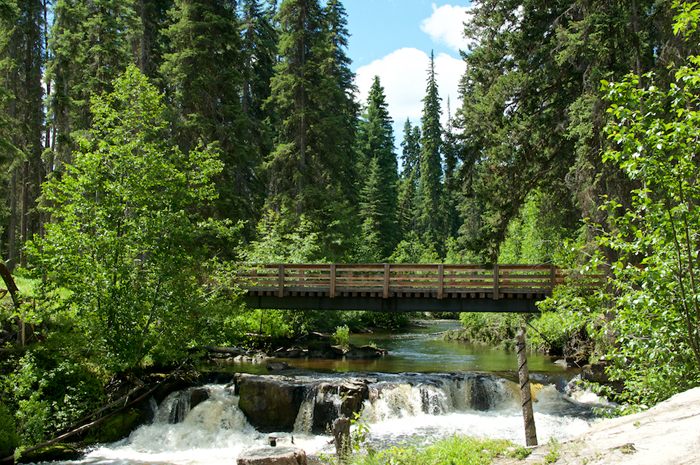 Crossing the Horsefly River, and passing the grove where the solar-powered stage will be during the festival, we winded down a gravel road until we came to a home at the very end. We parked in front of a workshop building with a sign: "J Romero Banjos." A woman made her way to us from across the grass, her youngest child, a flower crown, and some crimson stalks in her arms. "Do you need any rhubarb?" she offered with a smile.
Pharis and Jason Romero are a JUNO-Award winning folk duo who write hauntingly harmonic songs, sing vibrant duets, and play handmade banjos. They also have a picturesque property on one of the area's many lakes.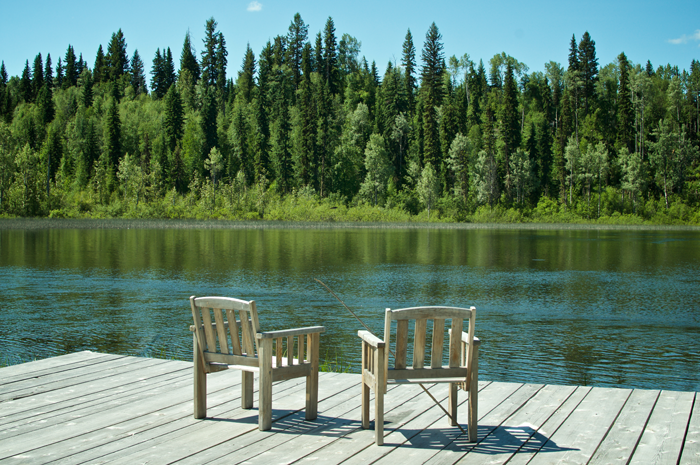 Pharis' family goes back six generations in Horsefly, and the group has played Arts on the Fly before - along with being featured on NPR Music, CBC, BBC, Prairie Home Companion and CBC's The Vinyl Cafe.
"We're lucky enough that for our living we get to make banjos, and bring joy and love and happiness into everybody's life," Pharis once said on stage during a performance in 2011 when explaining how they decided to move back to her hometown.
Inside the workshop, Jason was working on a banjo. Actually, he was completing a full batch of banjos. Not long ago, a devastating fire claimed his first workshop, wiping out his production of banjos, and their personal collection of instruments. They rebuilt, with help from the community. Barkerville Brewing even issued a special "Out of the Ashes" brew to help fundraise – and Jason's back in business and in high demand.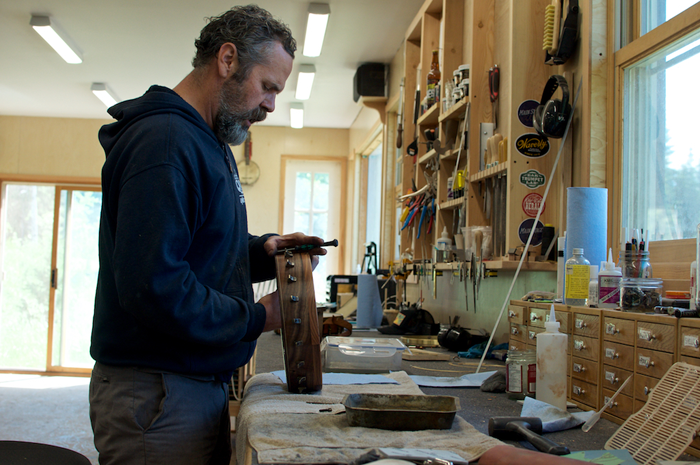 "Because I'm a builder I can build whatever I want when I hear a sound in my head that I like. But the playing is also developed around the sounds of the banjos that I produce because I'm shooting for a specific sound for me."
Jason's banjos are all beautifully crafted and look as stunning as they sound.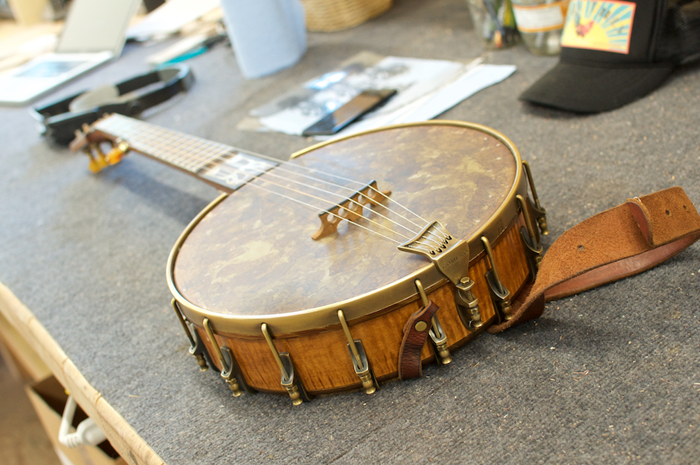 "I'm just shooting for kind of a warm, mid-range, with a lot of lows. Treble just kind of falls out of any banjo, the sound bores me. Because I'm shooting for that sound in my instruments, I'm also hearing that in the songs I want to play and the tunings I want to use. I could talk about that for an hour."
His favourite banjo was actually spared by the fire, since it was in his truck on that fateful night. He picked it up to play a little something for us outside: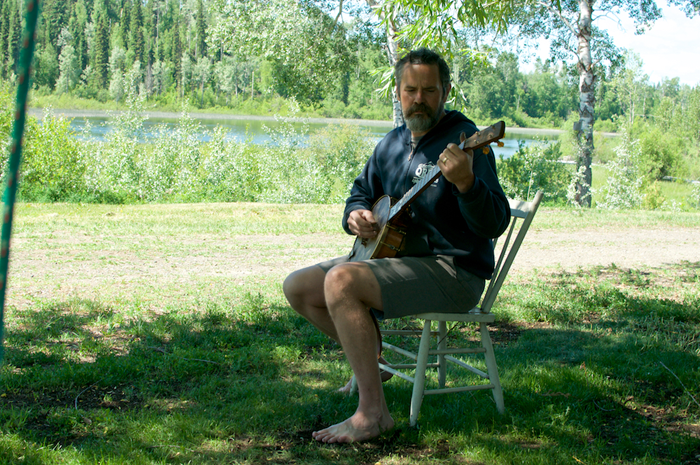 "We're lucky in that we can live anywhere," Jason told us while we stood under a tree outside the workshop. "And this felt like we're 'out there' just enough, we both like being on the edge of the wilderness."
After we left Jason and Pharis, we drove back into town and stopped at Soul Food. This food truck, a favourite of locals and worthy of a drive from wherever you are in the region, serves up fresh, handmade fare with an ethnic flare. Samosas with potato, kale, and quinoa served with mango tamarind chutney. Pad Thai with veggies, chicken, beef or pork. Chili aioli bison burger with home-cut fries or salad. Jamaican jerk wings. Buttermilk fried chicken.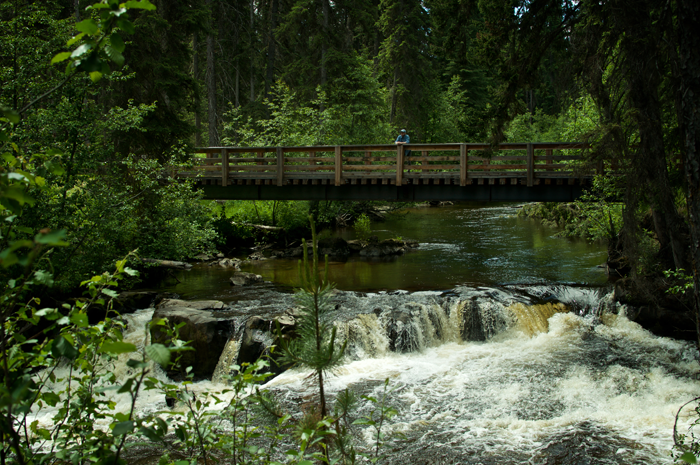 We scooped up some cups of fresh-brewed iced tea and drove out to Moffat Falls for a picnic. Next to the rushing water, and groups of families hiking in to take in the same scenery, I thought to myself: If this incredibly talented Horsefly community can build, cook, curate, and create with such passion, I can't wait to see the type of entertaining arts festival they produce!
If you go
Find ore details about the festival and to purchase tickets at the Arts on the Fly webpage. Or visit them on Facebook.
The community of Horsefly is found just off Highway 97 north of Kamloops.  The community is within the Cariboo Regional District, home to a bounty of adventures and history - take a driving tour - this will help http://www.cariboord.bc.ca/services/heritage
Sure you can go here and visit, but we challenge you to visit and think about moving - rural community leaving puts a whole new spin on life.  This website will inspire you to investigate more: http://horsefly.bc.ca
Head on over to our Arts on the Fly festival overview to learn more.
For more on the Cariboo region and all the things to experience, search on Facebook, Twitter or Instagram #ExploreCariboo
Are you ready to get artsy in Horsefly? Share this page with your crew and get planning.