Are you hungry for brains?
All photos by Rebecca Bollwitt
Usually people enter Ms. Lorea's College of Esthetics and Nail Technology to look and feel beautiful, but I was attending that day to look my absolute worst. Ms. Lorea's was the site of my zombification, thanks to the wonders of modern makeup and liquid silicone, so that I could find out what it would be like to walk in the undead shoes of those participating in the annual Prince George Zombie Festival. Share this page on Twitter.
See the schedule of events during Zombie Fest.
My un-living transformation begins
Melissa Jolie Pierre, a graduate of Ms. Lorea's, and also a graduate of Blanche Macdonald Centre in Vancouver, drove in from Burns Lake that day to help apply my makeup. She brought with her a pre-made latex piece made to look as though my throat was ripped out and my trachea was exposed.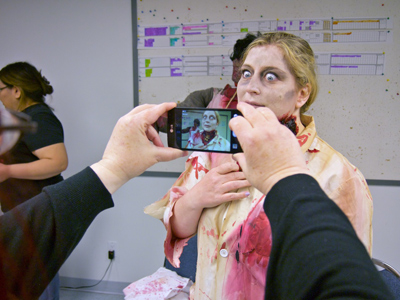 Completely "Zombified"
The first step was to apply the latex piece to my neck with makeup glue. Once in place, the sides were hidden by gauze soaked in fake blood (pieces that I would later discard in my hotel room, prompting me to warn staff what had taken place and they shouldn't be alarmed). After the gooey gauze came the pale makeup to first make me look lifeless, then the green and purple highlights to make me look really, really dead.
There were many layers to my makeup application, just as there are many elements to the Zombie Festival. At high noon on July 23rd, all participating zombies will meet at Prince George City Hall but leading up to the unleashing of undead, almost dead and the dead on the city, there will be several events in the morning leading up to the full blown invasion.
Starting at 9:00 a.m. anyone needing some assistance with looking old and undead can visit the festival's Zombification Station where a crew of talented makeup artists will transform them into the walking dead.
DJs and local entertainment will be on hand to liven up the festival atmosphere and between 11:00 a.m. and 11:45 a.m. participants are asked to bring a canned good food donation and congregate in the parking lot behind City Hall.
Zombies unite and weave through the streets of Prince George
The zombie walk parade will follow a 1.5 km route and once complete, there will be a costume contest (Best Zombie, Best Zombie Family, and more).
Teams can then sign up for the Zombie vs. Human Hunt. While searching for clues and completing challenges around Downtown Prince George, teams will collect items from participating businesses. Each team will be playing for a charity of their choice. The entrance fee is $40 per team of up to 5.
Prince George is no stranger to alternative activities, it was after-all the birthplace of Snow Golf, and was known for Sand Skiing down the gravelly cut banks. A sense of adventure, and a sense of humour, is a must and Prince George's playful citizens have a healthy helping of both.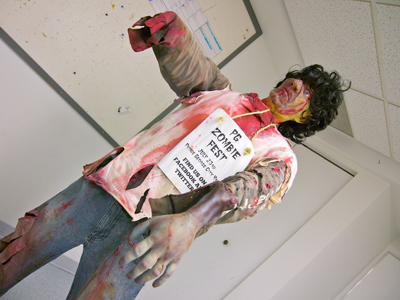 Join in on the fun on July 23rd
Although I went to Ms Lorea's to look my absolute worst, walking around town and meeting people as "Zombie Me" brought out the best in people as they laughed and honked.
If you go
If you're coming from out of town for the Prince George Zombie Festival, check out some of these Downtown Businesses:
Nancy O's Restaurant for some melt-in-your mouth pulled pork (sorry zombies, no brains) and a wide selection of craft beer from local and Pacific Northwest breweries.
Devilishly delicious chocolate creations from Ooh Chocolat like their famous Giant Turtles, Oopsies, almond bark, and assorted truffles. 
For more information about the Prince George Zombie Festival and all the other activities and attractions offered in and around town, drop your nearly dead finger here
Check out our Zombie Festival Overview here.
Hungry for brains? Share this page with your friends.