Explore the river and the history of Prince George on a canoe ride into town.
Photos by Rebecca Bollwitt
For me, learning the history of Prince George started with putting a canoe in the water. Driving about half an hour of out town to a gravelly bank along the Nechako River we met members of the Two Rivers Canoe Club for the journey, by water, back to Prince George. As we drifted and paddled that early spring morning I learned the rich history of the region.
Share this page on Twitter. This story, produced by Vancouver's Miss604, challenges you to #TakeOnPG this summer. 
Since the last time I sat in a canoe was at summer camp, I was partnered up with a pro. Bruce Hawkenson, a Prince George Sports Hall of Fame inductee and veteran marathon canoe racer. He easily took to the stern as I hopped into the bow.  After a few quick tips, going over some sit-and-switch instructions, we set out into the swift-moving waters.
The area is the traditional home of the Lheidli T'enneh and Carrier Sekani First Nations people. For thousands of years, they have lived in the area around the confluence of the Nechako and Fraser Rivers, where the city of Prince George sits today.  It became an integral transportation corridor when the first non-aboriginal people arrived and continues to be an important thoroughfare to this day.
Dipping into the history of canoe racing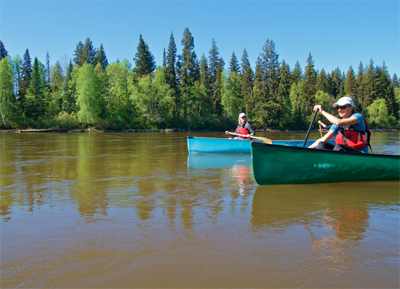 Challenge your friends to a race down the Nechako River.
Hawkenson arrived in Prince George from the prairies when he was a young boy and has spent seven decades in the city. He was a probation officer for years and in 1971 founded Camp Trapping, a wilderness camp for young male offenders. He had recognized the need for a program to deal with male probationers in conflict with the law and deemed unmanageable within their community. That was the same year he started doing the epic 67km+ Northern Hardware Prince George Canoe Race which he has gone on to win four times.
Now retired, he hasn't slowed down, and still spends a lot of his time on the water. This summer he'll recreate a voyageur canoe route from Isle Pierre, about four hours up the Nechako from Prince George, to plot out a new canoe race route that celebrates Canadian history.
"All of our area has a history of travel by canoe," Hawkenson told me between paddle strokes. "They tried doing it by riverboat, but the rivers are strong, and there are rapids."
Hawkenson explained that the Hudson's Bay Company first established their fur trading post at Fort St James, which by way of the Stuart River, connects with the Nechako. Another trading post was set up in Prince George at Fort George Park (now Lheidli T'enneh Memorial Park).

We paddled along for over an hour, going at the speed of the river (about 7km/h). Hawkenson pointed out soil conditions, glistening whitecaps, and many other natural conditions that help him read the river as a racer. Along the way, even more history was revealed.
What you learn in a canoe isn't always about the river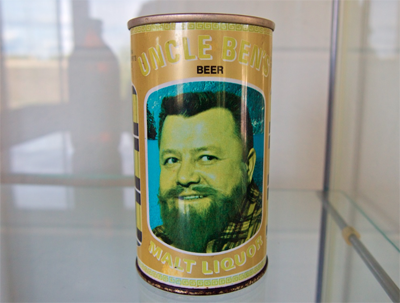 Is that really "Uncle Ben" on one of the first canned beers in B.C.? Find out at the Pacific Western Brewing Company
Passing under the Highway 97 bridge we sailed by the Pacific Western Brewing Company Canada's longest running, British Columbian-owned brewery established in 1957. Among its list of firsts is being the first BC brewery to offer canned beer back in 1965.
Continuing along the river, we passed McMillan Creek Provincial Park where the sandy cut banks provide recreation (and competition) for locals. Vancouver has the Grouse Grind but Prince George has - The Cut Banks. Participants race up the ankle-deep dirt to the top of the steep pitch and try to beat the best time. 
Just past the cut banks, is B.C.'s northernmost winery, Northern Lights Estate Winery producing fruit wines including everything from locally-grown rhubarb and strawberries to honey berries, jostaberries, and even goji berries. Thee are also some sugar pumpkins popping up on the riverside estate that will be used for dessert wine.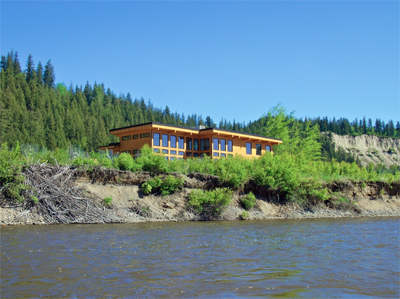 Float past the Northern Lights Estate Winery, BC's most northernmost vineyard
River connects people and places 
Hawkenson pointed out the location of a massive eagle's nest behind some trees as the shores of Cottonwood Island Nature Park and with that sighting our journey was coming to a close. Our outlet was right near the Prince George Railway and Forestry Museum, and around the corner from the banks of the Exploration Place.
The Exploration Place is a science, nature, and history centre that chronicles early dinosaur life to our modern "dinosaurs" – the mighty river sturgeon. First Nations history to soap box derbies, hands-on animal displays, and a Canada Games exhibit keep everyone busy for hours. Outside by the river, they also have the smallest CN certified rail line for summertime family fun.
Across the lawn and slightly down river, is Lheidli T'enneh Memorial Park steeped in First Nations history, and a community hub complete with a band shell, picnic sites, floral gardens, and a paved river walk.
The river connects all of these historical places and moments in time in Prince George, but of course you can check them all out by car or on foot when you visit. If you're looking for more heritage, ask those who travel the waters to tell their story.
"It's our history, it's who we are," Hawkenson said as he lifted his canoe over his head and walked off between the cottonwoods to his vehicle.
Want to do a trip like this?
To learn more about the historic and the current city of Prince George, either put your canoe in the Fraser River at Vancouver and paddle upstream through Hell's Gate at Boston Bar – which is impossible and will take too long, or do like the modern explorer and click here.
Want to check out the Northern Hardware Prince George Canoe Race for yourself? Take a look at our festival overview and get excited.
The Northern Hardware Prince George Canoe Race is just one of many events happening in July, so much so the town is calling the month "Celebrate Prince George Summer Festival".  For more on this event and more check out tourismpg.com
Share this page with your friends.