The South Okanagan has nearly 1,000 kilometres of biking trails. 
Photo by bikepenticton.com
LEIGH MCADAM
Home to some of the best biking in Canada, the South Okanagan is a standout destination, especially in May when the weather is perfect, the 60-plus wineries in the area are open and the summer crowds have yet to show up. Throw in a few stellar community bike events and there's even more reason to visit. Tweet This Page!
This is the first time the region has come together to welcome cycling enthusiasts with 'Chain of Events,' and FestivalSeekers likes to think of this event as a biking festival that's sure to get you pumped about pedalling in this part of B.C. 
Where can you bike in the South Okanagan?
The question should be, where can't you bike in the South Okanagan? As Lyndie Hill, a co-owner of Penticton-based Hoodoo Adventures says, "All the trails are on our doorstep."
The top trail has to be the section of the Kettle Valley Railway (KVR) from Myra Canyon to Penticton. Granted you need a shuttle for this one if you want to do it strictly as a downhill ride. But what you'll get is up to 80 kilometres of riding along an abandoned railroad track with exceptional views of the Okanagan Valley, a constant 2% downhill grade and wine tasting at the end of the day.
A shorter version is the 15-kilometre section between Penticton and Naramata. As an out and back ride, it's ideal for those who want the focus to be on wine. The area is at its prettiest in May, with the fruit orchards in full bloom.

The South Okanagan has hundreds of kilometres of unique cycling terrain. 
Local riders suggest cycling Green Mountain Road up towards Apex Mountain Resort. Some of the side roads, particularly Shingle Creek Road offer delightful road biking.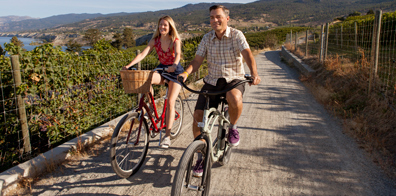 Like the idea of biking and wine tasting in the South Okanagan? Start trip planning here. 
There are sections of the Trans-Canada Trail that are also perfect for cyclists. In particular, you can ride from Conkle Mountain Park, parallel to the KVR near Summerland, to finish in Penticton. The route from Summerland to Faulder is also a beautiful ride.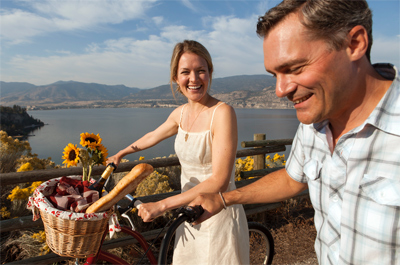 The South Okanagan has more than 50 wineries. 
Photo by Melissa Barnes
"The 100-plus kilometres of single-track trails on the bluffs above Naramata offer something for every level of biker including loops and out and back rides," says Randy Brown, an avid local cyclist. "On some sections you get views from Peachland all the way to Okanagan Falls."
He tells me about a guide that cyclists will want to get their hands on. He says the SweetSingletrack is a definitive guide for the close to 1,000 kilometres of trails in the south Okanagan.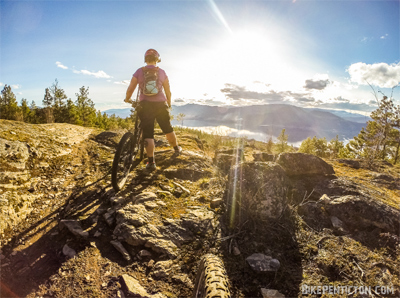 Lakeside trails offer mountain views and cooling breezes off the water.
Photo by bikepenticton.com
A perfect mix
The Okanagan's magical mixture of fertile land, pure lake water and golden sunlight, not only makes for a fantastic outdoor vacation it is also the recipe for creating some of the best food and drink in the world. The valley yields an abundance of fresh produce which will leave any foodie spoilt for choice.
Pack up a picnic basket and cycle out to a scenic spot where you can experience the intoxicating scents of orchard blossoms, as you spy the inhabiting wildlife. Before heading home stop off to quench your thirst with a frosty pint at one of our family friendly craft-breweries or cideries.
In the evening there are an abundance of restaurants offering amazing farm-to-table experiences and with over 60 local wineries to choose from you will be sure to find a glass of vino that provides the perfect accompaniment to a day spent with friends, family and the authentic Okanagan.
Additional information
Read our FestivalSeekers overview about the area's "Chain of Events" over the next coming months. 
Ready for some biking adventures this spring? Share this page with your friends and get planning.