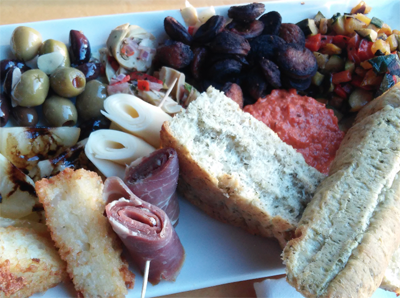 Food-lovers exploring Prince George will be amply rewarded.
Photos by Traca Savadogo
TRACA SAVADOGO
When two young guys decided to open a restaurant, the goal was simple: create a sense of place.

Help your friends #DareToExplore. Share this page on Twitter.
Growing up in Ireland, the local pub was the hub of the community — all ages were there, and it was an everyday part of the culture.
Garret Fedorkiw managed to recreate that spirit in Prince George because the moment you enter Nancy O's you can just feel the camaraderie. It's the kind of place that makes you want to linger, and strangers don't stay strangers for long.
Downtown SummerFest is just one of many events happening in July, so much so the town is calling the entire month "Celebrate Prince George Summer Festival". For more on this event and other things to do in the area, check out tourismpg.com
With a wink, owner Fedorkiw says, "My mom calls it her "church." No wonder, I'd happily make this place mine, too. 
That deeply-rooted sense of community has a long reach, which makes a trip to Prince George a special experience.
If you're in town in July, lucky you. Downtown SummerFest in Prince George is not to be missed. Downtown is the place you want to be on July 17. Raise a glass with the locals at this free annual event. The schedule is jam-packed with live music, and if you're travelling with kids, there's lots of activities for them too.
Noshing your way through Downtown SummerFest, is a terrific way to sample the area's restaurants best restaurants. I suggest a grub crawl, street-style. 
 
Locals know Nancy O's is the spot for good food and good times, and here, you'll find them in the heart of the action. Known for their elevated pub food, this year Nancy O's will be nabbing two tents. Under the awnings, you'll find their ode to backyard grilling. Look for their featured beef slider, a wood-fired wonder made with local sourced grass-fed beef, cooked over birch. 
 
Under the second tent is a preview of Nancy O's new sister restaurant, Betulla Burning. Their adjoining Neopolitan-style pizza spot won't officially be open until fall, but Downtown SummerFest attendees will get a taste of what's to come. Showcasing their tapas spread, look for their beguiling housemade charuterie, cheeses, and signature smoked olives.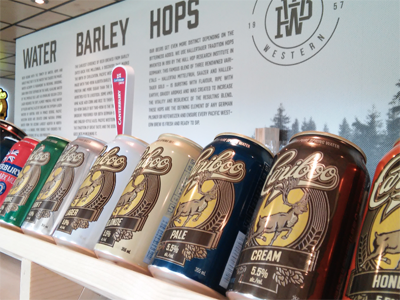 PWB's beer collection includes 12 types of brews, from draught to a hoppy pale ale. 
If beer is more your pleasure, then set your sights on Pacific Western Brewery. Founded in 1957, PWB is Canada's longest operating BC-owned brewery. Currently there are 12 beers in the PWB lineup, including the Cariboo Genuine Draft, which has been in production since its inception.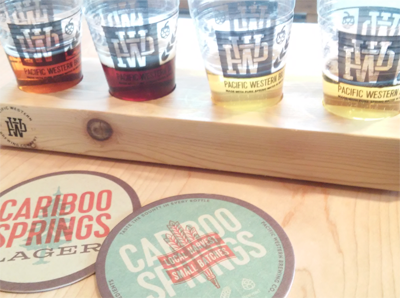 The best way to figure out which PWB you like best, is to sample a flight.
Long-time SummerFest participant, Twisted Cork, will be back again this year. They  have a cult following for their deep-fried pickles, serving up over 200 pounds of pickles a month. They'll be serving them as part of the Downtown SummerFest line up.
What makes Twisted Cork's deep fried pickles so popular? Front of the house manager, Ashley Sidehu, says, "It's the crunch of the batter, then your teeth sink into the soft and salty pickle. And you dip it into a spicy, creamy chipotle ranch dressing. What's not to love?" Indeed! 
Explore more
Dining around Prince George is one of the highlights of any visit and most places are open for lunch and dinner.
Three not-to-miss stops while in Prince George:
Nancy O's – A modern take on an Irish pub, Nancy O's offers an incredible lineup of British Columbia-brewed beers. Knowledgeable staff walk you through the finer points and help discover your perfect brew. Hungry? Their elevated pub food will have you wishing for a bigger stomach. Come for the food and beer, but stay for the atmosphere. There's no shortage of Irish hospitality.
Pro tip: There a high probability of live entertainment because Nancy O's hosts more than 185 bands a year.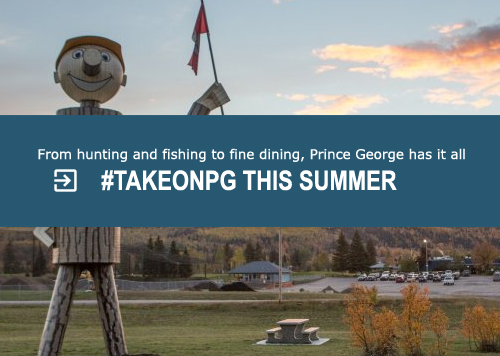 The Twisted Cork – The sumptuous wood and brick interior is nod to barrel- tasting in southern France. Twisted Cork's classic menu features tried and true favourites, including French onion soup, crab cakes, and cassoulet. A hearty tapas menu makes for terrific shared plates. The wine list here is deep, and those looking to sample B.C.-based grapes are in luck. Over half the menu includes vineyards throughout B.C.
Pro tip: Don't miss the live music on Thursday nights. Canadian singer-songwriter Britt Meierhofer's performance adds a special touch of romance. Explore the Twisted Cork offerings here. 
Cimo Mediterranean Grill - They say the devil is in the details and here, they've got that dialed in. Delicate house-made pasta is made fresh daily. Try the saffron-infused cioppino loaded with seasonal seafood. Wine lovers will delight in Cimo's award-winning list.
Pro tip: If you can get it, nab a bottle of Northern Lights' Seduction, a limited release that's balanced and crisp. Well-chilled, it's a perfect summer sipper. Find out more about Cimo's here.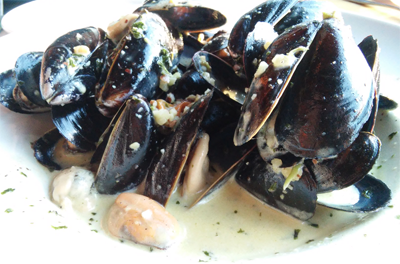 Cimo Mediterranean Grill brings the flavours of the sea to Prince George.
Three favourite things to do in PG between meals:
Join the Two Rivers Canoe Club during their weekly practice on the welcoming water of the Nechako River Tuesday nights from mid-April through July. Bring your canoe to Cottonwood Island Park and learn about marathon paddling techniques and water safety with a fun group of knowledgeable people. If you don't have a canoe, stop by anyway and watch from the shore.
Two Rivers Gallery – The visual feast begins as soon as you pull up to the building. Curved windows braced by carved wood beams mimic the bottom of a canoe. Inside, the collection is well curated with both permanent and rotating galleries.
Pro tip: Take a peek upstairs at MakerSpace and open studios.

Books & Company – Find your next summer read here. Regional authors are featured and offer a new perspective. In the cookbook department, True North offers a look at Canadian Cooking from Coast to Coast. While I won't be making the seal meat mortadella anytime soon, it was a fun glimpse into the forays of a chef. The kids' section at Books & Company is particularly cool. There's an entire display dedicated to Aboriginal stories. Check out The Orca Chief, Painted Skies, and Dipnetting with Dad.
More information
Put down the wine and lick the chocolate off your fingertips, and click to discover more reasons to visit Prince George.
Two Rivers Gallery has wonderful art or you can create your own.
Love to read while drifting in your canoe? Pick up the latest at Books and Company
Downtown SummerFest is just one of many events happening in July, so much so the town is calling the entire month "Celebrate Prince George Summer Festival". For more on this event and other things to do in the area, check out tourismpg.com
For the month of July, Prince George is in full fest mode, click here to read about: Zombie Fest, Canoe Race, Kidz Artz Dayz and their popular Downtown Summerfest street party and get planning
Ready to eat!? Share your PG eating experiences on Twitter with #TakeOnPG