POWDER MATT
So everyone thought Kevin Costner was crazy, plowing over his cornfield to build a baseball park. Sharing that "build it and they will come spirit," runs deep in the Cariboo Chilcotin. All that is missing is you; jump into history, saddle up, prepare to soar, and spin your wheels.
Here are my top picks of the best thing to do in the region.
Help your friends #DareToExplore. Share this page on Twitter.
Be a dude and ride Daisy in 100 Mile House
Channel your inner cowpoke here. Listen closely to the wranglers as they get you settled into the saddle of a horse that suits your personality. This is key as you ride the range and explore 20,000 acres of these private wildlands. An at-home-on-the-range feeling is sure to come over you as while you guide your steady friend through the trees, open meadows and beautiful backdrops. Are you ready to ride Daisy? Find out more from Miss 604's trail time
History and culture run deep here
Make your own discoveries while learning about our past, following parts of the famed Cariboo Wagon Road, beat into existence by thousands of miners on their way to find their own riches, as word got out about Billy Barker's gold strike in Barkerville. It's one of the richest placer claim discoveries in the world, and Barkerville Historic Town and Park is home to the largest living history display in British Columbia. When you get the to the end of the road in Wells, take some time to take in the community, a place full of creative types and adventure seekers, who live life large, surrounded by wilderness and host one of the best indie music festivals, ArtsWells.
After a walk in history, hike, bike, paddle or fuel up at the foodies' delight known as Bear's Paw Cafe. Then head over to where first gold was discovered, near Horsefly, B.C., to stay under the stars at Horsefly Lake Provincial Park. You can wet your fly in the world-class Horsefly River, and cool off with a swim in the Horsefly Lake.
Spin your wheels
Williams Lake, B.C., is famous for many incredible mountain biking destinations. Put Williams Lake on your must-ride list. Over the years, countless volunteers have poured their heart and pedals into creating a super amazing variety of trails that will please all riding styles. With more than 45 kilometres, zip through breathtaking Cariboo scenery along the Fox Mountain Trail Network to the super hardcore downhill thrills and expert only trails of the Desous Trail Network, which plunge from mountain top to the river bottom, more than 1,100 metres (3,500 feet.)
Gold in them thar hills?
Roll into the Quesnel Visitor Centre and learn about the fascinating role this city played in the famed Gold Rush. It's sure to ignite your interest to try your hand at panning for gold. You can borrow a gold pan here and with some direction, give it a try for yourself. Further those skills by taking gold panning lessons in Barkerville, from Eldorado Gold Panning, run by the Rummel brothers, who will go to great lengths to make sure you have an authentic experience.
Soar the skies for wilderness views
A scenic drive along Highway 20 from Williams Lake, takes you through the heart of ranching country. Big views of the Coast Mountain Range beckon in the distance as you wind your way to Nimpo Lake, aptly named, "the Floatplane Capital of British Columbia." You can take flight with either Tweedsmuir Air Services or Lakes District Air, offering flights that showcase the breathtaking scenery. Tours offered with Tweedsmuir Air Services get you up close and personal with Canada's third tallest waterfall, Hunlen Falls, cascading 310 metres (1,000 feet). Lakes District Air can take you deep into Tweedsmuir Provincial Park, for a wilderness cabin stay on your own private lake, surrounded by peaks, so you stay awhile and soak up nature's goodness.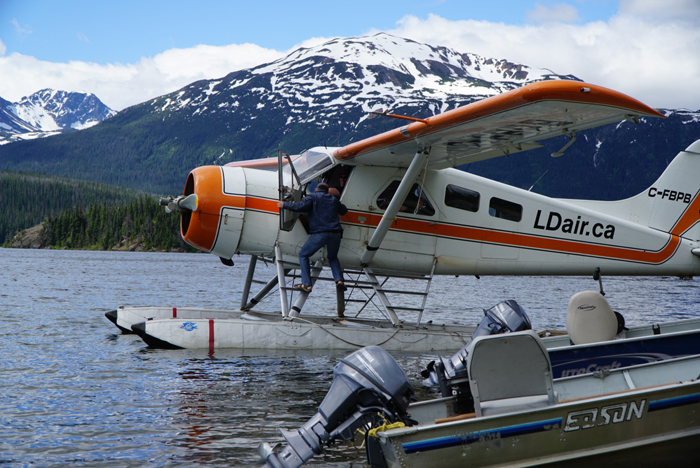 Air Show time- Quesnel SkyFest
Guaranteed your neck will be sore after this event. The be keeping your eyes gaze glued to the sky during SkyFest 2017 at the Quesnel Regional Airport. The event will entertain young and old with vintage and modern aircraft, showcasing in-flight demonstrations sure to amaze. Mark the August long-weekend for your family destination, as this three-day event, one of the best airshows in British Columbia, offers not only aerial entertainment, but the opportunity to view classic aircraft and automobiles, in addition to children's games and entertainment for all.
For more on the Cariboo region and all the things to experience, search on Facebook, Twitter or Instagram #ExploreCariboo
Are you ready to enjoy Northern B.C.? Share this page with your friends.