Follow Arty the Art Walker to discover everything from local paintings to pottery
REBECCA BOLLWITT
On a bright summer morning, Williams Lake - the Mural Capital of the Cariboo - was buzzing, and the Cariboo Arts and Culture Centre was the main hive of activity.
Help your friends #DareToExplore. Share this page on Twitter.
Out front there was an impressive pottery sale, and inside one group was painting a four corners mandala upstairs, while the fibreworks club met downstairs in a room filled with looms.
It was there that I met with Arty the Art Walker, mascot for the Williams Lake Art Walk. With a comically oversized paintbrush - that comes in handy for painting kids' toes during the annual Stampede parade, Willie Dye - aka Arty - toured me around town to showcase local businesses and local art.
Discover local artists and treasures during the Williams Lake Art Walk. Plan your adventure...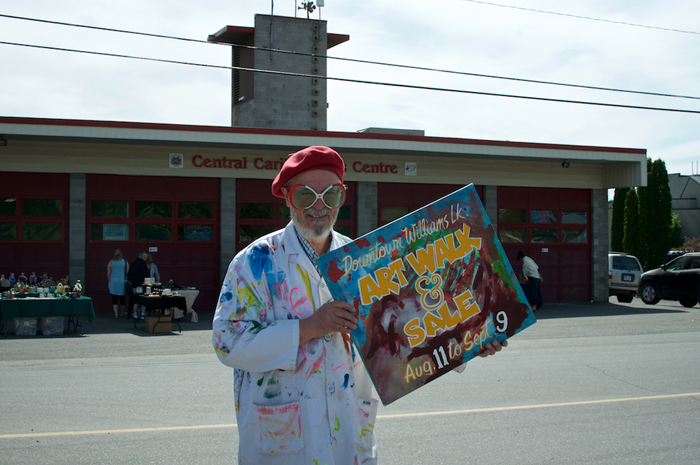 Willie was a Williams Lake merchant before retiring and working with the Art Walk. A few years ago organizers thought there was a need to personify the event with a mascot. And Arty the Art Walker was born.
He has become a beloved fixture of the community, with his paint-splattered smock, big, bright sunglasses and jovial disposition. It's no wonder honks and waves follow Arty wherever he goes.
The Art Walk benefits the community and is simple to visit and enjoy. It pairs Cariboo artists with Williams Lake businesses, and the public has about a month to get to each venue, view the paintings, stamp a passport, and enter to win a prize.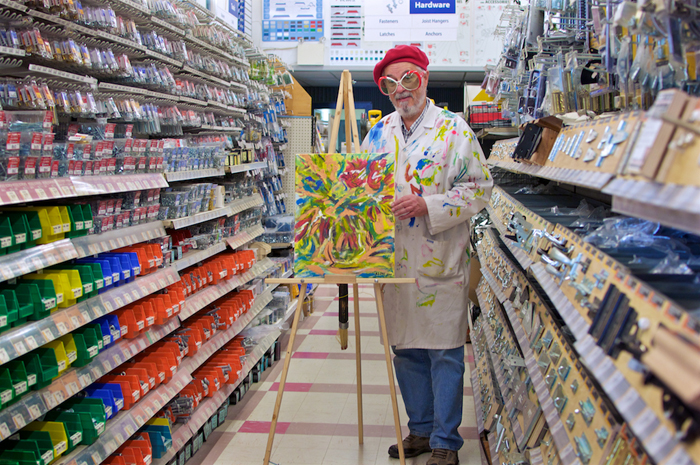 Arty is more than a mascot and tour guide, though. He works hard throughout the year to pair up the artists with retailers for the festival, matching everything from pottery and quilts with participating shops and services. The hope is that not only will the public get a chance to see art from local artists and craftpersons, but appointments will be booked and sales will be made.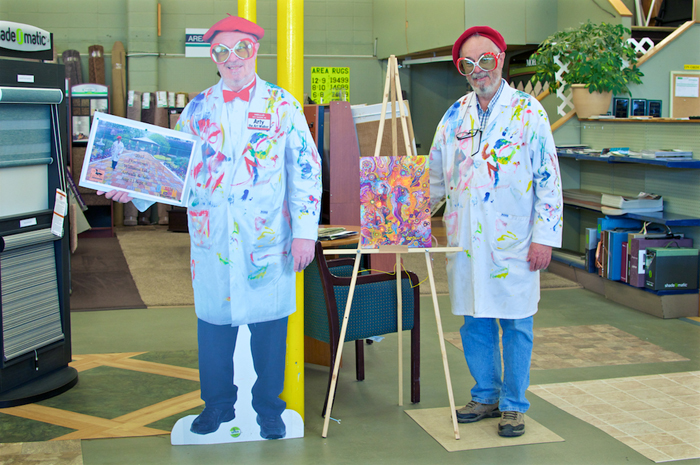 "It gets people into stores they might not usually go into," local event videographer John Dell told me as we walked past a mural by Dwayne Davis Arts.
From the coffee shop and library, to the toy, hardware and furniture stores, discount carpet outlet, women's boutique and bistro - the Art Walk is not only a great way to see Downtown Williams Lake, but also meet local business owners, socialize with other Art Walkers, and get a lot of shopping done. Not to mention discover (and purchase) some beautiful pieces by Cariboo artists, each with their own style, esthetic, and flare.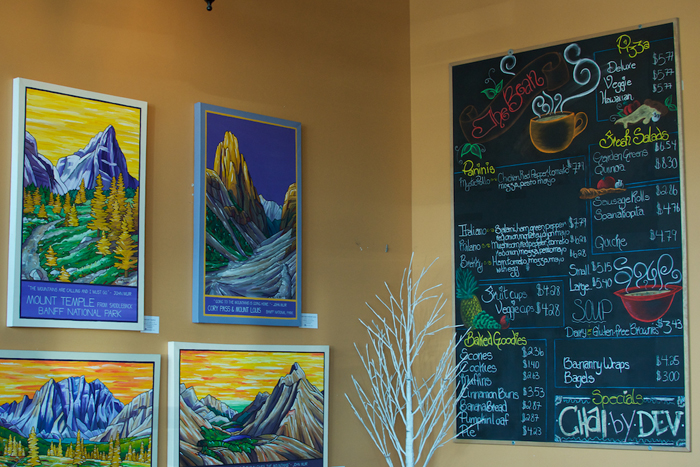 Then there's the music. We stopped in to see Richard at the Guitar Seller, one of the Art Walk's participating venues. He treated us to a little performance on the street, much like you'd see around town during the Art Walk.
There are 57 participating artists this year, which is double the amount in the early years of the event.
While you're shopping at Laketown Furnishing, Rona, the Bean Counter, 4Sure Bistro, End of the Roll, and many, many other participating venues, take a moment to view some of the styles of artwork. Art brings a community together, especially when you have a champion like Arty the Art Walker leading the way.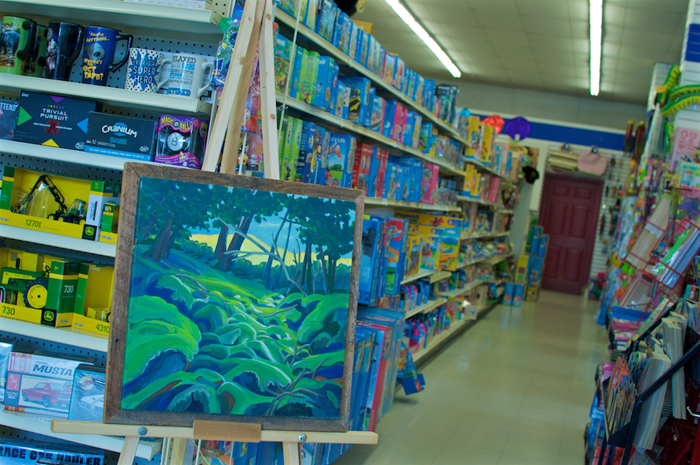 The next time you're driving Highway 97 between Kamloops and Quesnel and you reach the crossroads in Williams Lake, turn west and head into the city's downtown core. There are shops, services, restaurants, those beautiful murals, and lovely artwork to enjoy - especially during the Artwalk Sept. 8 - Sept. 30. Better yet, stay a few days and enjoy some hiking and a fantastic network of mountain biking trails.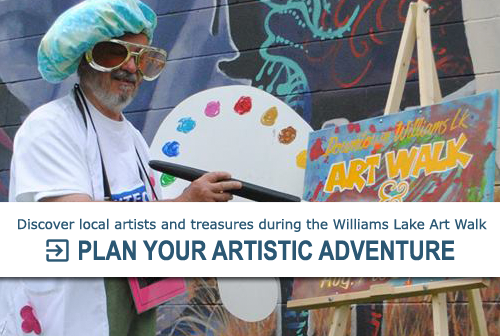 All the info you need is at the Tourism Discovery Centre on the highway just before town. It's located at the outlet of a new mountain bike trail on Fox Mountain that even I was able to conquer! You can't miss the 14,000-square-foot western red cedar and pine structure masterfully crafted by the local team from Pioneer Log Homes, Durfeld Log and Timber, and Sprucelee Construction.
If you go
Sure you can go here and visit, but we think you might even consider moving here because this rural community puts a whole new spin on life.  Check out this website that might just inspire you to investigate more.
Learn about the Cariboo region and all the things to experience, search on Facebook, Twitter or Instagram #ExploreCariboo
Are you ready to stroll the streets of Williams Lake and enjoy the perusing all kinds of art? Share this with friends on Facebook.