Come celebrate Caribbean culture at the annual three-day Cariwest - Caribbean Arts Festival! Downtown Edmonton explodes with spectacular costumes, vibrant Caribbean musical rhythms, street theatre and enticing cuisine.
Take in the night time extravaganza and costume judging, the Cariwest Saturday Street Parade through downtown, and the cultural fair in Churchill Square.
Schedule of Events
The Cariwest Parade is one of summer's most colourful highlights. Dates are still to be announced but highlights include:

Aug 11  Friday Night Extravaganza
Aug 12  Cariwest Parade - when parade info is released, including route and times, you can find it here
Aug 12 - 13  celebrations in Churchill Square
There will be a lot of colourful costumes and a lot of Caribbean parties around Edmonton all weekend. From the Friday Night Costume Extravaganza at the Shaw Conference Centre to the Caribbean Village in Churchill Square it's going to be a lot of fun for kids and adults looking for a way to enjoy summer the Caribbean way.
For details on the schedule of events click here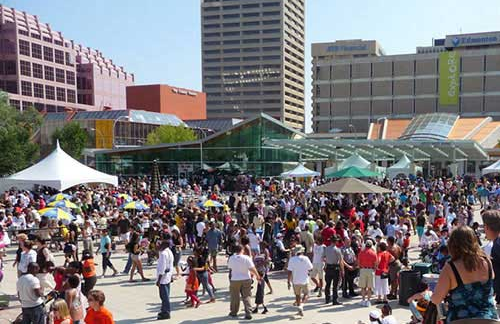 More Information
Unless otherwise stated, all content regarding Cariwest on FestivalSeekers.com has been provided by Cariwest organizers.
More to do in Edmonton and area
Take it to the lake this summer and head north, into the MD of Bonnyville and Lac La Biche. Both communities are waterfront and host an incredible array of events all summer. 
Want to stay up on festivals and events in Western Canada?
Sign up for FestivalSeekers enews and we'll keep you in the loop.