Festival of the Grape has grown to become a major event attracting more than 4,500 people every year. Where else in Western Canada can you stomp grapes in your bare feet? 
It may only be one day long, but there's so much going on: wine tastings, live music, food trucks, an art market, a kids' zone and the craziest event of all, the barefoot grape stomping competition. It all kicks off with a parade at noon.
Begin your #OkanaganExploring at Oliver Osoyoos Wine Country's website.
Event highlights
Wine tasting
This is your chance to sample some of the 100s of wines from more than 50 B.C. wineries all in one place. Take your palate on a tour of the region's rich terroir, meet the vintners and learn the difference between a chardonnay and a sauvignon blanc or a merlot and a cabernet sauvignon. 
Grape stomp
Watch 24 teams dressed in hilarious costumes crush grapes in their bare feet to see who can get the messy job done first.
Fall Art Festival
Sample wines and check out the large collection of art for sale from 60 artists in the community centre on the premises. Featured artists will be showing and selling everything from photography to fibre arts.
Kids' Zone
The festival isn't just for adults. A large kids' zone will be set up in the park with face-painting and games.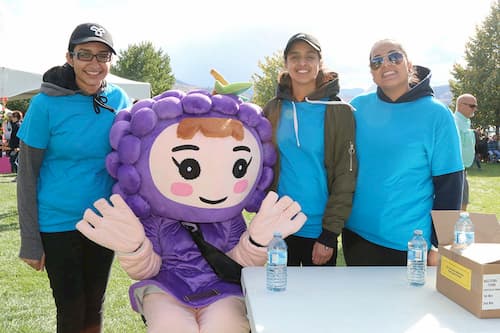 Merchant Market – Stroll through the dozens of tents that make up the Merchant Market. You'll find locally made treasures, such as specialty foods, glassware, jewelry, and clothing.
Suggested Reading:
Old World intersects with New World in Oliver, Canada's wine capital
Tickets
General admission (advance)  $40
Door admission  $45
VIP weekend pass  $190
VIP pass includes: short seminars on wine and some wine with food pairings from industry experts, four extra drink tickets (10 total) and an upgraded wine glass, exclusive wines included in tastings, food and nibbles to enjoy, swag bag and door prizes, and bragging rights to the VIP zone!
When You Go
Start planning your #OkanaganExploring adventures with these websites:
Learn more about Oliver on the Hello BC website.
Did you know that Oliver is the Wine Capital of Canada? Start planning your trip. 
Interested in heading to Oliver? Here's an itinerary to make your trip even better!
Uncover more about what the Okanagan's offers for adventure. Check out ZenSeekers #OkanaganExploring Expedition page to see how you can have an adventure like this.
Start planning your day at the Festival of the Grape here.