The Freewill Shakespeare Festival brings Edmonton a new kind of summer "Shakespeareience" as we move outdoors to present both Romeo and Juliet and Love's Labour's Lost
"Producing Shakespeare indoors has been happening for centuries, but it will be a new and exciting challenge for us," Artistic Director Marianne Copithorne says. "We'll take every opportunity to simulate the outdoor experience – and that's what's going to make this season so unique. Our audience can depend on having just as much fun as they have in the past. Shakespeare's plays can be enjoyed anywhere as long as they are performed with intelligence and wit – and that's exactly what we'll continue to do." 
Schedule of Events
All Saturday and Sunday Matinee shows begin at 2 p.m.
All Evening shows begin at 8 p.m.
Tickets
If you want to catch every show, consider buying the Festival Pass - $50
Adults - $30
Students/Seniors - $20
Children 12 and under - FREE
Tickets can be purchsed here.
Every Tuesday evening and Saturday matinee the festival offers a "Pay-What-You-Will" price. Students with valid ID get free admission either Sunday show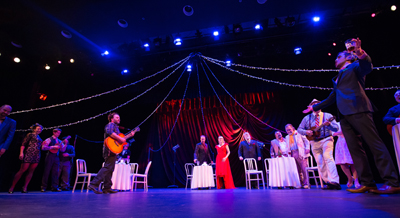 Photo courtesy of Freewill Shakespeare Festival
More Information
To find out about the venue location, accessibility, parking visit the official festival website
You can also look to the right sidebar for the latest Twitter and Facebook updates.
Need something closer to Edmonton? The Wild Mountain Music Festival is bringing music, art and culture to Hinton July 19.
Unless otherwise stated, all content about the Freewill Shakespeare Festival on FestivalSeekers.com has been provided by the Freewill Shakespeare Festival organizers.