The folks at the Hylo/Venice Harvest Days know how to throw an old-time good time. The annual festival celebrates the bounty of the farm, but tosses in a weekend of fun events. 
Head for the harvest, but first find out what's in store by reading Joanne's FestivalSeekers article. 
For at least a century this little hamlet near Lac la Biche has gathered on this weekend with serious award-winning horticultural displays but then cut loose with crazy fun. 
Where else can you participate in activities that include pancake breakfasts, parades, pageantry and pigs?
Do you consider yourself an expert driver of a lawn tractor? Then you'd better head to Hylo and compete in the lawn tractor obstacle course. 
Maybe if you feel nimble you'll enter the pig chase. 
Be careful: if you are an expert at tossing a bale or the master of the watermelon-eating contest you might just end up king or queen of the fair. Find out how in the list of events below or just show up and be part of the action.
Event highlights
Friday
Horticultural Show 
Movie in the Park & DInner
Saturday
10am - 12pm  pancake breakfast
11am  brisket cookoff judging
12:30pm  
parade
kids' entertainment
beer gardens
contests
5pm  pig catch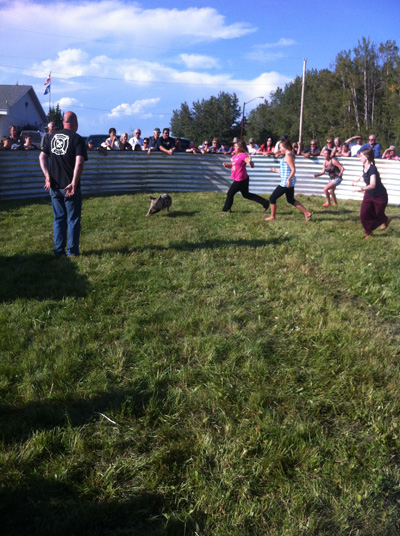 Catch them if you can!
Fun for the entire family, if you catch a pig you can keep it. 
$5 entry fee
More Information
Get more details on the Facebook event page here.