Check out what is going on in and around Lac La Biche this year.
Click the Photo for great travel ideas.

The folks at the Hylo/Venice Harvest Days know how to throw an old-time good time. The annual festival celebrates the bounty of the farm, but tosses in a weekend of fun events. Head for the harvest, but first find out what's in store by reading Joanne's FestivalSeekers article. 
For at least a century this little hamlet near Lac la Biche has gathered on this weekend with serious award-winning horticultural displays but then cut loose with crazy fun. Where else can you participate in activities that include pancake breakfasts, parades, pageantry and pigs? Share this page on Twitter.
Do you consider yourself an expert driver of a lawn tractor? Then you'd better head to Hylo and compete in the lawn tractor obstacle course. Maybe if you feel nimble you'll enter the pig chase. Be careful  — if you are an expert at tossing a bale or the master of the watermelon-eating contest you might just end up king or queen of the fair. Find out how in the list of events below or just show up and be part of the action.
Schedule of events
Friday
Entries for Horticultural Show Accepted from 4 p.m. - 7 p.m.
Everyone is welcome to enter in a variety of categories in the Horticultural Show. It's free of charge.
Potluck supper 
7 p.m.
Bring a family favourite dish and enjoy the great atmosphere.
Saturday
Featured Events
Pancake Breakfast 
8:30 - 10:30 a.m.
Adults $10
Seniors & Youth (6-17 years) $8.00
5 and under Free
Horticultural Show in Curling Rink
9 a.m. - 5 p.m.
Tail Gate and Trunk Garage Sale in Parking Lot
Feel free to bring your garage sale and set up.
Parade
11 a.m.  
This year's theme is Our Centennial Celebration and everyone is welcome to participate. Make a float, decorate your bike, wagon or quad; get creative and have some fun. to do, come and have fun. Everyone loves a parade.
King and Queen of Hylo/Venice Harves Days  
3 p.m.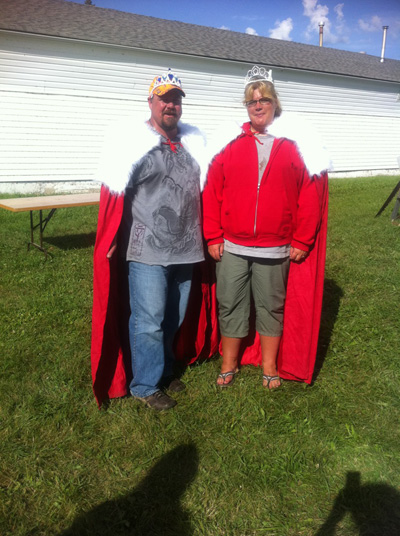 Last year's King and Queen of the Hylo/Venice Harvest Days.
There are various games and competitions for the adults and cash prizes for winners. Come and see who will be crowned King and Queen.
 
Pig Catch
5 p.m.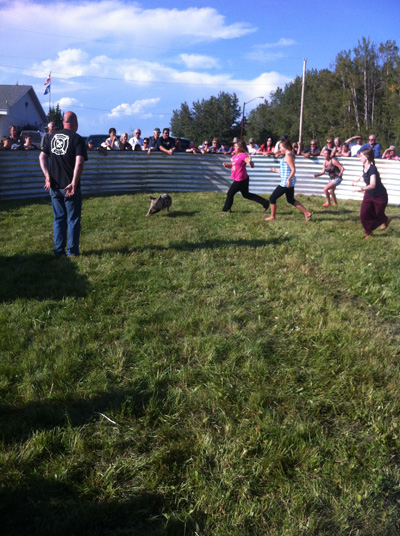 Catch them if you can!
Fun for the entire family, if you catch a pig you can keep it. 
$5 entry fee
Other events
9 a.m. - 3 p.m. Home-Based Business & Trade Show in Hall
Noon- 2 p.m. Lawn Tractor Obstacle Course @ Outdoor Rink 
Noon - 4 p.m. Petting Zoo and Pony Rides
1 - 5 p.m. Live Entertainment
1 - 2:30 p.m. Children's Games, Races and Activities
1 - 5 p.m. BINGO in the curling rink
More Information
To book your free table at the trade show, contact Shauna at 780-623-2164. Horticultural booklets are also available and more information can be provided  if needed. 
For more information check out the Lac La Biche tourism official website 
Check out the Haying in the 30s, a great event for all ages.
Are you checking out the Hylo/Venice Harvest Days this summer? Share this page with your friends and bring them along!