The annual Pacific Rim Whale Festival marks the opening of the region's renowned whale-watching season and the annual migration of more than 20,000 Pacific grey whales on their 13,000-kilometre journey from the waters of Mexico's Baja Peninsula to the Bering Sea. Known for the abundance of grey, humpback and orca sightings year-round, the west coast of Vancouver Island is one of the world's premier whale-watching destinations with more than a dozen operators based in Tofino and Ucluelet, conducting boat tours from March through October.
More than 30 years ago a group of concerned citizens wanted to create awareness about the island's pristine eco-system, the then-endangered grey whale population, and coastal traditions. They formed what is known now as the Pacific Rim Whale Festival Society. Thankfully, the grey whales' numbers have increased; and the celebration continues. Festivities each spring are centred around the migration of these great ocean giants — from Mexico to the Artic. You can see whales gliding past from the beautiful shores of Vancouver Island.
Help your friends #DareToExplore. Share this page on Twitter.
The 16-day festival consists of many educational and cultural presentations as well as performances, kids activities, family-oriented events and events for both locals and visitors alike. 
Purchase your festival button, which has been drawn by local children. Buttons are $5 each and grant access to the by-donation events.
Grab a preview of the Pacific Rim Whale Festival here.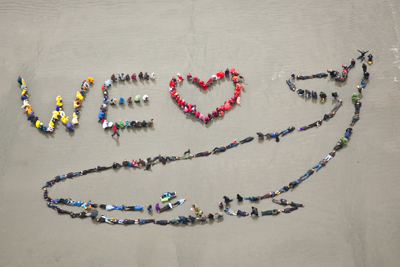 Tofino shows its love for whales.
Photo by Jeremy Koreski
Featured 2018 Events with more to follow on the official website
March 17, 2018 Barnacle Blues (St. Patrick's Day) at Black Rock Resort, Ucluelet Featuring David GoGo
March 18, 2018 Chowder Chow Down - Ucluelet Community Centre
March 18, 2018 SeaChange Panel, Global Warming! What does it mean for our oceans?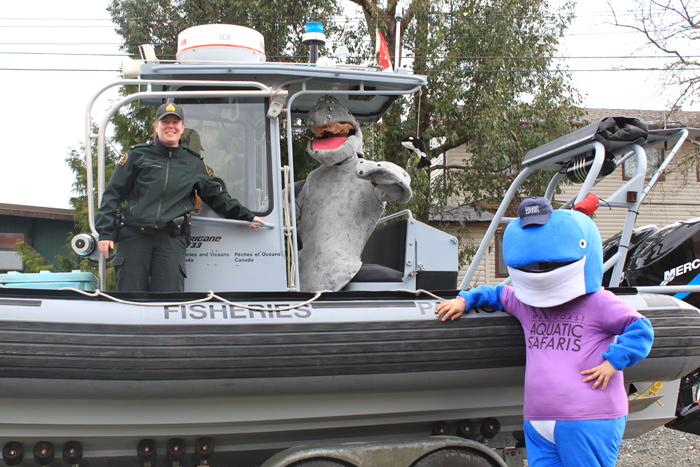 March 21, 2018 Maritime Kids Day, with special guests BOBS AND LOLO, Tofino
March 22, 2018 Maritime Kids Day, with special guests BOBS AND LOLO, Ucluelet
March 25, 2018 Closing events at Wickaninnish Beach & Kwisitis Centre, PRNPR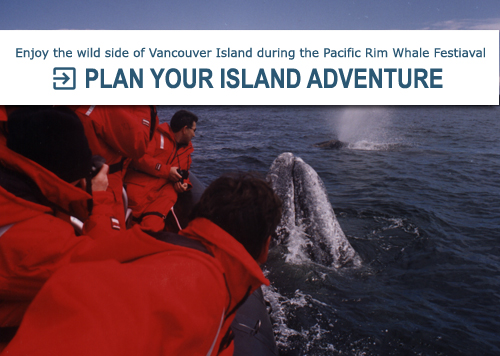 Featured Artist
David Gogo will be the featured artist at the Barnacles Blues on St. Patrick's Day. Gogo says he's more of a music fan so he loves meeting musicians that he admires and fortunately for him, he has accompanied many of those on stage. At the Barnacles Blues, expect to hear David reach into his latest recordings and "whale" on his guitar and get all the spectators on their feet. Its gritty, rockabilly and some serious rockin' blues.
Ticket Price
Most events/speakers are button events (one-time purchase of $5 button), however the Chowder Chow Down, Barnacle Blues and Ian McAllister will require tickets.  (As well as any Whale Watching or activities with various businesses)
Be sure to go to the official Pacific Rim Whale Festival website for more information.
Learn more about Tofino and Ucluelet by visiting their official websites.
Grab a preview of the Pacific Rim Whale Festival here.
Share this festival with your pals so they too can get excited about west coast culture.