All eyes will be looking to the sky for the annual three-day Quesnel International Airshow. Highflying aerobatic stunts will have all ages, holding their breath, eyes wide and entertained. Expect to see the Canadian Armed Forces Parachute Team, the SkyHawks and the Royal Canadian Air Force CF-18 Demo Team, plus the world famous Royal Canadian Air Force Snowbirds.
Help your friends #DareToExplore. Share this page on Twitter.
There will be plenty of land-loving activities too, including shiny vintage cars, a kids' zone and more activities between shows.
Acts that will have you glued you to your seat include:
Dan Buchanan – Dan is a hangglider who is an expert at motor-less stunts high above the wowed crowds. He also kicks up the action by installing a sequence of pyrotechnical special effects on the wings of his glider. 
Explore Northern B.C. during SkyFest. Plan your Northern adventure...
The Granley's – The family that flies in perfect harmony stays together. Watch as the father/son team fly a Yak-18T and a Yak-55 wing-tip to wing-tip. They roll and dive and twist those plane above your heads like dance partners in a tango. The duo's expert synchronization will have you craning your neck and wanting more. 
The SkyHawks will be proudly dropping from the airplanes this year with their bold maple leaf parachutes. The team puts on a spectacular show of what looks like too close for comfort maneuvers - and they do it with ease and a whole lot of skill and courage.  
The Royal Canadian Air Force will be in full force with both the Snowbirds and the CF-18 Demo Team. The eight snowbirds are celebrating Canada150 with the bold red and white turbojet CT-114 Tutor. The highly tuned engines will roar as the team performs the low-level aerobatic shows. During the winter months, the teams train and perfect more 50 formations. The CF-18 Demonstration team will commemorate the 75th anniversary of the Battle of Britain. Expect to see fast-paced, ear-ripping, heart-stopping action. You might just want to bring your ear plugs!
Schedule overview 
Thursday July 30 - Precision Exotics will be putting on a display at the Maple Park Mall – they will have a track set up and people are welcome to buy a drive in either the Lamborghini or the Ferrari  - either will be spectacular.
Friday – July 31 -  SkyFest Family Fun event at spirit square in downtown Quesnel – this will be the opportunity to our younger patrons to meet and greet the pilots – most of them in full flying uniform – an impressive sight for all ages to view -- there will be a paper airplane contest in 3 age categories – 6 & under; 7 – 11 ; and 12 & up as well as games and prizes.  This event will run from 3 – 5 pm.
Of course afterwards we will be having the Twilight Show – a collection of aircrafts with flaming engines and fire light bursting out into the night sky – performing gravity defying maneuvers -  a sight not available in daylight hours – has to be seen to really appreciate its magnificence – afterwards people can dance under the stars to a live band – all at center stage line on the field -- so that will be a full night of entertainment.
Saturday and Sunday are the full show.  Performers as follows – in no particular order. 
Gary Ward in his MX2
Dan Buchanan in his Glider
the Pyro Jet Truck
Kent Pietch in his Jelly Belly Cadet
Mike Oliver – Erickson with their Aviation Collection – bringing the P51 and the Mustang
Bud Granley – Yak 55
Ross Granley – Yak 18T
Bob Carlton – Jet Sailpane and Micro Jet
Brent Handy – in his Pltts
Precision Exotics cars – Lamborghini and Ferrari
CF – 18 in the F-18 – as well as their Arrester Crew
Canadian Forces Snowbirds in their Tudors 
Canadian Forces Parachute Team – the SkyHawks
Pioneer Homes Cedar Log Jet 
Check the festival site for updates here.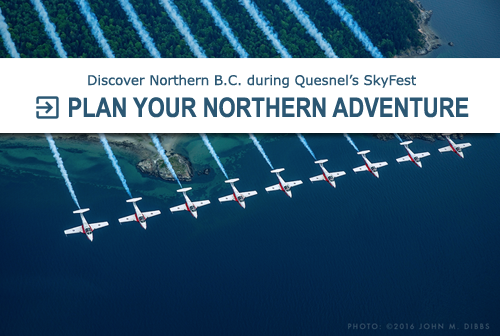 Tickets:
Friday Twiight Show: General Admission $25
Saturday or Sunday Day Pass: Adults $15, Youth $4, Family $40
Weekend Pass (Saturday and Sunday): Adults $25, Youth $7, Family $65
Camping Package for the weekend: $175
If you go
The City of Quesnel is found along Highway 97 north of Kamloops and about an hour south of Prince George.  The community is within the Cariboo Regional District, home to many adventures and history. The best way to take it all in is with a driving tour. Get started on planning your roadtrip here. 

Sure you can go here and visit, but we think you might even consider moving here because this rural community puts a whole new spin on life.  Check out this website that might just inspire you to investigate more. 

Learn about the Cariboo region and all the things to experience, search on Facebook, Twitter or Instagram #ExploreCariboo
For more information about SkyFest call 877-845-3378 or go to the official website.
Are you ready to enjoy SkyFest? Share this page with your friends.