The Canmore Folk Festival is an intimate event attracting around 5,000 people against the backdrop of the Rockies. Photo courtesy, Charming Inns of Alberta
Mountain backdrop sets the mood for three-day fest
DINA O'MEARA
CANMORE, AB - There is something to be said about the acoustics of a music festival held in the embrace of the towering Rocky Mountains.
From the wail of the bagpipes opening each day of the Canmore Folk Music Festival to the waves of eclectic world, blues and roots music pouring off its three stages, those stupendously big pieces of rock lend a unique backdrop to this funky, three-day event.
The music festival is set in Centennial Park, a sun-drenched oval in Canmore's downtown flanked by spruce trees and mountains ranges including the distinctive Three Sisters, Mount Rundle and Ha Ling peaks. It is an intimate (5,000 people per day on site compared to Calgary's 12,000 or Edmonton's 20,000) and lively affair that has played host to some of the most talented traditional and modern folk music stars in Canada and abroad since 1977.
From Mary Jane Lamond and Wendy MacIsaac to Good for Grapes and Alex Cuba, the artist line up strikes a chord among a wide range of folkies, new and old.
Festival attracts younger audience
The unique setting also attracts the changing demographics of folk fest audiences – about half of the residents in the Bow Valley, from Banff to Canmore, are younger than the festival itself. 
"It's not just that we're responding to the demands of a younger audience, I think the very nature of what we describe or define as folk music has very much expanded," festival director Kurt Bagnell says. "And a lot of the artists are making an impact in that musical idiom are coming at it with a whole new vibe and approach to the music."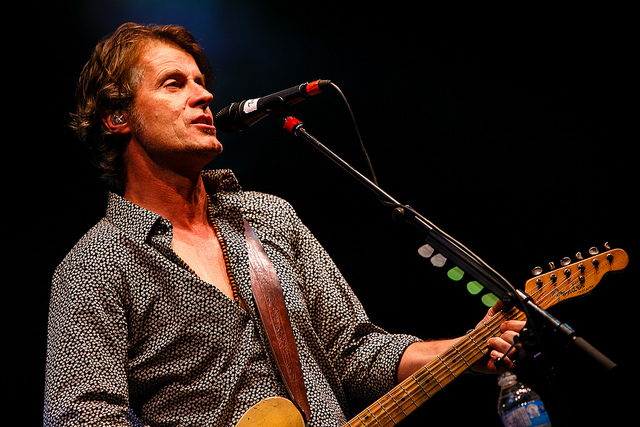 Jim Cuddy and his band Blue Rodeo will play the Canmore Folk Festival for the first time, but lived in nearby Banff in the '70s. 
Excellent lineup of Canadian musicians
Jim Cuddy, front man for Canada's iconic Blue Rodeo, will be performing with his band at the festival for the first time this year, although the lanky musician is no stranger to the region. 
"Years ago when I lived in Banff in the late '70s Canmore was sort of a frontier place," Cuddy says.  "It wasn't built up, but it was where people who I knew were going to stay in the mountains would go to start to make a life.  So I have always been interested in Canmore as a place."
Festival site not damaged by flood
Music was not foremost in residents' minds when Canmore's idyllic Cougar Creek mutated into a raging river, which tore the mountain town apart in mid June.
After the waters receded, festival staff tallied their personal tolls but the festival site escaped damage, allowing for changes such as opening more space in front of main stage to happen.
Characterized as "cozy as heck," the Canmore festival is like going to summer camp and catching up with your buddies, says chanteuse Rose Cousins.
"Before I ever performed at any festival I was a dedicated festivarian, getting in line early and running with my tarp, and spending days (listening) to music," the triple winner at the 2013 East Coast Music Awards says. "Nowadays it's also where I get to see so many friends who are touring musicians. The spontaneous collaborations that happen on stage at festivals are probably my favourite part."
Food, arts, crafts and a family area
Approximately 20 food vendors of the global kitchen variety and 30 arts and crafts stalls provide entertainment of a different sort, with a family area and its obligatory bouncy castle and climbing wall rounding off things to do between sets. CKUA radio station will also be broadcasting live from the festival all weekend. (See lineup below) 
"This festival has always been very special in the sense that the concept is that small is beautiful. It is a very community oriented festival, at a manageable and one might say safe size, that makes it very comfortable for people of all ages, and families," says Bagnell.
Story links: 
http://www.canmorefolkfestival.com/
CKUA Radio
Here's the CKUA Radio schedule live from the Canmore Folk Music Festival:
Friday, Aug. 3 (Live from the Canmore Civic Centre)
• Celtic Show with Andy Donnelly, 6-8pm
• Special Canmore Street Dance show, featuring Michael Bernard Fitzgerald, hosted by Tom Coxworth, 8-9pm

Sunday, Aug. 5 (Live from the Canmore Folk Festival)
• Folk Routes with Tom Coxworth, 10am-12noon
• Canmore Folk Festival Special with Andy Donnelly, 2-4pm
Check out the FestivalSeekers calendar to learn about more music festivals in Western Canada.