Powell River Sea Fair embraces its ocean playground
REBECCA BOLLWITT
POWELL RIVER, B.C. - Slipping through the narrow emerald waters between Otter Island and the mainland peninsula in Desolation Sound, our guide turned our tour's attention to the zunga that was coming into view.
"Zunga?" I pulled out my camera to capture this intriguing sight, in these waters that are perfect for the zodiac we were in, but not suited to large boats. Could this be an exotic marine creature? Something swimming, flying, or floating that few had laid eyes upon but we were about to witness?
Christine Hollmann from Terracentric Coastal Adventures, kept us guessing until we saw it.
As the zodiac skimmed across the water, I spotted the zunga — a length of rope tied to a tree with knots every foot or so. It looked to be perfect for grabbing, swinging, or cannonballing into the warm channel waters.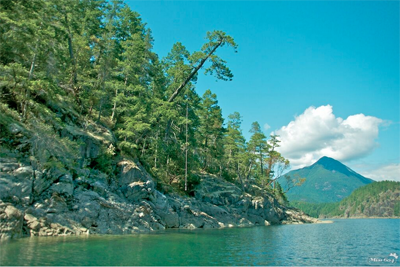 Our zodiac tour including spotting zungas — ropes perfect for dropping into
the warm waters off the Sunshine Coast.
Photos by Rebecca Bollwitt
The Upper Sunshine Coast, from Saltery Bay to Powell River, and up to Mile 0 of Highway 101 at Lund, is a marine playground and with the Powell River Sea Fair Festival celebrating 52 years, it's evident the sea is a big part of life, work, play, and fun.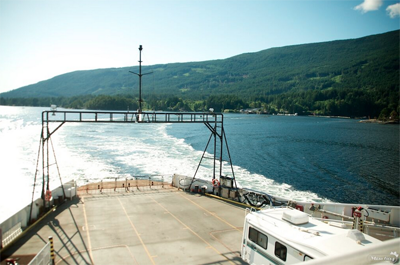 The ferry ride to the Sunshine Coast on a sunny June day. 
Our zodiac tour started from Lund, less than 30 kilometres away from Powell River on the Upper Sunshine Coast. These mainland towns are connected to downtown Vancouver through a pair of BC Ferry rides from Horseshoe Bay to Langdale on the Lower Sunshine Coast, then from Earls Cove to Saltery Bay on the upper portion. There is also a direct ferry route between Powell River and Comox on Vancouver Island.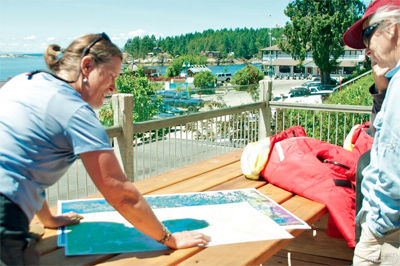 Getting ready for the zodiac ride, our guide shows us the route.
Waiting on the dock as others in my tour group stepped into the boat, I was flanked by crates for carrying prawns, a telltale sign the fishing season was here, and I later learned that it was just ending.
Pulling out of the harbour, a sign on the breakwater wished us "Bon Voyage" as we followed the mainland coastline past the Copeland Islands Marine Provincial Park. Prawn pots, fishing boats, sailboats and other pleasure craft could be seen on the landscape.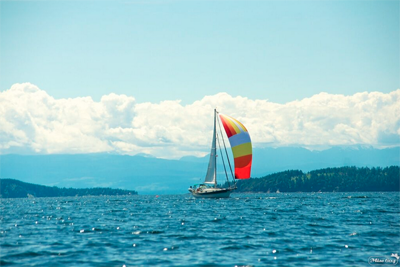 The sails were out on this perfect day for boating.
We rounded the corner between Bliss Landing and Kinghorn Island and there it was: Desolation Sound — a place where they say the mountains meet the sea.
"There was not a single prospect that was pleasing to the eye," were the words recorded by Captain George Vancouver in 1792 when he first mapped Desolation Sound. Utterly disappointed in what he believe to be a lack of resources, he gave the area its bleak name.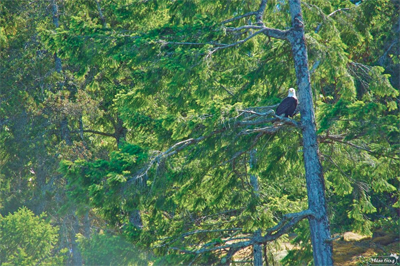 Spotting the locals, like this bald eagle in a pine tree. 
As I looked up at a bald eagle from the comfort of the zodiac on a sun-filled afternoon in early June, I was certain the Tla'amin First Nation and the early homesteaders of the last century would disagree with the Captain.
Tla'amin survived on an abundance of berries and shellfish and when European homesteaders arrived in the late 1890s, they made themselves at home, living off the land while staying connected through the waterways.
"People kept chickens and goats out here," Christine tells us. "A woman with the second family that moved out here hated goat's milk so she kept a cow. She would row livestock in big rowboats  — talk about a sea-faring people!"

The Sunshine Coast is waiting for you. Discover coastal towns, beautiful ocean scenes and friendly locals. 
These days you won't see mail runs done by Union Steamship service, but you will appreciate the deep-rooted lifeline the sea provides for everyone in this region. Boats of all kinds pack marinas even in the off-season and fresh caught seafood is always on the local menu.
At Powell River's Sea Fair you can catch your own seafood — spring salmon, coho and lingcod — during the popular fishing derby. There will also be outrigger canoe races, midway rides, music, entertainment, fireworks, and a parade.
You may even find a zunga to drop from, or at least sample the Zunga Blonde Ale from Powell River's own craft brewery, Townsite Brewing.
Click here for more info on the festival.
Ready to check out the Sunshine Coast for yourself? Get planning here.
Like this story? Share this page with your friends and start planning your trip to Powell River