According to Richard Samaniego, Fairmont Chateau Whistler's executive sous chef, Cornucopia is the best time of the year to be a chef. Heartier dishes are made and served with more complex red wines.
Photo by Mike Crane/courtesy Tourism Whistler
CATHERINE DUNWOODY
WHISTLER, B.C. – This year marks an extended culinary indulgence for Cornucopia. After 17 years, the all things food and drink festival is revamped and longer spanning two weekends.
The festival, presented by BlueShore Financial as a new sponsor this year, takes over Whistler Village with 6,500 people attending, running from Nov. 7 to 17. The sponsors' investment has allowed for an expanded program, keeping the festival current with new trends in the food and beverage world. Thinking beyond just wine, the fest now includes breweries, spirits, learning seminars and more. 
Expect some of the usual events, like Crush Gala Grand Tasting, the flagship dual-night tasting bash, the return of Night Market, plus those infamous after-parties. 
Crush takes place in the ballroom of the Whistler Conference Centre, which is designed as a mountain lodge for the event, and gathers together 65 wineries offering tastings.
Night Market also takes place at the Conference Centre, in the Grand Foyer.  The setup resembles an outdoor market with a series of booths offering samples of Asian cuisine, sake, beer - all included with your admission ticket. The market also includes artist wares and products for sale.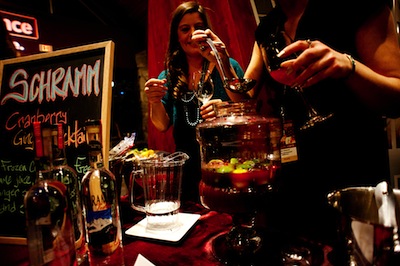 Photo by Anastasia Chomlack/courtesy Tourism Whistler
The after-parties of Cornucopia are legendary because local restaurants, lounges and hotels showcase their finest – from champagne to oysters and caviar. Expect Cirque-inspired performances and Vegas-style casino nights plus showgirls and world-class DJ's.
But it's the new events that are most exciting. (Remember, you must register and pay for tickets to any of these events in advance.) 
For instance, on Nov. 8, The Fairmont Chateau Whistler partners with Harry McWatters, former founder of B.C.'s Sumac Ridge and See Ya Later Ranch wineries. Sample wines from his personal collection and new Okanagan winery TIME. Expect wine, hors d'oeuvres, and an elegant five-course dinner. 
"Cornucopia is the best time of the year to be a chef. Summer is over and the bounty of the fall harvest abounds. It is time to start cooking heartier dishes that also pair with big more complex red wines. Big food. Big wines. Big fires," says Richard Samaniego, Fairmont Chateau Whistler's executive sous chef.

Starting from $99 per person per night,
book your CRUSH Gala Grand Tasting
and accommodation package.
To be sure there can be overindulgence at the festival so this year it's fitting that a new Nourish Series takes place with seminars on health, wellness, yoga, meditation, and culinary trends.
House Party (International) – Best of Argentina, on Nov. 15 combines live music with local foods and domestic wines.
Spirit-related sessions are being offered Nov. 16, like Gin: The Cocktail Chameleon, Whiskey: An American Tale, Absinthe – Risk or Reward? and Bitter Bastards. But probably the most appreciated for those who perhaps hit the fest a little too enthusiastically, is the Hair of the Dog Cocktails And Why They Work, seminar. 
Alta Bistro is offering some fun events as well. On Nov. 8 check out the Joseph Drouhin Dinner. Drouhin is one of the top Burgundy producers around, pairing his wines with six courses by acclaimed Chef Nick Cassettari.
"We spend all year cultivating dishes, ideas, concoctions, cocktails, recipes, tasting notes and menus for this event in the hope to express what our beautiful country has to offer," says Cassettari.
"Finally Cornucopia arrives and lets us showcase and celebrate this amazing bounty."
For details on all events and weekend packages check out Whistler Cornucopia