Two-day food festival full of delicious ­surprises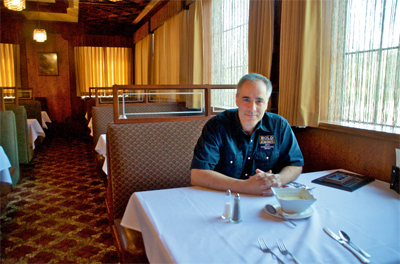 Chef John of Bold Knight Restaurant has won the seafood chowder competition twice.  
Photos by Rebecca Bollwitt
NANAIMO, B.C. - Nanaimo's Feastival is a two-day celebration that celebrates both tasty ends of the food spectrum - savoury and sweet. Tweet This
One moment you could be chowing down on award-winning clam chowder, the next sipping a Nanaimo Bar martini at the festival, happening June 17-18. 
Central to the popular event is that it brings together food and family. Those are two elements that have kept Nanaimo's Bold Knight Restaurant thriving for the past four decades.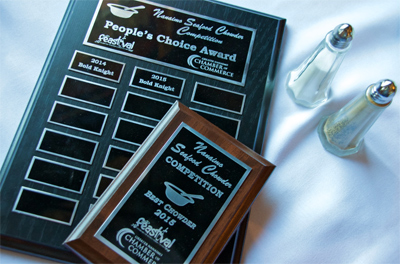 The Bold Knight many awards to its credit. 
 
"My dad started the restaurant 39 years ago, and I've been hard at it for a good 26 years since I graduated," says John Vassilopoulos, executive chef and co-owner.
The Bold Knight has been a Nanaimo staple for generations and Chef John is helping the restaurant keep its tradition while moving into the food-loving digital age
Chef John became involved with Feastival when it merged with the local chowder competition, which he and the Bold Knight have won for the last three years in the People's Choice and Judge's Choice categories.  
The two awards sat between us on a freshly set table, as I scooped up spoonfuls of chunky seafood chowder while John told me the rest of his chowder championship story.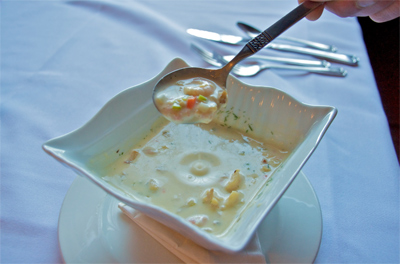 Mmm chowder!
He relies a bit on his 30-year-old "practice-makes-perfect" recipe for the traditional creamy clam chowder base, but then mixes it up a bit each year.
"The first year I won, I added B.C. sidestripe shrimp and crab. Last year when I won, I did a kind of  east-coast-meets-west-coast twist. I added east coast lobster and B.C. shrimp to my clam chowder base."
Over the years, the Bold Knight hasn't strayed too far from its traditional "steak and potatoes" menu, although seafood is prominent on the menu, which helped them win "Best Seafood Restaurant" in Bulletin's Best of the City issue in 2015.
"We know our seafood; we like to use Canadian stuff, we like to try and use as much local halibut and salmon, but it's all about the steak and seafood here."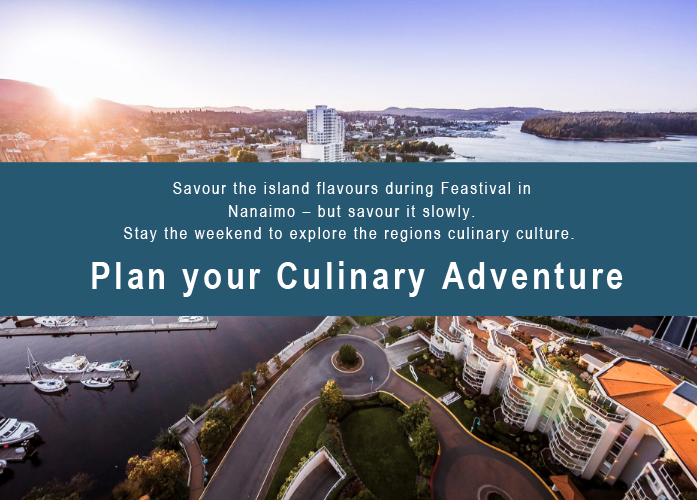 Last year's Feastival saw around 1,000 participants and this year it's expanded from one to two days.
With his foray into social media, he's seeing a new generation of patrons, some who pop into the restaurant after attending Feastival, if only to get another bowl of the scrumptious chowder.
But chowder is just one delectable delight to sample at Feastival.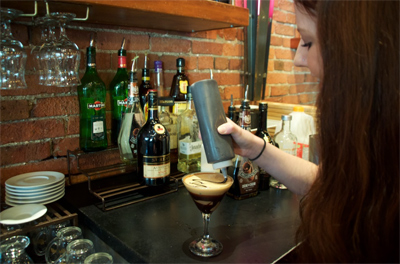 The delicious Nanaimo Bar Martini is served. 
I couldn't help but notice the Nanaimo Bar Trail pamphlet on the bar when I arrived at the restaurant. The Bold Knight is one of over 30 stops on the self-guided culinary tour of Nanaimo, themed and named after its world-famous dessert bar. The Bold Knight serves a Nanaimo Bar Martini, another big draw for newcomers.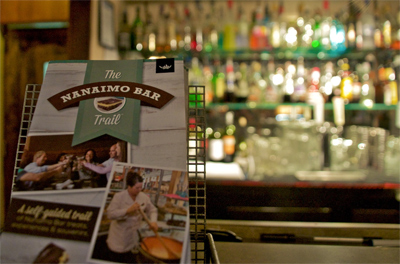 Pack a picnic basket for takeaways, and take a delicious road trip on the Nanaimo Bar Trail.
Then there are the other beverages that figure prominently at Feastival. The folks on the local craft beer scene will be on hand, as will small-batch wineries and distillers, for the SIPS portion of the festival.
Eating is at the forefront, but so is a little education, with cooking classes on the roster as well as food trucks.
Be sure not to miss Chef John in the chowder cook-off on June 18 during the Chowder Competition.
He's not one to rest on his laurels, though.
"This year I'm going to try something different," he said.
I've been sworn to secrecy, but I can say he won't stray from tradition too much, but he will surprise Feastival-goers and judges with some new additions.  
"There's always going to be something that I just tweak a little bit to give it a different flavour. Like I said, I won't change the base but I'll change the seafood portion of it."
If you go
Heading to Nanaimo for Feastival? Check out these 

places

 to stay while visiting.

Read our

"Feastival" Overview

and get a sneak peak on events happening throughout the two day event.

Are you ready to help crown this years chowder champion? Share this page with your crew and get them to join in on the fun too.