A month of activities that ranges from pirate fun to arts, culture and music
REBECCA BOLLWITT
What do a Purple Pirate, dance, symphony, blues, whisky, craft beer, dogs, and Lion Bear Fox all have in common? They're all a part of the amazing Festival Nanaimo lineup in March. From St Patrick's Day through Spring Break, there's fun for all ages - and for all four-legged friends.
Help your friends #DareToExplore. Share this page on Twitter.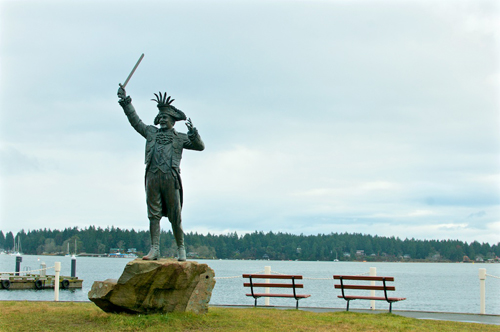 Frank Ney Statue on Nanaimo's waterfront. Ney was the "Pirate" Mayor of Nanaimo for over 20 years, bringing it worldwide acclaim for its festivals like the annual Bathtub Race.
Festival Nanaimo was created three years ago by Margot Holmes. The first year, they worked with community groups and professional arts groups to bring their programming under one umbrella. "Now at year three, we've got to the point where people have started to program things in March just so they can be part of the festival," Holmes says.
"Every year is different but the concept is that we have signature events that are going to be unique to Nanaimo," Holmes adds.
The idea is to get people to stay overnight in Nanaimo, but engaging the local community is also a big part of the festival. It's all about bringing participants to the city's downtown core to join in the fun.
Hops and Hounds
Festival Nanaimo & Pacific Island Entertainment present Hops & Hounds at Maffeo Sutton Park on March 19. This outdoor craft beer tasting is open to everyone, and their pooch, and will raise funds for the local SPCA.  
Organizer Teri Smith from Pacific Island Entertainment was inspired by a similar event in Colorado that supports the National Mill Dog Rescue. She's bringing it to Nanaimo for the first time to not only give back to the SPCA but to have some fun and promote local breweries, like neighbouring White Sail Brewing, along the way.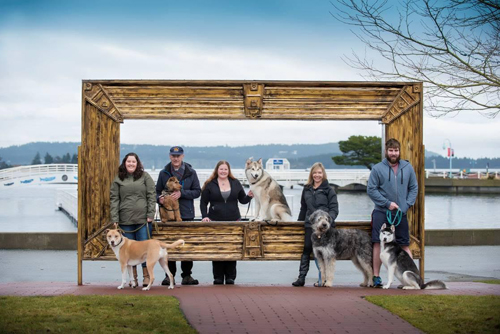 Hops & Hounds coming soon to Maffeo Sutton Park. Photo by Dirk Heydemann of HA Photography.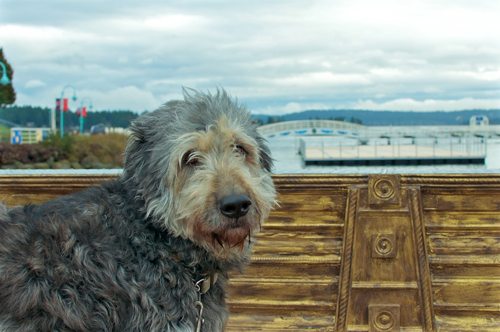 Hops & Hounds coming soon to Maffeo Sutton Park.  
Wee Tipple Party for the Crimson Coast Dance Society
Whisky for dance! The 14th annual Wee Tipple Party, a fundraiser for the Crimson Coast Dance Society, is on tap March 3 at the Grand Nanaimo Hotel.
While the event supports the Dance Society, artistic director Holly Bright says the event isn't about dance at all, it's all about the scotch.
"It's a way for us to begin to connect the work with a completely different potential audience, and also to simply raise funds and provide a service here that wasn't here."
A few years ago they changed venues and partnered with the Grand Nanaimo, which has Nanaimo's only whisky bar - with more than 140 kinds to swirl and sip - and it was the perfect marriage.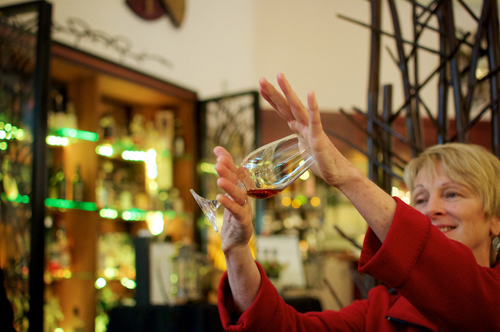 Holly Bright from Crimson Coast Dance Society does a whiskey tasting at the Grand Nanaimo.
Soundbites and more at the Port Theatre.
Nanaimo is the ultimate arts mash-up destination thanks to the creative lineup of Festival Nanaimo events. Celtic Tenors will present its world-renowned charm to the stage for a relaxing evening of music on March 2, while Lucky Irish Spirit will host a night of music-making and Celtic poetry on March 17.
How about some appies before your symphonic experience? Join Conductor Pierre Simard and the Vancouver Island Symphony for the new Symphony SoundBites series that presents an early show with canapes at 5 p.m. or a late show with a dessert bar at 7:15 p.m.  Enjoy featured excerpts from Mozart's Don Giovanni, arranged for an instrumental ensemble.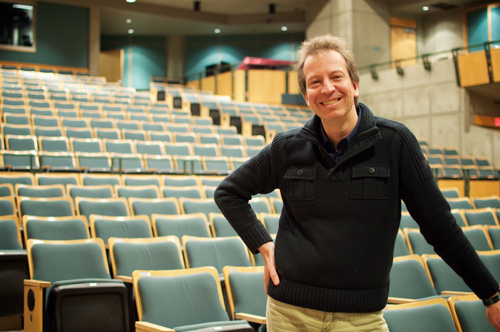 Pierre Simard, artistic director, Vancouver Island Symphony at the Port Theatre.
A hub for Festival Nanaimo, the Port Theatre focuses on community and commercial programming, and they also present their own series of 15 to 20 shows of artistic value to the community that nobody else is bringing to Nanaimo.
"We get surprised by the audiences at every show," says Pierre Simard, artistic director, Vancouver Island Symphony. "In the last two years, I stopped counting the number of times Margot [Holmes] told me in the wings, just before entering the stage: 'There are so many new faces!' So, for me that's very reassuring because that means we're doing a good job of creating art not only in a way that speaks to the same people all the time, and that there is originality in what we offer. We go out of the box even with the classical shows."
Nanaimo's legendary hometown blues rocker, David Gogo will host a birthday bash on March 18 and indie trio Lion Bear Fox will have a hometown album release party at the Port on March 25th.
For tickets, learn more here http://www.festivalnanaimo.com/david-gogo-bday-bash.html
3rd Annual Pirate Fest
Just in time for Spring Break, PirateFest returns March 21 to 25 at the Country Club Centre. Families can take part in festive activities, musical demos, face painting and much more. Costumes are always encouraged.
It all culminates on Saturday, March 25 in Downtown Nanaimo with PirateFest Day's Pirate Parade with the Purple Pirate, free library and museum activities, free songs and snacks in the Port Theatre lobby, followed by the ticketed event in the theatre with the Purple Pirate.
If You Go
Grab some grub while checking out Festival Nanaimo. You likely know that Nanaimo is home to the Nanaimo Bar Trail, but now's the time to treat yourself to the self-guided tour. Your sweet-tooth will thank you. 
Heading to Nanaimo for some festival fun? Check out these places to stay while visiting
Make sure to read our Festival Overview and see the line up this year at Festival Nanaimo
For more detailed information about Festival Nanaimo, make sure to check out its official website. 
Arrive in style, HeliJet offers daily service between Nanaimo and Vancouver.
Ready to enjoy Nanaimo? Share this page