Purple Banner along the Sunshine Coast Highway
Photos by Rebecca Bollwitt
REBECCA BOLLWITT
SUNSHINE COAST, BC - Up and down the Sunshine Coast there are sights you're guaranteed to see: Contorted arbutus trees clinging precariously to shoreline cliffs, families enjoying the beach any time of year, and purple banners waving outside of studios, galleries – even yurts.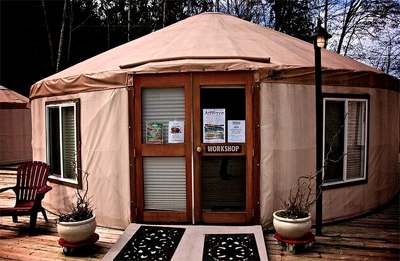 Yurts outside FibreWorks Studio and Gallery just north of Madeira Park
Each banner represents one of the more than 100 artists, artisans, fibre workers, potters, and gallery operators, from Langdale to Lund, who welcome visitors into their workspaces and shops, especially during the dedicated Sunshine Coast Art Crawl, which takes place Oct. 21 to 23, 2016.
"You put out the sign and who knows who will show up," Artie George told me after I pulled off the Sunshine Coast Highway at Davis Bay and into the parking lot of Coast Raven Design Studio and Gallery.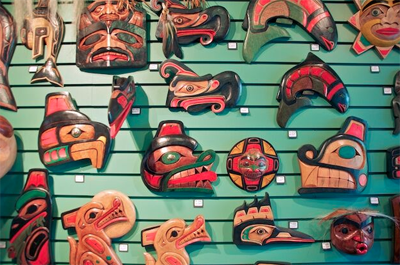 Inside Coast Raven
I had spotted the purple banner out front and knew this would not only be an opportunity to purchase some local art, but perhaps even meet an artist. Artie's business partner and long-time friend Richard de la Mere was out front. He showed me into Coast Raven's shop where Artie was standing in front of walls filled with stunning woodcarvings, of all shapes and sizes.
The pair are members of the Sunshine Coast Arts Council and Coast Cultural Alliance and they have worked together for the last 35 years.
Artie, the great nephew of Chief Dan George, began carving at the age of 13 and is mainly self-taught. He creates miniature masks in the forms of brooches, necklaces, bolo ties, and spirit boxes, collectibles and framed shadow boxes, all of which have been sold and marketed around the world.
Richard has a background in art and design, and began focusing on jewellery specifically about 45 years ago. Throughout his career he has gained "Master" status for his craft and has pieces on display at the Museum of Vancouver.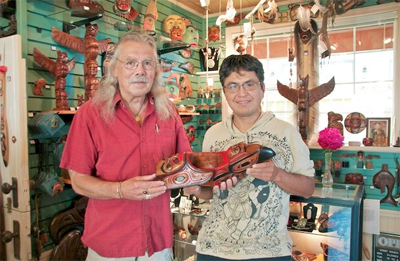 Richard (left) and Artie (right) of Coast Raven
Both have worked all around British Columbia, creating, carving, and selling their skilfully crafted pieces at markets, fairs, and festival but opening the studio and shop in Davis Bay 20 years ago provided them a solid home base.
"Here on the Sunshine Coast, Richard and I are inspired by our surroundings; the natural beauty of our waterfront setting, the friendliness of the people and the relaxed pace of life."
While the purple banners are up throughout the year, the Sunshine Coast Art Crawl is the best time for visitors and locals to meet artists in their studios. Tweet This!
You can follow brochure maps, directional signs, smart phone maps and meet other Art Crawlers along the way.
Artie told me that the Art Crawl helps them as participants as well as it attract visitors to their gallery who otherwise might not have found them. "They discover what we create, and if they don't purchase at this time, they become aware of our artwork and may return in the future."
Coast Raven does a bulk of its sales online, through wholesaling to a global audience on the website, but Artie and Richard, the hearts of the operation, are deeply rooted on the Sunshine Coast.
It's one thing to browse a gallery online, and it's another to talk to an artist, hold their art in your hands, hear their story, and truly connect with the story of each piece. The purple banners along the highway, and the Art Crawl, provide these opportunities, which are just as priceless as some of the finest works of art you'll discover on the Sunshine Coast.
More about the Art Crawl
Presented by the Coast Cultural Alliance (CCA), a non-profit society presenting the Sunshine Coast Art Crawl, is a network of arts, cultural and heritage groups and individuals working to enhance the economic vitality of the Sunshine Coast through cultural sector development. Beginning Oct. 1, printed brochure/maps are available at many local outlets including galleries, stores, restaurants, visitor centres, public participating venues, BC Ferries and more. Passports will be available during the Art Crawl from all participating venues, the Sunshine Coast Credit Union or the local Visitor Centres.
For additional information and to learn more about the mobile app and map check out the Sunshine Coast Art Crawl official website 
Interested in checking out the Sunshine Coast? Visit SunshineCoast.com for trip-planning ideas.
Need more inspiration? Here's another great event in the area: The Pender Harbour Jazz Festival.
Joining in on the art crawl? Share this page with friends and consider inviting them along.